On the cutting edge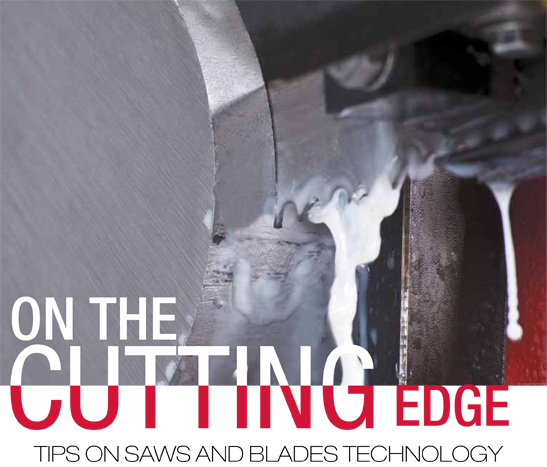 by Rich Vurva
As manufacturers turn to greater use of high-strength steels, nickel alloys and other exotic alloys in manufactured products, it's driving development of saws and blades to cut through those materials.
"There is a three-fold increase in the volume of high-strength steels and nickel alloys that are sawed. Users include small tool shops that now sometimes receive exotic alloys," says Jay Gordon, North American sales manager/saws and hand tools, for The L.S. Starrett Co.
In addition, he says, advancements in bandsaw machine design and capabilities have required that blade manufacturers follow suit by increasing blade productivity, while maintaining or improving both blade life and cut tolerance.
"For example, sawing machines which have historically been used to cut material close enough to prepare for secondary machining operations, are now being built with new computer controls and more sophisticated manufacturing techniques, so users expect more from the sawing process," he says.
More recently, better saws and better blades are being used to cut parts to a final size, without the necessity of additional machining.
Starrett offers several blades to fit specific applications. For example, Advanz MC7 carbide band saw blades are designed for high productivity and longer life when cutting hard materials. The Advanz MC7 utilizes a progressive four-tooth grind which creates seven distinct chips. The end result is less wear when compared to blades with conventional triple chip tooth formation. The four-tooth grind is very effective on nickel alloys, stainless and tough-to-cut tool and heat-treated steels.
The Advanz MC7 features exclusive Starrett tooth geometry which has a progressively ground trapezoidal tool design and positive rake angle. The blade is made of sub micron grain carbide. Advanz MC7 blades offer precision cuts for a superb surface finish and provide excellent cost-per-cut for production sawing. Exclusive Starrett edge preparation minimizes micro chipping.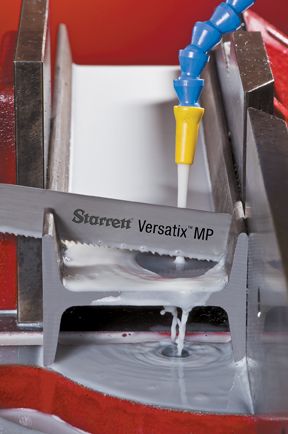 For bi-metal saw blade solutions, Versatix MP blades feature triple-tempered, high-speed M-42 cobalt steel teeth with an alloy steel backing strip. The blade has a patented tooth design that dissipates stress during cutting for less tooth breakage and longer blade life. Its special set minimizes pinching when cutting structurals and bundles.
Versatix MP band saw blades include exclusive Starrett technology called bi-metal unique. Starrett bi-metal unique joins two strips of high-speed steel wires to the backing steel using solid-state diffusion bonding. Instead of a single wire welded to the outside of a steel backer, this process bonds two strips of high-speed steel to each side of the top edge of the steel backer using intense heat and pressure. The bonding area between the backer and the high-speed steel is increased 170 percent over conventional electron beam or laser welding. This process creates a stronger, longer lasting blade.
There are constant improvements in manufacturing processes that both speed up the process and improve tolerances across the board. Advancements such as the bi-metal unique patented process from Starrett increases the bond strength between the backer material and the high speed wire on bi-metal blades, resulting in much stronger teeth (less stripping), faster production and longer blade life.
For heavy-duty bi-metal cutting applications including materials such as tool, stainless and hardened steels, as well as nickel and titanium alloys, The L.S. Starrett Co. offers Primalloy Bi-Metal Band Saw Blades for a cost-effective, highly productive sawing solution. The cutting performance, as well as heat and wear resistance of Primalloy's M-51 high-speed steel, is greatly increased through alloying with cobalt and vanadium.
The Primalloy product line also features a proprietary Starrett Extended Life Treatment (EXT) applied to the alloy steel back material, resulting in significantly longer blade life due to reduced blade fatigue.
"Advancements in machining capabilities have led to the ability to perform much more intricate and accurate grinding of carbide cylinders. Couple this with the availability of new carbide grades of materials designed for different purposes, it is possible to manufacture blades designed for cutting specific materials at the highest possible production rates while maintaining blade life and accuracy," says Gordon.
He anticipates even more development in the future. "I expect to see research and testing for new methods of manufacturing bi-metal blades, including the materials they are made from, as well as investigating new alloys," Gordon concludes.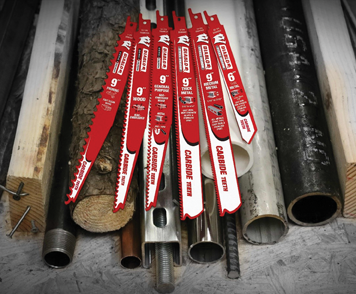 End user specific applications in wood composites, lite panel, aluminum, and ferrous materials are moving very quickly, according to Bonnie Bomar, brand marketing manager for Freud, maker of the Diablo brand saw blades. "We are seeing highly abrasive new materials that need special engineering attention and dedicated carbide blends to maintain edge quality and the longest possible cutting life. Freud's unique position within the market allows us to tailor our Freud made TiCo Hi Density Carbide to meet these trends," she says.
She adds that Freud has responded to the marketplace with more than 30 unique blends of carbide and cermet materials. Within the last 12 to 18 months, Freud has launched TiCo specific blends for mild to hard steels, stainless steel, plastics, aluminum and new panel sizing saw blades for abrasive materials.
Diablo recently unveiled the first and only full-range line of carbide reciprocating saw blades that expands the applications for reciprocating saws not once before available. This full breadth of range consists of six application specific, radical carbide-reciprocating blades; each designed to solve real end-user problems in an extremely dynamic industry where power tools and materials are constantly evolving. Diablo's carbide reciprocating blades are individually designed and engineered for specific cutting applications ranging from clean or nail-embedded wood, general purpose wood and metal to all thicknesses of metals such as rebar, stainless steel and cast iron.
"Freud controls every step of the manufacturing process, from start to finish, to guarantee the highest quality, most advanced products in the industry. We use the most innovative, technologically advanced manufacturing operations in the world to ensure that the highest quality products meet the toughest design standards. All of our facilities are ISO9001 and Vision 2000 quality certified, an acknowledgement of top quality production processes," says Bomar.
She concludes that Freud will continue to introduce new innovation and solutions for metal applications while also addressing the challenges that arise when cutting man-made and abrasive materials
This article originally appeared in the May/June 2019 issue of Industrial Supply magazine. Copyright 2019, Direct Business Media.
COMMENTS: 0
---