Doing more with less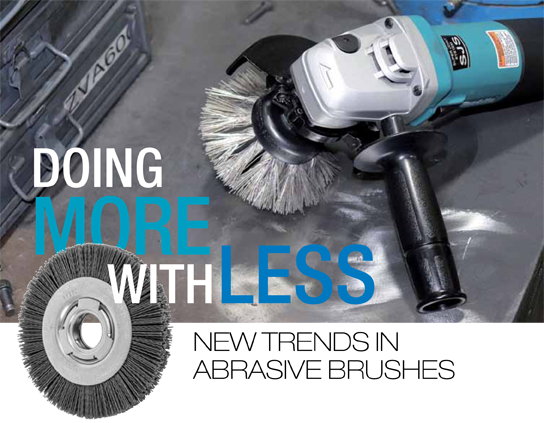 By Rich Vurva
There are multiple trends and developments which influence the abrasive brush market. One major factor is labor cost. To control labor costs, manufacturers are trying to automate as much of the manufacturing, inspection and assembly process as possible. Many end users are looking for solutions that can be easily integrated into their automation processes.
"At PFERD, we offer a large range of abrasive brushes to address different application requirements. For example, we offer different brush types and filaments for aggressive deburring to even generating delicate surface finishes on a variety of material and alloys," says Imre Karetka, product manager, Brushes and Files, for PFERD Inc.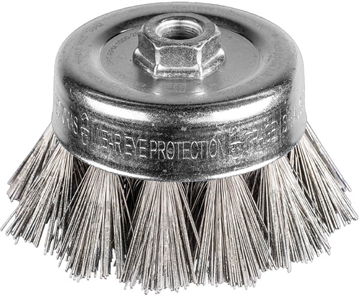 PFERD diamond coated wire cup brush
Another trend is that customers do not necessarily have the time or resources to experiment with products and processes on their shop floor. Because of this, PFERD offers a service where end user parts can be sent to its applications lab in Milwaukee, Wisconsin, for testing. Here, experienced application engineers design the deburring or surface finishing process on actual end user parts/equipment. These processes and parameters are recorded and submitted to the end user, and in turn, a solution is presented for review. Once this is finalized, all the customer needs to do is incorporate the brush into the machine, create a program based on the submitted parameters, and the process is ready to be implemented.
PFERD has responded to these market trends by designing, building and offering products which can easily be mounted into standard machine collets. Smaller diameter radial and wheel brushes are offered with standard 1/4-inch stems, for example, which can be mounted into the same machine collet as drills and other commonly used tools with 1/4-inch shaft.
Additionally, larger abrasive brushes are offered with popular arbor hole sizes as well.
"In fact, many of our radial brushes are supplied with both metric and imperial adapters to ensure that our brushes will fit on customers' machines. For example, a 6-inch outside diameter abrasive radial brush is offered with several adapter combinations that can fit on 12 different shaft sizes ranging from as large as 2 inches to as small as 1/2-inch outside diameter," Karetka says.
New materials such as Polycrystalline Diamond (PCD), Cubic Boron Nitride (CBN), and ceramic abrasive grains, has enabled PFERD to develop brushes for different applications that customers may not have considered in the past. "For example, we now are able to manufacture electroplated diamond on stainless steel wire. Although this process was originally designed for use on composite materials, it has found a loyal following and fan base for applications where mill scale needs to be removed from steel," he says.
Multiple solutions are available to remove scale from steel, however, the two most common methods both have significant drawbacks and side effects. Removing mill scale by chemical process has obvious environmental consequences and is generally done on a large scale.
Grinding away the mill scale can leave gouges and a non-uniform surface finish. By using the unique diamond-coated wire brushes, the scale can be removed by maintaining a low brush RPM using a standard variable speed angle grinder. It will not gouge or deform the surface of the work piece.
"Our abrasive brushes and tools will need to continually adapt to machine requirements. Our brushes will most likely continue to get smaller based on application needs, but will still need to perform with high expectation. To accommodate, we will need to develop more aggressive products, utilizing either aggressive abrasive grains, or products with filament configurations designed for specific applications," Karetka says. "It's for certain that there will be an increase in custom designed and built tools. This trend is already taking place in the automotive segment of our business. Competitive pressures as well as demand from customers ensures that improvements will be made in product development and customer service."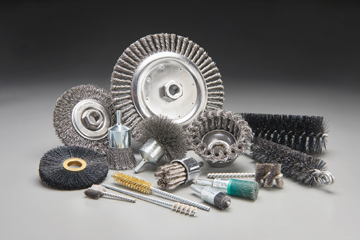 Norton offers comprehensive brush line
Saint-Gobain Abrasives offers a Norton Wire Brush line covering a comprehensive selection of brush types.
"Offering the Norton Wire Brush line is another step in ensuring we provide our customers with a single stop shopping experience when it comes to metal removal, surface preparation, blending or cleaning," says Mike Radaelli, director of product management, Thin Wheels and Construction, Norton | Saint-Gobain Abrasives.
The line complements a high-performance portfolio. "We want to make sure our customers are getting everything they need to accomplish the job, with a quality product from a brand they trust, at a fair price," says Radaelli.
The Norton Wire Brush line balances a wide portfolio of options with very good product life among its competitive counterparts. The line offers products in crimped, standard twist knot and stringer bead twist knot wire variations, and in carbon steel, stainless steel and brass metals, as well as nylon. Wire brushes are used in many applications such as deburring, surface preparation, cleaning, general light coatings removal and more.
Wheels are configured in crimped, standard twist knot, stringer bead twist knot in multiple sizes and trim lengths. Cup brushes also come in crimped and twist knot. End brushes also meet these wire types, but in a wide array of shapes; circular flared, encapsulated, pencil crimped and pilot end brushes are just a few. Mounting is easy with both stem and arbor options for whatever the tool may be.
For ID cleaning or deburring type applications the tube brush offering is ideal with both single and double stem options, and eye loops in all the same filament types, according to Radaelli.
This article originally appeared in the May/June 2020 issue of Industrial Supply magazine. Copyright 20198, Direct Business Media.
COMMENTS: 0
---