Vending solutions to the rescue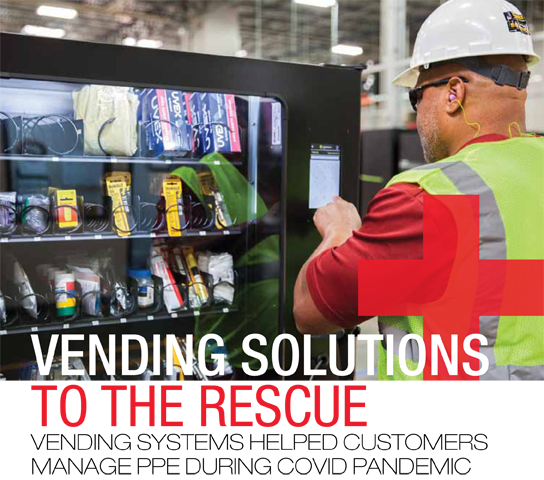 By Rich Vurva
Automated vending solutions have helped healthcare providers, manufacturers and other facilities manage their critical personal protective equipment during the coronavirus pandemic. Providers of vending systems say that their solutions can help customers get PPE into the hands of the people who need it most.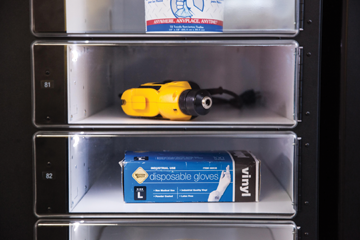 CribMaster's Express Locker features include 18 clear locker doors with LED lights for enhanced visibility and two door sizes.
CribMaster hosted a series of webinars in April to help distributors learn how to use CribMaster solutions to manage PPE during the COVID-19 pandemic. The webinars focused on how to easily manage, monitor and maximize critical high-demand supplies.
"What we're trying to do is utilize our machines and our software to show people how they can use them in a different way to see where their inventory is. Perhaps one location is running low on items or overall inventory is running critically low. Our software can help them identify those hotspots and shift items accordingly," says Amanda Hart, strategic marketing manager for CribMaster.
Vending solutions can also prevent hoarding, which was an issue when respirators and masks were in high demand. "A lot of people are taking PPE items home. It's especially important to know that everything that's being distributed is being used properly," Hart says.
A vending system also reduces the need for human contact, another major consideration when workplaces were striving to enforce social distancing requirements.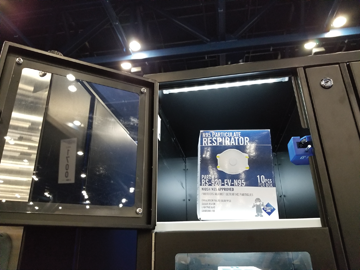 1sourcevend offers helix coil machines, combo coil and locker machines and locker vending machine
s like the one above used to dispense in-demand N95 respirators.
"Distributors can use industrial vending machines and inventory control software to help their customers track their employees' PPE usage and ensure 24/7 access to safety equipment," says Mark Hill, president of 1sourcevend. "Point-of-use dispensing closer to work areas ensures the availability and use of PPE and minimizes time spent searching the facility for items."
In addition to items such as respirators and masks in demand during the height of the pandemic, inventory control solutions like industrial vending can dispense and track other PPE items such as eye, ear and fall protection; safety gloves, tie back sleeves, aprons, safety vests, hydration and cooling products, Hill adds.
"The one question we get asked more than any other from distributors is whether an item can be vended. Vending machine technology has come such a long way, and distributors' customers are increasingly interested in vending as an option for inventory control. But they don't always know how versatile machines are," Hill says.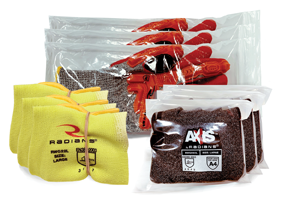 Radians recently introduced a program called VEND PACK for dispensing gloves from automated vending systems.
Understanding how and what industrial vending machines can distribute may be key to providing the best solution for a customer. Modern machines can vend multiple SKUs of various sizes from the same machine. Vend high-turn, disposable items like gloves, pens, ear plugs, adhesives, cutting tools, drill bits, grinding disks, vests, painting supplies, respirators and masks in coil machines. High-value items like power tools, clothing, spray paint, cleaning supplies and gauges can be placed in locker machines.
Hart adds that CribMaster's machines run the gamut of styles and footprints based on the inventory the customer wants to manage. They include lockers (ProLock) for a wide variety of durable items, and drawers with individually controlled bins (FlipTop) for high-dollar individual items such as cutting tools. She said the key to any successful vending solution is understanding the customer's requirements.
"The distributors that have the most success have a plan in place for how they are going to go out in the market and sell the program. Distributors who grow their program are those that have a dedicated team and a strategy about what type of end users they want to go after. If you're going to get into vending and make it a revenue stream, rather than just providing it because a customer is demanding it, it's important to have a good market strategy."
A successful vending program involves more than just putting a machine in a facility.
"Customers know their inventory pain points and are increasingly interested in adding industrial vending machines," says Hill. "Vending software solutions based in the cloud are significantly more accessible and affordable, making industrial vending solution options available and profitable for any size distributor."
This article originally appeared in the May/June 2020 issue of Industrial Supply magazine. Copyright 20198, Direct Business Media.
COMMENTS: 0
---