Managing through crisis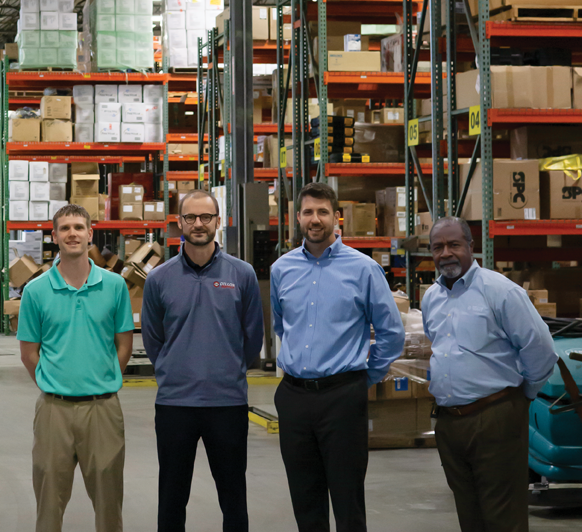 Adam Boenker, distribution center manager, Arnaud Le Chatelier, director of sales & marketing; Andy Daughtry, general manager, and Art Fields, branch manager.
Dillon Supply takes care of customers when pandemic changes the rules of business
by Rich Vurva
Independent distributors have always prided themselves on their ability to be nimble in response to changing customer demands. That is especially true during the coronavirus pandemic sweeping the globe.
In the early weeks of the pandemic, when states first began issuing stay-at-home orders, Raleigh, North Carolina-based Dillon Supply saw a major uptick in sales of personal protective equipment. Orders for N95 respirators and masks, disposable gloves, face shields, hazmat suits and other safety related products were streaming in.
Online sales more than doubled in March. Fortunately Dillon had re-launched its B2B e-commerce capabilities last September, a more agile and user-friendly platform that helped at the start of the pandemic when more customers placed orders online.
"That really helped us because customers, whether they're working from home or in the office, have a better way of taking a look at the type of products they might need in very uncertain times," says Arnaud Le Chatelier, director of sales and marketing.
Current customers that didn't previously buy online can have their account activated in just a few minutes. E-commerce previously accounted for less than 3 percent of total sales but is expected to grow to nearly 10 percent by the end of 2021.
"We're in a position right now to support any type of volume on the website," Le Chatelier says. "We only use the website for people who have an account with us. We know that if we would turn that open to everybody, we would see an even bigger increase, but we're trying to reserve the inventory we have left on the shelf for our existing, essential customers that are involved directly in critical parts of our economy."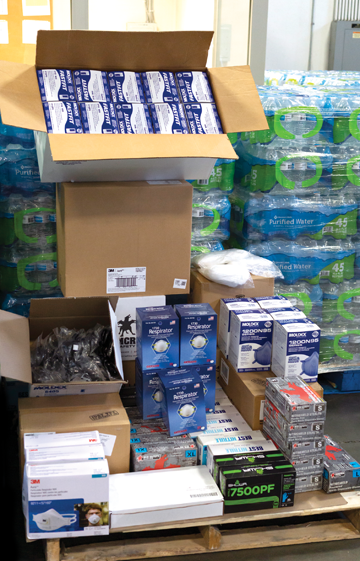 These PPE items were assembled for shipment to local hospitals
The rush of orders for PPE forced the company to make difficult decisions. In some cases, Dillon turned down sales in an effort to keep enough supplies on hand to satisfy existing customers.
"We had to say no to a very large account because they had not historically ordered PPE from us. We've made the choice to reserve that inventory for our other critical accounts that are deemed essential because they work in healthcare," says Le Chatelier.
Safety specialists are extremely busy helping customers determine what they need to keep workplaces safe. "A big part of their job is to help customers with compliance, making sure they have the right products," Le Chatelier says.
With a number of PPE items in short supply worldwide, the safety specialists are also leveraging their relationships with manufacturers to secure inventory.
"We deal primarily with vendors that we know," Le Chatelier says. "You take a risk buying something when you don't know what the quality is going to be. Something like a screwdriver or a hammer is one thing, but when you're talking about PPE that people on the frontline rely on, we are not willing to take that gamble."
Shifting customer needs
Dillon has 250 employees spread throughout 19 locations in the Carolinas, Virginia, Georgia, Kentucky, Tennessee and Indiana. It primarily serves customers in those locations but also ships throughout the country. Despite the initial sales increase as a result of the growing demand for PPE in March, the company recognizes that the pandemic will likely hurt sales in the short term and may result in furloughs.
Some Dillon branches that are focused heavily on healthcare and the pharmaceutical industry have remained busy. Others that serve businesses that are considered non-essential have seen a drop in sales. Managers are making staffing decisions on a branch-by-branch basis.
"We will adjust our plans as needed if we see that one branch has been affected more than another," explains Andy Daughtry, general manager. "We're working on a plan that we can tweak and adjust as we need to going forward."
Dean Wagoner, Dillon Supply president, says the company is exploring options made available from the legislation passed by Congress to help businesses keep people employed throughout the pandemic.
"We're looking at options where we can keep people on the payroll and they'll still have their benefits and their health insurance," Wagoner says. He adds that the company will assess the needs of the business moving forward and will "right-size the business to make sure we stay healthy."
Some customers are shifting resources as a result of the pandemic. For example, one contractor that previously performed maintenance at large manufacturing facilities has switched to doing cleanup work. "That means that we have to keep servicing those accounts but with different types of products because their needs have changed," Le Chatelier says. "It takes a lot of flexibility for us to be able to support those new endeavors."
New ways of doing business
The pandemic necessitated a review of virtually every business process to determine what work could be done remotely. What internal practices needed to be revised to make the workplace safe for employees?
The management team meets often to make decisions under rapidly changing conditions.
Employees that include buyers, product managers, inventory management and salespeople are working from home. Salespeople who are still in the field visiting customer locations are no longer allowed inside Dillon's building. Onsite employees are practicing social distancing and disinfecting working areas frequently, and group meetings are being minimized.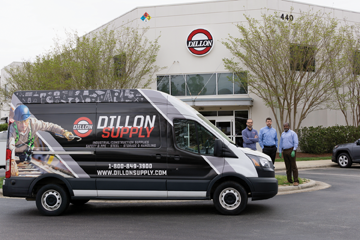 Dillon Supply encouraged customers to place orders online or through a mobile app, with deliveries made with Dillon's delivery van.
Salespeople use email, text messages and the phone to stay in touch with customers. Part of their efforts are focused on determining which customers remain open. If they hear that any of that customer's employees have been infected with COVID-19, they try to determine what impact that may have on business. Has the employee been quarantined? Is it safe to come inside?
"It's starting to become more and more of a challenge to make sure that we don't send a truck for delivery to a place that's going to be closed," Le Chatelier says.
Email marketing messages encourage customers to call, email or submit orders through the website. If they come to a store location, customers are urged to exercise social distancing in designated waiting areas. Customer and vendor interaction in warehouses is being restricted. Curbside pickup at branch locations allows customers to remain in the safety of their vehicle while employees load the order.
The new normal
A major question that Dillon can't answer right now is how business will be changed after the pandemic subsides. Will customers continue to do sales online? Will employees prefer to work remotely?
"One of the things we're talking about is what's going to be the new normal?" says Eric Dillon, vice president. "I think the longer this goes on, people are going to begin creating new habits that are good habits."
While no one knows when business will rebound, Dillon is hopeful about the future. He says the company continues to invest in inventory to make sure that products will be available when business returns to normal.
"Our hope and expectation is we're going to see a pretty strong comeback. We want to be in a position where we can take advantage of that, and get people back quickly," he says.
One change already being implemented is a new online e-Learning platform. Dillon recently launched a program with BlueVolt to build online training libraries. The company had been in discussions with the Portland-based e-Learning solutions company previously, but the pandemic accelerated the process.
"We're building virtual classrooms where salespeople can complete training in specific industries or products. This is something that we used to do quarterly by region with vendors. Now we have the ability to do that virtually at any time," Le Chatelier says.
Boosting morale
It's easy for people to become discouraged when they see and hear negative information about the pandemic on TV, online, social media and virtually everywhere they turn. Daughtry encourages employees by giving them a positive message.
"Dillon Supply is a very strong organization. We've been in business over a hundred years, so we've gone through crises before. We know we'll be able to weather this storm as well," he says.
Daughtry recently sent an email to salespeople providing a brief history lesson of the company to help them keep current events in perspective.
He wrote: "Mr. C. A. Dillon Sr. knew when he founded Dillon that the most important tool in our first location was his sales team's commitment to service. That policy is what helped us get through two world wars, a Great Depression, a disastrous fire and a Great Recession. It will help us get through this current challenge."
Daughtry expressed pride in the team's efforts.
"I am so proud of the service you are providing our customer partners through this very difficult time.Our communities and neighbors are in need and we are rising to the call. I am in deep appreciation for the effort and energy you give every day to your customers. Keep pushing through and know that even with our rich history our best days are ahead," he concluded.
This article originally appeared in the May/June 2020 issue of Industrial Supply magazine. Copyright 2020, Direct Business Media.
COMMENTS: 0
---