In the present era of finding and retaining good employees, the last thing a distributor needs is a safety risk that chases people away. As an employer, safety is your responsibility, and it's important to identify workplace hazards and instill safe employee habits to ensure corrections remain permanent, says Jason Simon at Alliant Insurance Services. Creating a safe environment comprises a full complement of enforced protocols, environment signage, products that ensure a safe workplace and building, personal protective equipment (PPE), as well as employee decision-making and safety training.
When it comes to safety that's within the worker's control, habits play a leading role, says Simon.
"Unsafe behavior must first be identified in order to be corrected," he said. "Some ways to determine if behaviors should change include behavioral safety audits and accident investigation reports. After a problem is identified, the employer can work to adjust the behavior causing the safety issue. Once an issue is found and addressed, the employer should follow up to ensure the changes are being followed. By prioritizing follow-up on behavior issues, a workplace can start seeing improvements in practices and possibly a reduction in injuries.
"Habits can be hard to break," he added. "However, with the proper approach, managers can alter unsafe workplace behavior and create a safer working environment."
Simon identifies one technique used for creating good habits: the "Habit Loop," which consists of a cue, a routine, and a reward. For example, says Simon, getting into a car (the cue), putting on a seatbelt (the routine) and not getting a ticket from the police (the reward) is an example of a Habit Loop. Managers can capitalize on this strategy, he adds, to help employees form new habits or change old ones.
To change unsafe habits and mitigate negative outcomes, it's important to understand which Stage of Change a worker is in. The Stage of Change theory suggests that a lack of motivation, willpower, or confidence may not be to blame when it comes to someone's inability to change — but rather that someone may not be ready to change or may not recognize that they need to. Understanding a worker's readiness to change may be the key to determining how to approach moving them along the stages of change. Following are the stages of change and how employers can influence an employee at that stage:
Pre-contemplation—Employees are unaware a problem or risk exists. To influence someone at this stage, it's important to educate and bring awareness to the problem or concern.
Contemplation—Employees are starting to consider making a change. Continued education and ongoing opportunities for self-evaluation can help employees in this stage.
Preparation—Employees have decided to make a change in order to move into a new situation. To help them not get stuck here, evaluate them individually and determine their intrinsic motivation. Focus on the person, not the company's wants or needs.
Action—Employees may start to change their environment, behavior or experience. Managers should provide encouragement, recognition, and ongoing positive reinforcement during this stage.
Maintenance—Now that change has happened and become part of a normal routine, employees may be able to experience the positive outcomes of their actions. It's important to continue to acknowledge and reinforce the positive change.
MAKE SAFETY SIMPLE
Habit isn't the only safety factor that relies heavily on the employee. Lots of industrial jobs – even within the distribution facility – require PPE that's provided by the employer, but getting the people to wear it can be a challenge. In fact, it's a major trend that safety directors, HR pros, and PPE manufacturers are combatting.

Sean Wirth
While there is no question everybody cares about safety, PPE can be viewed as burdensome or "getting in the way," says Sean Wirth, senior product manager at Guardian. Mobility, adjustability, and lightweight top the list, he added.
"There is an evident trend seen through our fieldwork that workers want and need effective workplace PPE that is not cumbersome or restrictive to getting their job done. In many cases, they're looking for products that have features and designs that can aid and improve their work efficiency. Many times, users are already carrying a lot of weight around with work tools and equipment, so having PPE that is as lightweight and flexible as possible, will lend to proper use, and thus a safer worker," said Wirth.
Not only must PPE meet all regulatory standards, it has to be easy and comfortable to use, Wirth says. Simplicity and comfort help to support and encourage proper usage, which in turn leads to a higher level of safety and compliance.
"Make being safe simple," Wirth said. "Make safety products simple to select, simple to use, and simple to maintain. As a designer and manufacturer, this is Guardian's area of focus. We make it our mission and sole focus to help organizations protect their workers in total confidence and total comfort."
ONE SIZE DOESN'T FIT ALL
A problem arises when companies attempt to outfit women in men's PPE, which
Nicole Novick
creates compliance issues, according to Nicole Novick, hi-vis product manager for Radians. She says challenges and compliance issues surrounding women's PPE have existed for many years, primarily because industrial and construction job sites had more males than females. Naturally, PPE was designed for men, leaving many women in male-dominated industries feeling excluded and frustrated by having to choose the "closest size" men's vest or unisex PPE.
"This band aid approach created compliance issues because ill-fitting apparel often leads to catch hazards, which in turn can cause trips and falls, one of the primary risks at construction and industrial sites," said Novick.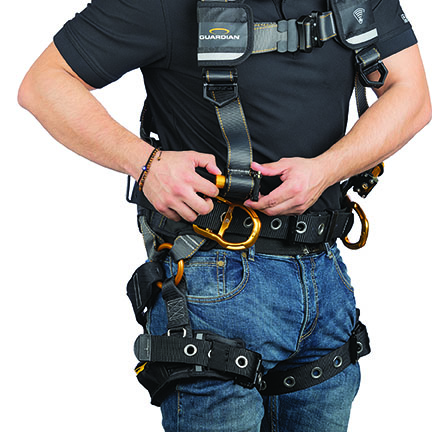 Driven by a year of end-user research and trial, Guardian's new B7-Comfort Harness
is built directly from the insight that comfort means adjustment that is just right for
each wearer. With all-over precision adjustment, breathable padding, innovative
hardware, and unique 360-degree hip mobility design, this new harness promises
workers at height all-day comfort in the most demanding conditions. It also includes
enhanced safety and rescue features, including integrated twICEme technology.
As millions of women now perform manufacturing, construction, transport, and industrial jobs, distributors need to be aware of the increasing demand for women's PPE and the manufacturers who can supply it, she says. That's why Radians began to aggressively expand its hi-vis apparel line for women in 2020. Within three years, the company has grown its women's line to include T-shirts, rain jackets, winter jackets, and a variety of vests including economy vests, breakaway vests, and surveyor vests.
"One of the biggest myths concerning women's PPE is that it is considerably more expensive than men's PPE," Novick said. "This mind-set may prevent distributors and safety pros from earnestly looking at the women's PPE choices available today. Although women's PPE has extra features and different pattern-making requirements than men's PPE, Radians is on a mission to keep the cost of women's PPE similar to the cost of men's apparel."
COMFORT AND TRAINING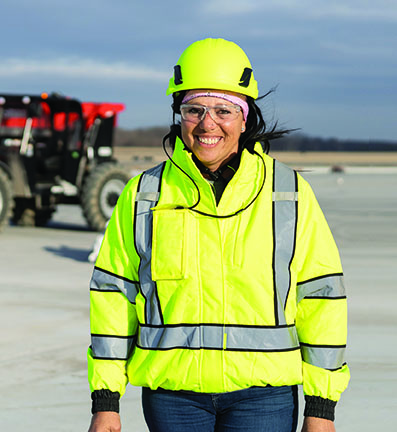 In addition to high-visibility apparel for women, Radians offers a variety of
choices for women in FR coveralls, hearing and vision protection, hard hats,
gloves, and DEWALT battery-powered heated gear.
Keeping workers safe is a priority for all, and maintaining a safe workplace requires continuous training and safety talks that involve employee dialogue. And at the end of the day, when it comes to PPE, winning the To-Wear or Not-To-Wear battle boils down to making worker PPE as comfortable, and user friendly as possible, says Sylvia Allen, president of StaCool.

Sylvia Allen
For distributors selling PPE into the rapidly growing oil and gas, foundry, construction, mining, and manufacturing industries, awareness of employee protection at the workplace is driving a robust market for PPE products.
"We need to focus on comfort because it's a top reason why an employee will forgo using the PPE," Allen said. "If it's uncomfortable, too cumbersome, or too hot to wear, they will not wear it. Protective equipment should be made from materials that are flexible enough for the person to move and work in the safest ways possible."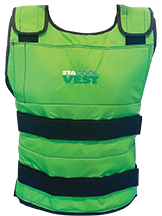 High visibility products such as the StaCool Industrial Vests have the potential to reduce costs by preventing injuries and improving worker productivity. StaCool Vests are made to provide cool comfort and flexibility, and because they're manufactured in the U.S., the company can
customize to specific industry needs.
STEP INTO SAFER STAIRWAYS
Tim Brennan
Sometimes safety means opportunity for industrial distributors. Egress codes now require any structure over seven stories to have emergency egress systems in the stairwells, including photoluminescent strips on the steps, railings, and obstructions. In addition, there is a heightened sense of awareness of safety in many plants – including preventing slip/fall accidents, says Tim Brennan, sales & marketing manager, Wooster Products Inc. A simple way to alleviate these concerns, he adds, is by installing non-slip surfaces such as non-slip tapes, non-slip stair treads and nosings, and non-slip coatings.

Although there are numerous non-slip stair treads and nosings that contain photoluminescent properties, Wooster is the only supplier offering non-slip properties within the photoluminescent material itself, according to Brennan. Distributors may have to do some educating of customers both on the need for egress code compliant materials, he says, and then steer them towards the one with highest "grip factor."
"Be proactive – we live in a litigious society – it is better to install non-slip materials before an incident occurs," Brennan advised. "Again, this may take educating customers as to the potential pitfalls within their buildings and plants as well as options available. Ask questions of your customer – they may be asking for a coating type material when another product is better suited. Learn what the issues are – what they are trying to solve for – then find the best long-term solution."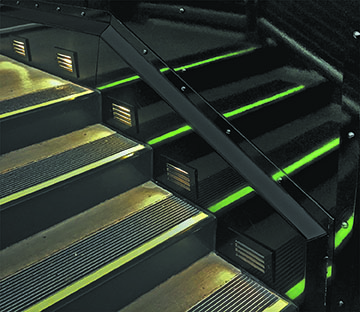 Wooster Products says its non-slip stair treads and nosings are the only ones in the market that have non-slip properties within the photoluminescent material itself.
Get a Jump on Eye Protection with Brass Knuckle's Grasshopper
Brass Knuckle's Grasshopper (BKDST-1010N) provides eye safety that combines a host of superior comfort features with a wall of protection against dust and dirt – and that ultimate compliance-killer, fog. A soft EVA foam dust filter with built-in air channels fills the gap between the glasses and the face, keeping dust out. These goggles now also quickly transform, as the dust gasket is removable to allow for conversion into standard protective eyewear, enabling them to jump from job to job with ease. For extra safety, Grasshopper is fully dielectric with no metal anywhere in its construction.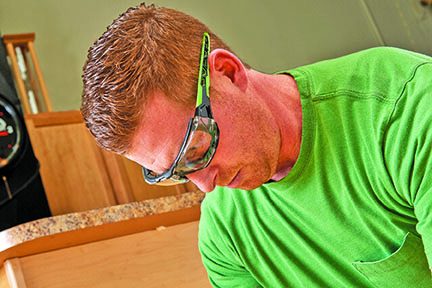 The glasses are outfitted with proprietary Brass Knuckle BK-Anti- FOG coating, that's bonded directly to the lens and far exceeds the European EN 166/168 standard. In addition to excellent anti-fog performance, these glasses also offer abrasion, chemical, and UV resistance that meet demanding industry test requirements (ANSI Z87.1+, EN166K, EN166N, EN166UV).
The European-inspired, sporty design includes bend-but-don't-break, super-flex TPR temples that adapt to any facial profile without distorting optics, while also providing hypoallergenic, non-slip comfort.
This article originally appeared in the May/June 2023 issue of Industrial Supply magazine. Copyright 2023, Direct Business Media.
COMMENTS: 0
---