More Features For Industrial End Users
Rechargeability, color and wattage selection, programmability top the list of lighting demands
by Kim Phelan
One of the biggest trends in industrial flashlights and headlamps today is that they're USB rechargeable, offering both convenience and cost savings to industrial users, says Aaron Freund, director of sales – industrial and fire divisions at Streamlight. USB rechargeable lights ensure light will always be available in lowlight work conditions. For situations when a charging source is not available, multi-fuel flashlights that also accept disposable lithium or alkaline batteries can ensure light is available even when the power goes out.
But rechargeables also eliminate the need for costly replacement batteries. One rechargeable battery used many times eliminates the need for purchasing hundreds of disposable batteries, resulting in extremely low operating costs over time.
Streamlight has taken battery rechargeability to new levels recently with its SL-B26 protected Li-Ion USB-rechargeable battery pack with a micro-USB port, allowing users to charge the battery outside of the flashlight. The company also recently introduced its SL-B50 battery pack with an integrated USB-C charge port designed for use with the company's newest high-power work lights, the ProTac 2.0 Flashlight and the ProTac 2.0 Headlamp; the new battery can be charged either inside or outside the light.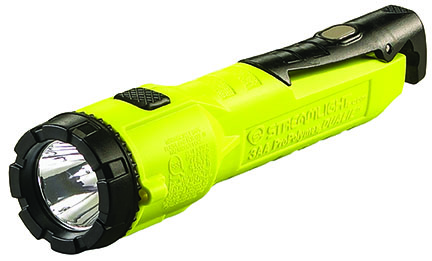 Streamlight's Dualie 3AA has a bright
light, which shines both ahead of you
and downward, helps you avoid slips,
trips and falls. It features a magnetic
clip with integrated hang hook for
hands-free use.
Rechargeable flashlights also help promote environmental sustainability by eliminating the number of disposable batteries that could potentially end up in landfills. Research shows that switching just one AA battery flashlight to a Streamlight rechargeable light can result in a 99% carbon footprint reduction, while eliminating 42 pounds of chemical battery waste from landfills each year. This also contributes to a cleaner and safer working environment.
Streamlight's engineering team meets regularly with industrial users to obtain feedback and product suggestions. Demand is growing for lights and headlamps that are super bright, compact, rechargeable, and featurerich to suit a variety of industrial tasks. In direct response to this input, Streamlight continues to develop:
Headlamps like the Enduro Pro USB that are ultra-bright, lightweight, offer long run times and are USB rechargeable.
Work lights such as the Syclone Jr. and BearTrap that fit in tight places, hands-free or hanging, and can rotate on their bodies to provide area lighting wherever it's needed. Because they also are rechargeable, they eliminate trip hazards from loose charge cords.
Multi-function lights, such as the Dualie 3AA Magnet, that feature both a forward-facing spot beam and side-facing flood light for use individually or simultaneously for optimizing navigation and eliminating blind spots.
Another recent innovation is a line of flashlights equipped with Streamlight's proprietary Color-Rite Technology that allows users to see the color spectrum as they would in natural light. Color-Rite Technology is based on the Color Rendering Index (CRI) – a scale from 0-100 that indicates how a light source reflects color variations as they appear to the human eye. The higher the CRI, the more vibrant the colors appear.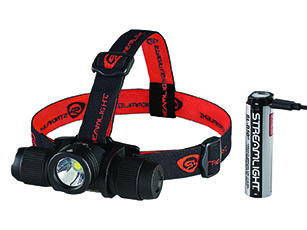 Streamlight's high-performance ProTac 2.0 headlamp produces 2,000 lumens without sacrificing run time. Powered by the new SL-B50 battery pack that charges inside or outside of the light using a USB-C cord.
While a standard high-lumen LED light produces an ultra-bright white beam that is needed in many applications, it prevents seeing subtle color differences. In contrast, a high CRI light provides a softer, warmer beam to prevent color "washout," allowing the user to see specific colors or imperfections and subtle details, such as when differentiating wire colors in electrical panels or spotting imperfections in finish inspections of products and parts. The soft lighting of high CRI LEDs also reduces eye strain and fatigue for many users.
SELECTABLE COLOR/OUTPUT
In addition to supporting the commercial and industrial market's desire for high-performing, long-life, and low-maintenance lighting, Litetronics has designed many of its LED fixtures with the powerful feature of selectable color and lighting output/ wattage to address the ongoing need for efficiency as well as the growing premium associated with warehouse shelf space, according to William Morreal, vice president of marketing at Litetronics.
This feature is designed into such products as its LED area lights, flood lights, and wall packs for outdoor lighting applications. Specifically, this includes its: Vivid LED Frame for architectural applications, LED flat-panel fixtures for drop/grid ceiling configurations, and LED Smart Light Panels and LED Smart Volumetric Troffers.
"The incorporation of selectable color and lighting output/wattage within one fixture supports the need for maximum flexibility, ease of use, and enhanced productivity by enabling installers and/or end users to make their selections right in the field or via our LiteSmart App based on the specific application and to then adjust things as necessary," said Morreal.
Litetronics' outdoor fixtures promote further versatility and user-friendliness by being available in a variety of mounting options, including yoke, knuckle, trunnion, slipfitter, direct mount, and more.
In addition to meeting the market's lighting needs, Morreal said, "designing our fixtures to encompass several color temperature, light output, wattage, and mounting options also reduces both the number of different products that commercial and industrial customers need to order as well as the number of SKUs electrical distributors and contractors need to carry, which helps optimize their valuable warehouse space."

Litetronics LED area lights, flood lights, slim wall packs and 2-in-1 wall packs for outdoor lighting applications are designed with the powerful feature of selectable color and lighting output/wattage to address the ongoing need for efficiency.
PROGRAM IT
Pelican's mission is to bring the greatest total value to the user at a reasonable cost, says Nicholas Carlson, sales manager - lighting division. Whether that's features, run time, or durability, the company carefully weighs usage factors and practical case studies to bring only the best devices to market.
"Pelican was at the forefront during the industry transition from incandescent-style lighting to LED," said Carlson. "Now, we're strategically preparing for the next evolutionary step. What will replace LEDs? Indications point toward laser technology. Pelican will continue to lead the industry with the best lights in the market."
He attributes Pelican's success to listening to the voice of the customer.
"Pelican has strong relationships with our customers, and several of our existing lighting platforms were developed by responding to major industry players and government agencies," he added. "We will take the successes and solutions for one customer, share that information and data internally, and determine if that value can be delivered to other customers or the global team. For example, a solution created for a refinery in Texas may be used for a similar plant in South America."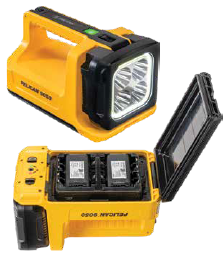 The Pelican 9050 allows you to select between Li-ion, AA alkaline or AA NiMH to operate the light. Select between spot, flood, spot/ flood, or flashing modes. The spot/flood light head outputs up to 3369 lumens. Rear taillights with adjustable colors make notification or identification as simple as pressing the dedicated switch.
Device programmability has been a customer demand that led to the development of the 7-Series flashlights. These tactical flashlights allow users to select the sequence of light output mode.
Flashlight customers generally like to know how much power is available to them, so Pelican has designed full-time battery level monitoring and low-level battery indication into capable models.
The Pelican 9050 Lantern was also designed based on customer demand. The 9050 Lantern is the first lantern in the industry with a dual lithium-ion/alkaline battery system.
Pelican says it's positioned for the ever-changing needs for industry safety and to utilize new technologies to increase durability and productivity. The company has developed a Correct Color flashlight series for users demanding a higher Color Rendering Index beam, or task light. This light reveals truer colors beyond conventional LEDs and is important for specific activities such as discovering new growth from burned growth in wildland firefighting or the oxygenation level of blood in healthcare. This feature is available in select flashlights and headlamps.
MANUFACTURING, WAREHOUSE LIGHTING
EarthTronics has introduced the Color and Wattage Selectable UFO LED Highbay Series in two versions, each offering three color temperatures and four wattages with a high 80 CRI to provide optimal lighting for commercial, manufacturing and warehouse facilities.
Ideal as energy-efficient replacements for up to 1000-watt HID fixtures, the two new Color and Wattage selectable UFO LED Highbay fixtures allow facilities the flexibility of switching among three temperatures (3000K, 4000K and 5000K) at the time of installation and four wattages to ensure improved visual acuity for accuracy in manufacturing and warehouse environments. The series includes high-bay fixtures that can be adjusted to 50, 80, 100 and 150 wattages, providing 6750 to 20500 lumens respectively. A second unit can be set at 150, 180, 200 and 240 wattages, offering 20250 lumens to 32400 lumens. These fixtures deliver exceptional efficiency and operate at 135 lumens per watt.
The Color and Wattage Selectable UFO LED Highbay Series operates on 120/277VAC with 0-10V dimming standard. The LED driver is equipped with 12VDC to power optional sensors and EarthConnect Bluetooth mesh systems. The sensor options are easily installed by simply screwing them into the face of the fixture.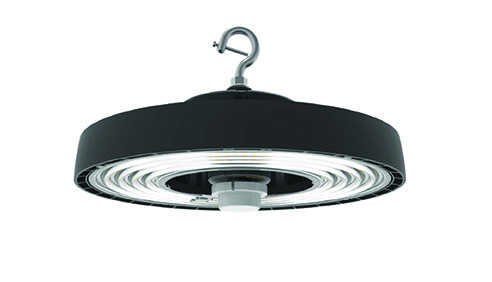 EarthTronics new energyefficient LED UFO High Bay can be adjusted in seven wattages and three-color temperature configurations to deliver optimal facility lighting and improved visual acuity.
With their ultra-thin die-cast aluminum housing, combined with their unique open center ventilated LED array with high quality chips, the UFO LED high bay fixtures allow excellent heat dissipation resulting in high lumen maintenance over their service life. In addition, the fixtures have a powder coat finish, stainless-steel screws and a IK08 polycarbonate lens to ensure a corrosion-resistant operation, enabling an exceptional 50,000-hour performance life.
This article originally appeared in the May/June 2023 issue of Industrial Supply magazine. Copyright 2023, Direct Business Media.
COMMENTS: 0
---