Going Where Customers Lead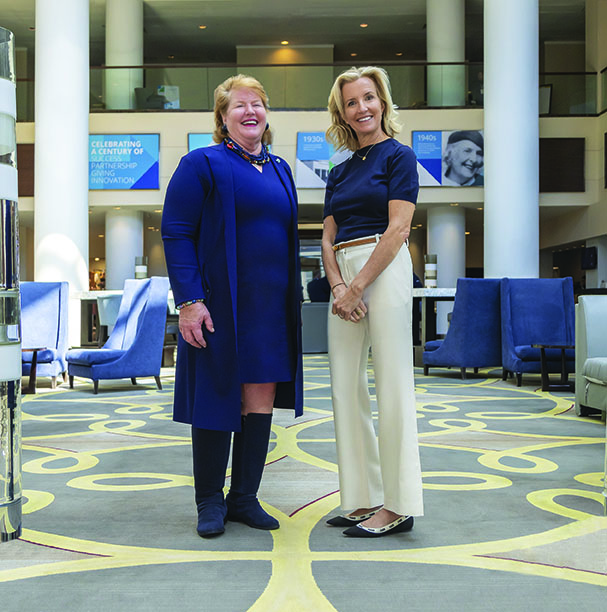 Chief Executive Officer Kathleen Shanahan and Executive Chairman of the Board Jayne Millard.
At 100, Turtle readies for continued expansion
by Kim Phelan
Growth-minded electrical and industrial distributor Turtle (formerly Turtle & Hughes) may be celebrating 100 years of history in 2023, but they're making far more hoopla over the future than the past. Defining history not as a series of names and dates but rather as a series of choices, Turtle keeps morphing, and moving, and making itself what its customers need them to be. Fearless about change and forging new business opportunities, the company has begun to redefine itself once again, thanks to courageous and creative leadership from Executive Chairman of the Board Jayne Millard and Chief Executive Officer Kathleen Shanahan.
The company's expansion strategy is two-pronged. Often, Turtle grows organically into new geographic regions – following one or more big customers and then attracting more, as it did this February by opening a new electrical supplies warehouse in Austin, Texas, building on its 40-year presence in Houston.
"We have a very significant customer in Austin that's building huge plants and facilities, and they tapped us for a lot of services," said Shanahan. "And so we jumped in. We try to go where our customers lead us. Our team is very excited about the expansion and very excited about the customer that we're engaged with on the ground. There's just so much commercial, industrial, electrical activity happening in Texas and particularly in Austin right now."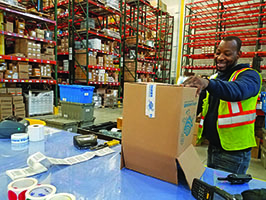 A warehouse worker at the Turtle facility
in Bridewater, New Jersey.
Other times, the company seizes opportunity of another kind, developing new, from-scratch business units to fill a need gap in the market. In either case, growth at Turtle is anchored in robust diversification.
"An example [of business creation] would be our developing a digital infrastructure consulting business 10 years ago," said Millard. "All of a sudden, our customers that we were providing equipment for were asking us questions like, 'how do we improve our network?' and 'can you do a network assessment of our manufacturing facility or our utility?' We made a strategic decision – even though we've never been in the space, we knew enough to get good at it really quick. So that's kind of one way we grow.
"Kathleen and I, and our phenomenal leadership team, are always looking at how Turtle can remain in our lanes, so to speak, but we're also always looking at how wide those lanes can get," she added.
Lane-widening is a definite theme, although Turtle's origins were humble and small enough. Two friends went into business together to sell electrical supplies in Manhattan at about the time electricity was finally catching on as a mainstream source of light and power in America. Ten decades later, coming full circle in a digital world of smart manufacturing, AI, and machine learning, Turtle has rebranded this spring with a new mission summed up as, "Rethinking Energy. Advancing Tomorrow." Calling itself a strategic energy solutions leader, Turtle is poised to capitalize on "the electrification of everything," as Millard puts it.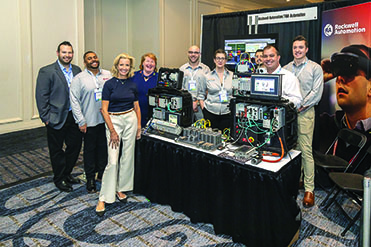 Members of the Rockwell team enjoy some comraderie with Turtle leaders during the Supplier Expo in mid-March.
But they're going even further, launching a brand-new cybersecurity business unit, which was announced during the company's Supplier Expo near Newark, New Jersey.
"One of the biggest issues facing businesses today is cybersecurity, which also is an evolving technical skill set within Turtle. It exemplifies how we process opportunities and respond to customer demands," said Shanahan. "We have a very talented chief information security officer and IT team, and we've learned from our own experiences what it takes to follow the federal NIST requirements and all the checkpoints of what companies must do.
"And I think, especially among the medium-sized companies, they can't afford the resources, and they don't even know where to start," she said. "We've heard our customers talk about their fears about this, so it's become a perfect example of how we assimilate information and then offer a service and take it to market."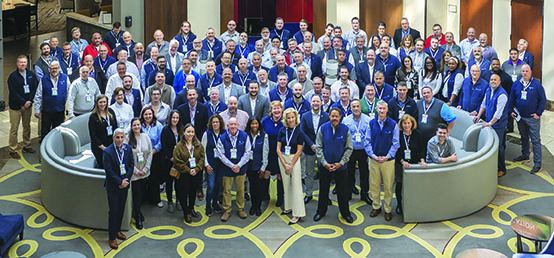 Manufacturers and customers gathered March 14 for Turtle's big Supplier Expo in East Rutherford, New Jersey, where the host's new branding was unveiled: "Rethinking Energy. Advancing Tomorrow."
GOING INDUSTRIAL
As an authorized Rockwell distributor, the company has long been an automation and IIoT innovator that consultatively serves customers in commercial construction, utilities, oil and gas, mining, and more from its 16 electrical distribution locations in the East Coast, Southwest, and West Coast. In the '90s, Turtle made one of its most landmark decisions by entering the industrial distribution playing field.
"My dad had a great idea, he thought, and I agreed!" said Millard. "He said if we're in electrical, we should be in industrial distribution, too, because there's some crossover in the automation plants – instead of just providing Rockwell, let's start providing cutting tools.
"So, we bought a couple of industrial distributors, mostly up in the Northeast," she continued. "And from that we developed a new business division called Integrated Supply."
By that time, the electrical business had grown nationally, but electrical supplies represent only about 8% of a plant's equipment and supplies spend, according to Millard. Yet, industrial was a new kind of animal for Turtle, and one its team knew little about, hence the decision to create a separate operation. And in the making of something new, the company chose to throw open the door on methodology, as well. Integrated Supply was more than a name – for Turtle, it was a different concept in industrial distribution where they would go to market as an all-encompassing, full-service MRO supplier to all its existing verticals and a whole herd of new ones.
"We set up a separate division that could go out to a manufacturing facility and say, 'we'll manage your procurement, we'll reduce your costs, and we'll give you one report at the end of the month,'" Millard said, "so instead of going out to 500 different suppliers, they come through us and we go out and negotiate pricing and provide data analytics."
It begins as a conversation at the senior executive level, she added, where the compelling case for substantial cost saving is laid out.
"We'd go to the CFO of a big pharmaceutical, for example, and say, 'you're spending 20% more than you have to on things like cutting tools, and abrasives, and chemicals – let us come in and procure all of this for you," Millard said. "And we'll guarantee you X percent markup on wholesale cost.
"In 10 years, we've saved one of our customers about $20 million," she continued. "Customers think it's a great idea – they have a hard time controlling their manufacturing plants anyway, because the plant engineers run everything and decide everything. So then we go in and broker a new relationship with the plant engineers and convince them – which is not easy – that we can provide cost savings. It's a win-win for the manufacturing plant and for the executives they report to."
While customers have the option to shop Turtle industrial supplies online, Integrated Supply is an industrial distribution business that sets up shop, so to speak, at the customer's facility – presently, they're servicing more than 100 Integrated Supply accounts inside customer locations in 26 states as well as Canada and Mexico.
WE'VE GOT THEIR BACK
While thinking outside the box continues to fuel Turtle's growth, Millard and Shanahan also devote considerable reflection to the inside issues that ensure internal strength, and chief among their priorities is maintaining a stable and loyal workforce. Like most industrial distributor executives in America today, the foremost concern on Shanahan's mind is finding and growing talent.
"What keeps me up at night? It's making sure we're creating the pathways for people to see all that they can be at Turtle on a daily basis," she said. "And that's really hard to do, but it's front and center. From my perspective, it's continuously communicating internally and creating the right culture, environment, core values, and respect as a place to work. But also, how do we get more people into the pipeline?"
Millard adds that protecting Turtle's culture, keeping employees safe, and also making them feel secure is a top concern – she focuses on this not because women leaders are necessarily more nurturing than male counterparts, she said, but rather, because, growing up in her family's business, she saw the care of employees modelled by her predecessors.
"My family demonstrated consistently caring for and nurturing the employees as their most important priority," she said. "And that's what's gotten us through 100 years more than anything else. You know, selling the company would have been easy, but we said no, we're doing a good job – we can take care of these people.
"Today, we look at all the threats impacting companies after COVID, from the increase in cyberattacks, the destabilization of the economy, and we think about what that impact means to our employees and our customers. We spend a lot of time making sure our employees are well taken care of, so that they can go out and take care of their customers. As Kathleen points out, finding talent is one of the most critical path items for any organization right now, but to find the talent, you have to have the right culture. You have to nurture a culture of innovation, which means there has to be high levels of trust, high levels of employees feeling like they're in a culture that's going to take care of them – that's always got their back."
And so, house in order, Turtle looks forward, ready to build on the fundamentals it's known for, said Shanahan: technical solutions, active partnerships, and great employees. She's focused on taking their reimagined brand and embedding it not only for current customers but with new customers and new markets, taking advantage of the infrastructure and numerous large commercial projects happening in their geographic markets over the next three to seven years.
"We're looking at ways to innovate by applying technology in both the industrial and electrical markets," she said, "and continue to advance our footprint with our customers."
Dynamic Duo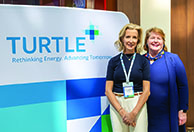 Millard and Shanahan are sometimes conscious of staring eyes when they walk into a room together, but not self-conscious. They accept it's unusual for a woman to be in charge of an industrial distribution company, much less two women, but they don't waste time talking about this "phenomenon" – they acknowledge that many women possess the qualities for great leadership and move on.
As two active leaders in the company, they've been careful to define their roles well, and fortunately, they've discovered how much they think alike and complement each other. Since becoming CEO in 2010 and chairman of the board in 2016 of the 100-year-old family-owned business, Millard recognized she was stretched pretty thin. Shanahan was brought in as a board member in 2015, joined the management team as executive vice president in 2017, and served as co-CEO with Millard from 2018–2020, when she assumed the role solo, and Millard became executive chairman of the board.
"I think I'm a good lieutenant – I'm good at getting stuff done," said Shanahan. "I've run three other organizations and I was chief of staff for a governor. I believe in communicating, and I believe you get your best ideas from your people – you just have to create the pathways to listen to them. And they have to believe that they're being heard. That's always been my anchor belief.
"Jayne and I have created a tag team whereby she can stay focused on where we're headed, what's happening in the industry, what are the innovative things we could be doing. She always comes back with these ideas and throws them into the sauce. And I'm sort of the person who picks them up and says, 'Okay, let's implement them across the organization.'
"It's worked out really well in terms of how we work together," Shanahan continued. "We go down our pathways and do our own work, but we're always checking in with each other."
Millard added, "Our styles complement each other perfectly. We really approach things very differently. I stay out of Kathleen's lane so she can get things done, or at least on most days! And the transformation that she's affected across the organization has been nothing short of a miracle in the short time that she's been with us. We make a great team. And we also have this odd quality of thinking the same and finishing each other's sentences, which is an added bonus. We agree on about 95% of everything we talk about."
This article originally appeared in the May/June 2023 issue of Industrial Supply magazine. Copyright 2023, Direct Business Media.
COMMENTS: 0
---