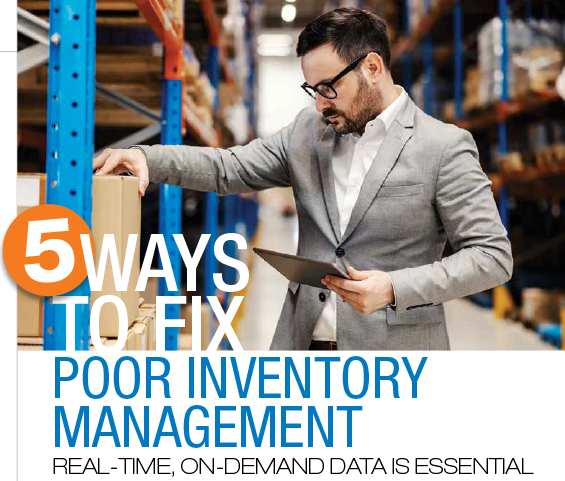 By Nelson Valderrama
Supply chain disruptions, ongoing inflation, and talent shortages have hit the distribution sector hard. Some distributors insist on riding out the storm. They look for a "new normal" to settle the rough waters. But during the last six months, we talked with distribution CEOs and CFOs looking for a new way to do business. This trifecta of critical external challenges made them look at inventory levels and processes in new ways. Outside and inside pressures have distributors looking at inventory costs and the need to fix poor inventory management.
What are the results of poor inventory management?
Distributors across a range of annual revenues have seen inventory levels rise − beyond their sales growth rate. The company may overestimate customer demand. It may need to revise the amount of stock on hand. Or they may have intentionally overstocked because of supply chain concerns.
However, poor inventory management will strain working capital. These distributors see costs increase because they store and maintain excess inventory. Increased costs reduce profits, and selling excess products at a discount hurts even more. Holding any potential excess inventory at higher cost can prove a costly mistake. It could leave you with goods that your customers are less likely to buy.
Distributors cannot move forward with inflated working capital tied up in the warehouse. They cannot serve customers without the right stock to fulfill customer orders. Our conversations with distributors led us to propose ways to fix poor inventory management.
THE PROBLEM FACING DISTRIBUTORS
B2B distributors know proper inventory management is essential for their success. Those we spoke to want tactical and strategic support to create and maintain a healthy inventory. A healthy inventory meets customer demand on the nose. It is neither short nor excessive.
Distributor CEOs, CFOs, and other key decisionmakers must stay close to their inventory management. Healthy inventory remains their best gross margin source. The senior decision-makers may differ in perspective, but they must put both hands around their inventory. They need to know:
Does the current inventory process and technology predict demand for the next half-year? And are the reports consistently accurate? Unlocking this insight will help distributors optimize future decisions and lay a strong foundation for success.
How reliable is the current inventory analysis when planning supply in a climate of changing lead times?
What metric best distinguishes healthy inventory from its unhealthy counterpart?
Given the current state of inventory data, what level of understanding and insight do we have into its accuracy and coverage?
Distributorships wrangle thousands of SKUs. Their business leaders understand their new normal is a dynamic system. Inventory remains just one process in a distributor's system of systems. Inventory data must reach operations, marketing, sales, finance, and other functional silos. Decision-makers accountable for performance in each of those silos will accept and pursue engagement with inventory management in their self-interest.
Here are five ways to fix poor inventory management:
1 Clean house. Distributors can unlock untapped savings potential by curbing their excess inventory, provided they have an efficient process in place and are set up to measure results. Having a team that is accountable for implementation of this plan will ensure success.
2 Take a picture. Distributors must have access to real-time data. They require on-demand, easy-to-understand, real-time data presented with clarity. Decision-makers must see and feel inventory levels, turnover movement, and anticipated customer demand. Suppose they want to optimize the inventory, sharing its dynamic with other business functions. In that case, they must grasp the supply chain performance as it approaches the distributor and functions internally through the customer purchase. This dynamic has proven too much for legacy reports and Excel.
3 Know the customer. Decision-makers should see profits as a function of customer understanding. They have no obligation to serve all customers. They should be in the business of serving the customers that make sense to them. Distributors should invest in customer profitability analytics to identify their buyers and the cost of serving them. High-cost-to-serve customers require more service and support than low-cost-to-serve. We cannot divide customers so categorically. Still, distributors need predictive analytics reflecting the customer's frequency and size of orders, analysis of the accounts receivable/ payable history, and record of product returns.
4 Improve forecast accuracy. A healthy inventory depends on the distributor's ability to have enough stock on hand to meet customer demands and avoid excess inventory and its added cost. Finding and sustaining this balance may take time. You should prime inventory processes and technology to accurately forecast demand for the next six months. With a comprehensive approach, you can confidently anticipate market trends so that the business remains agile in meeting customer needs. Still, distributors have increasingly sought the integration that only AI can achieve.
5 Become agile. Decision-makers must have accurate and ready access to distribution data. They need tools to help them visualize the product's path from the distributor's PO to vendors to the customer's hands. They require dashboards that display movement, benchmarks, and key performance indicators. And they must see pain points before they hurt. Distributors can only make informed decisions with this information. As advocates for efficiency and innovation, distributors are using AI to identify the most ideal combination of stock levels. By staying agile in their approach and understanding which SKUs are healthy inventory versus those that are unhealthy, they can effectively manage the supply chain without sacrificing growth.
GROWING BEYOND EXPECTATIONS
In his 2017 book on the best practices in inventory management, Tony Wild said, "The global supply enables a consistent product to be offered throughout the world, giving efficiency in design, operations, marketing, and volume." But still-emerging macro- and micro-economic effects require innovation in inventory execution.
Brave business visionaries are taking advantage of today's ever-evolving landscape to think outside the box. In challenging times, executives have stepped up their game and successfully navigated uncertain waters through thoughtful risk management – as discussed by Jason Bader and Mark Dancer in enlightening conversations.
Thinking of customers first, they sought inventory management to ensure customer satisfaction with the desired quality, pricing, and availability—consumer demand being often seasonal or whimsical.
Recent conversations with top-shelf distributors have helped us understand how they value the descriptive and predictive analytics only AI can enable. They have seen inventory management strategies fail because they developed from legacy methodologies and gut reactions. They also felt hamstrung by (A) the absence of reliably accurate data, (B) dated data that precluded real-time financial assessment, and (C) the need for more information to support a successful sales force.
Non-disruptive, customizable, and scalable AI/ML support continues to fix poor inventory management issues. It does so with engaging and empowering capabilities that distributor leaders find worth trying.

Nelson Valderrama is CEO of Intuilize, a web-based application designed to work in tandem with your ERP (and other digital technologies) to provide price optimization for forward-thinking distributors. For over two decades, he has managed the exponential growth of large and midsize companies, including GE and private equity firms, to increase their profits by optimizing pricing and inventory systems without compromising their original model. He can be reached at: nelson@intuilize.com.
This article originally appeared in the May/June 2023 issue of Industrial Supply magazine. Copyright 2023, Direct Business Media.
COMMENTS: 0
---