Crib Crawlers
Saving money for customers starts from the ground up at Haggard & Stocking Associates

by Rich Vurva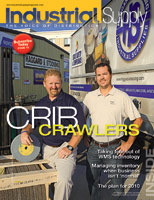 The day-to-day world of industrial distribution is far from glamorous. Sometimes, the most important work begins in the dark recesses of a tool crib on a manufacturing plant floor, where a distributor pokes through inventory in search of clues to wasteful spending. Haggard & Stocking Associates of Indianapolis calls that activity a "crib crawl." The goal is to establish a baseline of data before making improvement suggestions.
"We ask a lot of what and why questions. What are you using and why are you using it? Then, how can we improve upon it? But we try to do that in partnership with our customers rather than telling them what to use," says Jeff Haggard, manager of Industrial Sales.
Haggard recalls one particularly memorable survey he conducted at a major automaker's foundry. One area of the plant used a brush manufactured in Germany. Not only was the brush expensive to buy, but shipping and handling costs quickly added up when rush orders had to be sent from Europe.
Working closely with U.S.-based brush manufacturer Weiler Corporation, Haggard located a standard brush that could perform the same task. The annual savings totaled more than $1 million.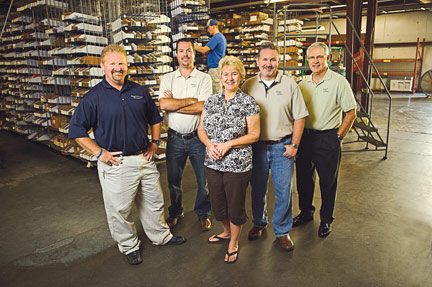 "I actually added it up four times because I couldn't believe the numbers. But it all started with taking a look at what products across the board they were using and why they were using it," says Haggard, the son of company founder and CEO Herb Haggard.
When the company was founded in 1972, it quickly earned a reputation for having expertise in engineered cutting tools. In the early days, about 85 percent of the customer base was transportation related, including GM, Ford, Chrysler, Cummins and Navistar. If an automotive parts supplier or engine maker had problems with surface finish, concentricity or maintaining tolerance on a critical production part, they knew they could turn to Haggard & Stocking Associates for a solution.
By the early 1980s, Haggard recognized the trend toward integrated supply systems and expanded into general MRO products. The company implemented its first inventory management program in 1982 and now has more than 160 different programs with customers, ranging from simple stocking cabinets and bin stocking systems to fully staffed on-site integrated supply programs.
"We're bringing our customers more than just a catalog of products. With everything from the spindle on the tooling to the shop floor, our goal is to help our customer put their product out the back door for less money," says Jeff Haggard.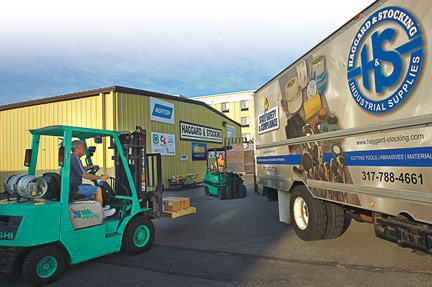 While still heavily focused on the metalworking industry, Haggard is becoming more diversified. About two-thirds of its customer base consists of production machining, tool and die shops, small machine shops and some woodworking facilities. The fastest growing customer segment, which now represents about one-third of its total customers, is served by Haggard's Aerospace Division. Haggard began supplying cutting tools, abrasives and general maintenance and repair parts to United Airlines shortly after the airline opened a maintenance facility in Indianapolis in the mid 1990s. The success of that project enabled Haggard to win a contract to supply MRO products to United facilities from Chicago to the East Coast.
Another contract to supply maintenance supplies to a large, multi-facility aircraft maintenance company in North Carolina took Haggard outside of the state of Indiana for the first time. Today, the Aerospace Division serves facilities in Texas, Arizona, California and Florida.
Haggard & Stocking generates about $33 million in annual sales from two locations in Indianapolis and Fort Wayne, Ind., plus a handful of on-site branches at customer sites dedicated primarily to aerospace accounts. By leasing floor space at some of those accounts, Haggard can transfer inventory from one location to another or sell it to other customers. The company also has a Material Handling Division and owns a 50% share in State Safety & Compliance, a distributor of safety supplies.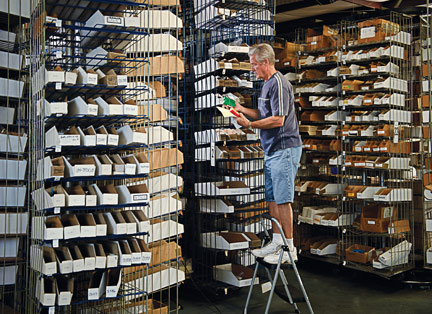 It's all about cost savings
Watching his company expand over the years, company founder Herb Haggard has noticed that customers are more focused on reducing costs than ever before. The challenge is to get them to understand the difference between cost savings and lower prices.
"The customer is focused on cost savings. But the majority of customers will still not recognize soft cost savings. All they want is hard cost savings, which is the price of the product," he says.
Haggard says the way to survive in this business is to gain efficiencies and take cost out of the system. He uses his own company as an example to illustrate his point: "I'm not going to gain a lot by telling my supplier of office supplies, 'You've got to lower your office supply products by 5%.' That's insignificant. If I can eliminate paperwork, and don't have to buy all that paper, envelopes and postage because I can do invoices electronically or order electronically, I can be more efficient. My cost savings is going to be in my process, not mandating a 5% price savings on paper."
One longtime customer that has benefited from the focus on process savings is a manufacturer of steel castings. Haggard uses tool vending technology to collect used carbide tooling for recycling and to track tools for repair.
In order for employees at the casting facility to check out a new carbide insert or round tool, they must first deposit a used tool in a specially designated drawer of a Tool Boss vending machine. Haggard & Stocking sells the recycled tools to carbide manufacturers at market value and credits the customer for the value on future purchases. Haggard also provides separate plastic bins for employees to deposit other cutting tools that are damaged or need to be repaired or reground.
Haggard & Stocking collects the tools at least weekly, sorts and labels them and ships them to the appropriate vendor for reconditioning. The reconditioned tools are typically returned within two to four weeks. One year, savings totaled more than $250,000. The ability to generate impressive cost savings has earned recognition from customers and industry peers.
Haggard received the 2006 American Eagle Value-Added Distributor Award from the Industrial Supply Association. In 2007, IBC's IndustrialSupplyPlus distributor network named Haggard its IBC Member of the Year. Last year, account manager Randee Taylor received IBC's Strategic Account Management Award for her commitment to driving cost savings initiatives for a key national account customer.
"A lot of companies take cost out of the channel but don't communicate that very effectively with the customer, so the customer doesn't see the value in what they're
doing. Haggard is excellent not only in taking out costs, but making sure they communicate the ongoing objectives with their customer," says Dan Burnham, president of IBC.
Haggard says membership in IBC helps his company compete for national contracts and also provides access to a broader range of suppliers and non-competing distributors for sharing best practices.
"IBC has been very beneficial to us. They have helped us expand on a national level working with plants in other locations as well as in Indiana," says Herb Haggard. "That has helped us tremendously in expanding our boundaries."
Using contacts developed at airline accounts, Aerospace Division manager Ron Barnett also recently started to partner with distributors of aircraft hardware and chemicals. Haggard charges those companies for handling their products in tool cribs at shared accounts. The arrangement may also provide an opportunity to expand into overseas markets.
"One of the companies we're partnering with does a lot of business in Europe, so we're currently quoting on some business in Europe for cutting tools, abrasives and MRO supplies," says Barnett. "The customer will then receive one invoice for all of their aircraft hardware and maintenance supplies, which will lower their procurement costs."
Growth opportunities
Haggard believes partnering with other companies, either through membership in IBC or relationships with other types of distributors, can help mid-sized companies provide a broader range of services to existing customers and open up new business opportunities. Last month, the company held a half-day seminar for prospects and customers with growth potential that focused on the theme "Making money in a tough economic environment." The event, which included customer testimonials, helped Haggard & Stocking showcase its value-added service offering and demonstrate its commitment to helping customers lower their costs and become more efficient.
"We've got to position ourselves for a greater share of the market. Instead of cowering and taking a reactive approach, we want to take an active approach and show customers how they can survive in this economy. We've done a good job internally and we've got customers who will tell about how we've helped them," Herb Haggard says.
This article originally appeared in the Nov./Dec. 2009 edition of Industrial Supply magazine. Copyright 2009, Direct Business Media, LLC.
COMMENTS: 0
---