Flurry of 4th Quarter Activity
Acquisition pace picks up
by Curt Tatham
Private equity firms have continued to increase their pace of acquisitions during the third and fourth quarters as they seek to put large amounts of un-deployed capital to work. Most expect the fourth quarter to produce a flurry of transactions driven by sellers' desires to close transactions by year-end before tax increases take effect on Jan. 1, 2011.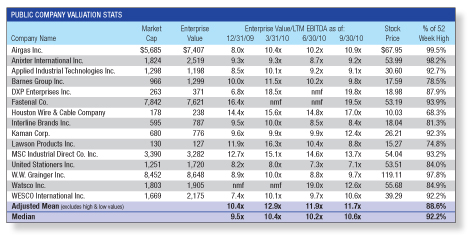 It is likely that M&A activity would have increased during the second half of the year as a result of generally improving economic and financing conditions. However, tax law changes likely pushed a meaningful number of transactions into 2010 that otherwise would likely have been pursued in 2011.
M&A transaction volume is being further supported by a stable lending environment. Lenders in buyout transactions increasingly view this as an excellent time to put money to work. From a lender's perspective, they are underwriting senior cash flow loans off of historically depressed EBITDA levels while leverage remains relatively conservative on a longer-term historic basis and loan spreads remain attractive.
One challenge to getting deals done in the fourth quarter continues to be bandwidth at private equity firms and lenders. The strong increase in deal volume has left buyers' resources constrained as their professionals struggle to complete multiple transactions while reviewing additional opportunities. During the third quarter, GE Antares Capital, a major cash flow lender to the buyout universe, hired 20 extra professionals to handle deal volume.
Examples of new industrial distribution platform acquisitions announced by private equity firms during the third quarter include:
BlackHawk Industrial Distribution Inc. acquired Duncan Industrial Solutions Inc. Duncan is the first acquisition for BlackHawk, a new industrial distribution platform created through a partnership between Bill Scheller, former CEO and president of ORS Nasco, and Brazos Private Equity Partners LLC. Founded in 1948, Duncan Industrial Solutions Inc. is a distributor of name-brand industrial MRO supplies and equipment.
Audax Private Equity acquired Distribution International Inc., a Houston-based distributor of industrial, commercial and marine insulation and related specialty fabricated products. Distribution International serves the industrial, non-residential construction and marine end markets via 19 branch locations throughout Maryland, Virginia, North Carolina, South Carolina, Alabama, Louisiana, Mississippi and Texas.
Freeman Spogli acquired Brooks Equipment Company, previously a portfolio company of Behrman Capital. Brooks is a business-to-business distributor of first response fire protection equipment and related parts. Brooks carries over 17,000 fire equipment and MRO products from over 400 industry-leading manufacturers at its 16 locations across the United States.
The Pritzker Group acquired Impact Products, previously a portfolio company of Hampshire Equity Partners. Impact was advised by Lincoln International and is a leading supplier of branded and private label non-chemical commercial cleaning, maintenance and related products. Its products consist of a full suite of janitorial products, including floor care products, waste receptacles, washroom accessories and safety products serving the commercial cleaning, industrial services, healthcare, government, schools, office buildings, hospitality and foodservice end markets.
While tax considerations have played a role in the increased activity during the fourth quarter, as we head into 2011, most industry participants believe that the strong pace of M&A activity will continue absent any unforeseen economic or geo-political shock. Improving financial performance, a stable lending environment, ample equity capital at both private equity firms and strategic buyers and the strong free cash flow
characteristics of distribution companies should continue to support a favorable environment for industry participants contemplating an exit.

Curt Tatham is a managing director at Lincoln International, where he leads the firm's Distribution Group. Reach him at (312) 580-8329 or ctatham@lincolninternational.com.
This article originally appeared in the Nov./Dec. 2010 issue of Industrial Supply magazine. Copyright 2010, Direct Business Media.
COMMENTS: 0
---