First Responders
A staff of trained specialists, robust Web site and custom CRM give Conney Safety the ability to respond quickly to customers
by Rich Vurva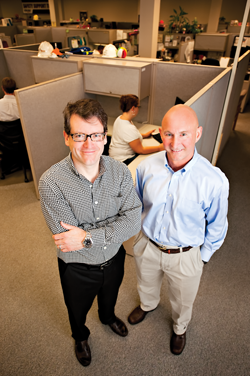 What happens behind the scenes at a distribution company is often complex. But Mike Wessner and Chuck Moyer understand that the objective of any distribution company is really quite simple. The goal is to be amazingly responsive to customers.
"We challenge our salespeople to say to prospects, 'Give us your most challenging safety situation, and we're going to show you how fast we can respond to it'," says Wessner, chief executive officer for Conney Safety, a Madison, Wis.-based safety specialist.
With financing by CI Capital Partners, Wessner and Moyer purchased Conney Safety, a catalog-centric safety distributor, in October 2007 for $48 million.
The duo previously worked together at Kennametal subsidiary J&L Industrial Supply, a Detroit area catalog-based distributor specializing in metalworking products. The pair helped streamline that company's operations, grew the telesales department and ultimately positioned it to be sold to MSC Industrial Supply in 2006 for nearly $350 million. They have taken many of the lessons learned from the metalworking business and applied them to the B-to-B safety arena.
Build an effective team
For example, one of their first moves after acquiring Conney from K+K America was to begin building a telesales operation. Much like the J&L call center that was supported by a centralized team of engineers who provided technical support to phone salespeople, Conney's 70-person telesales team is backed by a support staff of seven safety specialists.
Headed by two Certified Safety Professionals, safety support team members are equally adept at answering customer questions about safety regulations as they are talking about products.
The approach lowers the company's cost-to-serve because it brings technical resources to a centralized location, where they can be more broadly accessed
by other salespeople, rather than placing them on the road in traditional field sales roles.
"In any selling situation, you can only go so far on the telephone. At some point, you may have to do glove tests, you may have to do a job hazard analysis or fit testing. But it doesn't mean that you have to have a salesperson driving a route," Moyer says. While the company still maintains a traditional field sales force, some salespeople have been transitioned to a national accounts role or to technical support positions.
They also de-emphasized Conney's catalog and direct marketing effort. Previous owners used the catalog as a prospecting tool, printing and mailing it to a list of several million names. Each mailing would generate an uptick in phone calls but not necessarily a corresponding increase in sales because many of the calls were of the "Please take me off your list" variety. The print run for the 580-page catalog, which was redesigned by product category to make it easier to locate products, has been slashed by more than 80 percent.
Get back to basics
Taking a page from the lean manufacturing lessons learned at Kennametal, everything at Conney has a process and can be measured. At 10:30 every morning, department managers spend 15 minutes reviewing all of the metrics from the day before. They pay close attention to sales by channel and how those are trending, but also watch fill rates by product category. How did the warehouse perform? Did every package get out last night? Did every order get entered yesterday? What are the errors per million in the distribution center? What are the errors per million in order entry?
"We're real sticklers for the numbers and making sure they're visible and all of the managers know exactly what they're responsible for delivering. So, if we had two more order entry errors yesterday, our contact center manager will tell us what those orders were, what caused the error and what's being done to solve it," says Moyer.
This eye for detail has resulted in customers frequently complimenting the company on its responsiveness. To capitalize on the fact that customers were noticing how quickly they could respond to customer questions, the company added a tag line to its catalog and Web site: "If your safety supplier can't get back to you within 10 minutes, call Conney Safety today."
Go electronic
A new e-commerce platform also makes it easier for customers to search for more than 14,000 products online, while a custom-designed CRM system enables telesales people to quickly locate information they need while placing and fielding calls. Wessner realized early on that off-the-shelf CRM systems were not robust enough to handle the needs of its salespeople.
"In a large plant, there might be many people involved in the buying decision. The fact that safety protection is worn personally can drive preferred behaviors, making it harder to standardize," says Wessner. The CRM system needs the capability to keep track
of multiple buyers within an organization, often across more than one location, yet still provide linkages so salespeople can quickly comprehend the purchasing
process of each customer.
"What the system basically does is help telesales people have all of the information at their fingertips to understand exactly what they need to talk to each person about, have that conversation, then get their administrative work done and move on to the next call," says Moyer.
More than 40% of sales are generated electronically, and is trending higher, as the company continues to invest in online marketing efforts and search engine optimization techniques. The Web site has a variety of tools to help customers search for the product they need for their specific safety application, a safety blog that's updated regularly to inform visitors about a broad range of workplace safety issues and other features that keep customers coming back. The company also supports hundreds of customer-specific Web sites that facilitate online ordering.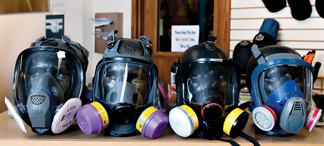 Grow through acquisition
All of the changes have helped the company grow sales from $68 million at the time of the acquisition to nearly $100 million. Part of the increase has come from the acquisitions of two safety distributors, Elvin Safety of Eden Prairie, Minn., which was acquired in January of 2010, and Mettam Safety of Danville, Ill., which was brought on board in July of this year.
"We will continue to do acquisitions intelligently and selectively and grow through acquisitions," Wessner says.
When Conney acquired Elvin Safety, Wessner spent several weeks in Minnesota, working with employees, learning the strengths and weaknesses of the business and integrating the newly acquired company. Moyer continues to spend time at the Mettam facility in Illinois, ensuring that the integration of the newest acquisition goes smoothly.
"After making an acquisition, you have to get into the details. You're not just looking to take cost out. You want to retain customers and salespeople. With big companies especially, when their supplier is acquired, they want to protect their supply chain. So you've got to work hard to get the culture integrated. There's a lot of work to maintain the continuity," says Moyer. He adds that it's important for customers to realize that their primary sales contact will remain the same after an acquisition but their level of support will increase because that salesperson will have access to additional tools and resources to service the customer.
When they first partnered with CI Capital, Wessner and Moyer were undecided about the best way to build a distribution platform. They could either branch into other product niches using Conney's centralized IT and distribution system, or remain focused on safety. They ultimately decided it made the most sense to stay in the safety arena.
"When it comes to those customers where safety is very important to them, you rarely see a generalist being viable. It's always a specialist. The generalists have a hard time executing that solution across the country. They may have a pocket of expertise but they have a hard time translating that across the nation," says Wessner.
With organic sales growth in the double digits, and future acquisitions of safety specialists outside of the Midwest added to the mix, Wessner thinks a target
of $200 million in sales is within reach in the not-too-distant future.
This article originally appeared in the Nov./Dec. 2011 issue of Industrial Supply magazine. Copyright 2011, Direct Business Media.
COMMENTS: 0
---