The new school of demand generation
The powerful one-two punch of online marketing and aggressive sales execution
by Tom Halpin
During conversations with clients, I find many do not measure the number of new customers activated on an annual basis. To be sure, managing your existing customer base is important but churn is a fact of life so we must always develop new business.
This article outlines an important form of demand generation, the sales continuum and how your sales team can actively work new opportunities to win the coveted new account.
The sales continuum is important both from a sales execution and marketing standpoint. In sales execution, sales producers know precisely where their new business opportunities reside on the sales continuum and review their opportunities frequently to understand the next steps required to advance the sales process. Exhibit A on page 41 outlines three zones within the sales continuum to serve as a reference point.
In reviewing exhibit A you will notice that referrals, known as the highest compliment in business, start at about "6" on the sales continuum. Referrals are always king because when a prospect is referred in, the seller bypasses the trust, credibility and capability hurdle and moves into understanding the prospect's business goals and both parties begin to discuss fit. As a sales person, this means that referrals get to "10" on the sales continuum much faster and the close rate is very high. Unfortunately most of us cannot live on referrals alone.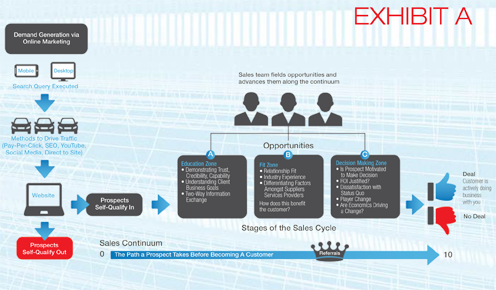 The marketing team also wants to invest in activities that deliver prospects into the website, engage the prospect and have them self-qualify in or self-qualify out before dropping them on to the sales continuum. Today, if your business isn't feverishly allocating marketing budget toward building and improving your online presence, I encourage you to investigate options and act quickly for the following reasons:
88% of B2B purchasers conduct research on the Internet prior to making a purchasing decision.¹
65% of a customer's journey is complete prior to their first contact with a sales representative.²
It's indisputable that the B2B marketplace has changed dramatically as customers are informed like never before. Google is the largest buying guide in the world and marketers must position their companies to be found on the web precisely when buyers are ready to pull the trigger.
Taking the previously mentioned trends into consideration, intelligent marketers leverage their online presence best by constructing websites that have sound user experiences, employ best practices for search engine optimization (SEO), feature fantastic content with obvious calls to action. Clearly articulating your value proposition in a customer-centric fashion will help visitors self-qualify in or self-qualify out.
Stated differently, your website content should convey how your product or service benefits the customer which causes them to respond with "I want to have a conversation with a salesperson" (self-qualify in) or respond with "your offering or industry experience is not a fit" (self-qualify out).
From a resource allocation perspective, online marketing proves to be extremely efficient for all parties: the marketer, the sales team and, most importantly, the customer. Why? Because prospects can conduct research autonomously by executing very specific search queries and educate themselves on a product or service before clicking through to sites that best address their needs.
Why invest in marketing activities where the ROI is incalculable? The web analytics available through online marketing provides a level of detail that is unsurpassed by any other medium.
What about your business? Is your online presence helping to advance prospects along the sales continuum? Is your sales team prepared to capitalize when a prospect is ready to talk? Position your team to win. The results are absolutely worth the investment!
¹Source: Google & Compete B2B Customer Study, June 2011 & 2012.
²Source: SEC Published Customer Timeline Study.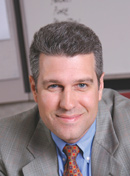 Tom Halpin is president, The Halpin Group, a Michigan-based consulting firm focused on leadership, strategy and revenue generation. He can be reached at tom@thehalpingroup.net.
This article originally appeared in the Nov./Dec. 2013 issue of Industrial Supply magazine. Copyright 2013, Direct Business Media.
COMMENTS: 0
---