Specialized Solutions
A&M Industrial provides custom solutions for clients, going the extra mile by getting involved in new product development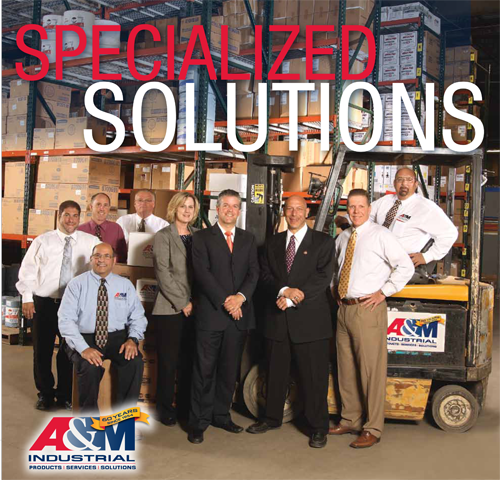 Part of the A&M Industrial team includes (from left) John Smickenbecker, Ken Shlian (sitting), Scott Heller, David Pferrer, Nancy Voltz, David Young, Kevin Rosenthal, Tom Richards and Paul Ricciardi Sr.
By Rich Vurva
In the 1950s, the neighborhood known as the Ironbound section of Newark, N.J., featured a mix of heavy industry and a large, multi-ethnic working class. It was also home to A&M Industrial, which started as a small retail store in 1954 and soon began supplying the surrounding companies with industrial hardware. Over the next few decades, as nearby factories started migrating out of the Northeast to southern states and offshore locations, the company recognized the need to focus on the industries and essential services that remained vibrant along the Eastern seaboard.
About to begin its 60th year in business and now operating from nearby Rahway, N.J., A&M Industrial today serves a broad mix of customers. Markets served include utility, petrochemical, pharmaceutical, power generation, equipment manufacturing, construction, transportation and more.
With sales approaching $40 million, A&M describes itself as a family-owned company that delivers premium MRO products, value-added services and strategic business solutions.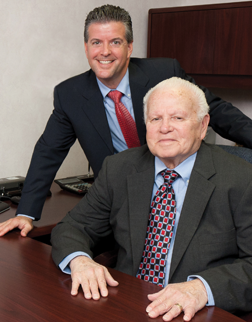 "A large part of our company success has been forecasting market trends ahead of our competition and then capitalizing on those business opportunities," explains David Young, executive vice president and son of company co-founder Arnold Young. "In response to a changing business climate, we began repositioning resources by changing inventory, hiring technical sales people and adding product lines to focus around the industries that we wanted to pursue."
Recognizing that customers have many options for acquiring industrial supplies – from buying online, to national chains, to other local industrial distributors – A&M emphasizes its ability to work closely with customers to provide them with tailored solutions that address their specific needs.
"We are not a catalog house. We are not a big box store. We focus on solution-based or application-based selling, where we can go in and offer our clients not only the products but also the services that will help them to solve their problems," Young says.
Selling services
While selling products remains a core competency, A&M Industrial has differentiated itself in the market by focusing on the services it provides to customers. For example, by providing inspection and calibration of respirators, gas detection and other safety equipment, performing onsite fabrication and installation of hoses, developing vendor managed inventory systems and designing and installing storage solutions using custom-CAD drawings, A&M Industrial offers services that help customers improve their operational efficiency and lower their overall costs.
"We have a collaborative, coordinated selling effort that helps ensure client satisfaction," says Kevin Rosenthal, executive director of business development. "Marketing, business development and account management all work cohesively together to meet the client
requirements."
The sales approach evolved as the company expanded.
"It used to be that we would hire sales people, teach them as much as possible about a variety of different products that our clients might need and then send them out to sell. But as our clients downsized, there was a greater need to provide technical resources, so we responded by hiring teams of specialized people. We moved from the traditional telling and selling model to developing strategic relationships with our clients," says Young.
Account executives in the field still develop relationships, but they are backed by a team of specialty product experts who provide application-based product and service solutions which enable A&M customers to focus on their core competencies.
"There has been a deliberate effort in the last couple of years to change the overall corporate culture and philosophy and to have salespeople know that they are part of a large multidiscipline company. They are working with a variety of business groups and divisions," says Nancy Voltz, director of marketing.
Solutions often require going the extra mile to satisfy a customer, and sometimes spawn a new product development effort.
"We do a lot of research to find the right equipment to solve a problem, whether it is a chemical, a wrench, a valve or whatever it may be," says Paul Ricciardi Sr., application specialist for the company's metalworking and machinery division. A machinist by trade, Ricciardi often helps customers match the appropriate tool to an application, but he will also provide training for machine operators. "Years ago, all of the manufacturers in our area had a machinist. Today, it's a lost trade. Many of the people asked to operate equipment today have never been trained properly. I just finished a job where I helped train 22 people."
In response to an accident at a refinery – where a lab technician fell while walking down a spiral petroleum tank staircase carrying fuel samples – A&M's Petro Marine division designed a specialized backpack for transporting samples. Technicians can now keep their hands on the railings while toting samples up and down the staircase, resulting in fewer accidents. A similar effort resulted in development of a unique carrying case that holds up to 12 sample bottles and protects the glass bottles if the container is dropped.
"We developed that product for one specific customer and now we're selling it at other refineries," says John Smickenbecker, branch manager in Linden, N.J.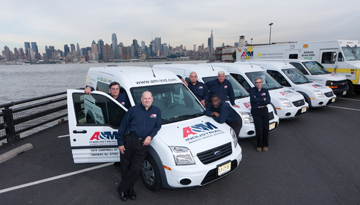 Call in case of emergency
The company's Emergency Response Team has been involved in major disaster recovery efforts, including 9/11, the Midtown Manhattan steam explosion in 2007 and last year's Superstorm Sandy. Valuable lessons learned from each event have enabled the company to pass along tips for emergency preparedness to clients. In some cases, the disaster
response requires out-of-the-box thinking and new product development. For example, when a steam explosion sent a geyser of hot steam from beneath a busy Midtown Manhattan intersection, there were initial fears that it was an act of terrorism. Investigation revealed that the likely cause of the explosion was a buildup of steam in a section of 24-inch underground steam pipe installed in 1924.
A&M Industrial worked with the utility company and its engineers to develop new valves and traps to prevent a phenomenon known as "water hammer," which can occur when cold water comes in contact with a hot steam pipe, causing the steam to condensate into liquid water that can damage the pipe.
"We worked with their engineers to help develop new components to make that steam system safer and more productive. It resulted in a number of unique products in the marketplace," says Rosenthal. He said the project resulted in the development of seven new types of valves and traps installed under the streets of New York.
Automated solutions
A recent symposium on automated vending systems introduced customers and prospective clients to A&M Industrial's wide range of solutions to help manage MRO products and OEM components. The week-long event brought together representatives from Auto Crib – a provider of automated inventory vending systems – A&M Industrial's experts in vendor managed inventory, and senior management from regional companies to discuss the various solutions available to help customers gain better control of their consumable inventory, such as cutting tools, inserts, spare parts, MRO supplies, gloves, PPE, fasteners, gauges and more.
Market-focused approach

To better focus on the unique needs of customer segments, A&M Industrial is divided into specialty product and service teams. Each team is comprised of experienced and knowledgeable staff tasked with providing the application and product support to help customers maximize their productivity and profitability. The teams include:
"One of the things that makes us unique and differentiates us within our space is that we technically support everything that we sell in house," says Kevin Rosenthal, executive director of business development. "We have former factory people, factory-trained people and people with tremendous industry expertise and knowledge. We combine that with a collaborative, relationship-oriented sales approach."
Throughout the week, the Auto Crib Mobile Showroom, equipped with a variety of vending machines, stopped for demonstrations at customer locations. The week culminated with a presentation about the benefits of managing inventory. The goal was to educate participants about how vending has evolved and the variety of ways inventory automation systems increase efficiencies, provide greater inventory control, offer powerful reporting on usage data and streamline accounting.
"We invited 50 clients to participate in the symposium," says Scott Heller, who recently
joined the company as sales manager for VMI Systems. "It helped us to spark interest in vending solutions at their facilities."
Heller adds that there is a major opportunity to grow the vending business in the geographic market that A&M Industrial serves. "There aren't a lot of vending machines in use in our area. It's our relationships with clients that have brought us the opportunity to speak to them about vendor management."
Rosenthal says that A&M Industrial is dedicated to providing customized services to customers. He says changes taking place in the marketplace demand flexible solutions to help customers recognize, embrace and even profit from change.
"We continue to expand our footprint and breadth of product. We recently opened a Pennsylvania branch office and purchased a 160,000 square foot distribution center in Cranbury, N.J., which is centrally located to better service the Mid-Atlantic region," Rosenthal concludes.
This article originally appeared in the Nov./Dec. 2013 issue of Industrial Supply magazine. Copyright 2013, Direct Business Media.
COMMENTS: 0
---