How to win friends and influence people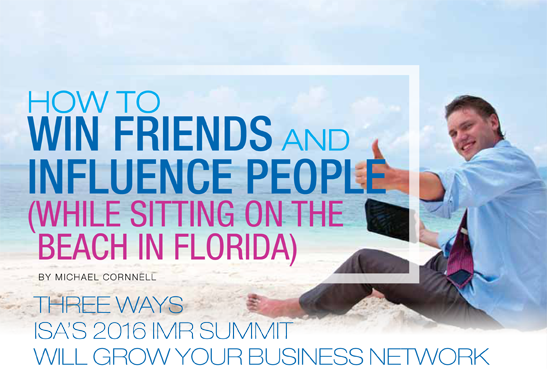 by Michael Cornnell
Sometimes, what's best for your business is to go sit on the beach. Take in some sun, have a few drinks, make high-value business connections and hear future trends from industry leaders. You know, the usual.
Okay, not exactly the usual. Not every trip to the beach is one that will push your company deep into the black, but that's definitely the case with ISA's 2016 IMR Summit.
Scheduled for Feb. 28, 29 and March 1 of 2016 in sunny Sanibel Island, Fla., the IMR Summit offers unique and high-value networking opportunities for those in the industrial manufacturers' representative (IMR) or manufacturing portions of the industrial supply industry's supply chain. There is no other industry event that mixes these two sides of the supply chain in such a focused, exclusive way, nor is there one with such a high density of leadership and veteran attendees. Combine this networking excellence with the Summit's impressive schedule of speakers, workshops and education events, and you've got one trip to a relaxing beach resort that your company cannot afford to miss.
Still not sold? Here are three reasons your company needs to be at ISA's 2016 IMR Summit.
1) IT'S THE BEST WAY TO GROW YOUR NETWORK
It's true that there are no shortage of networking events in the industry. But how many of them are truly dedicated to the networking of your business segment, stripping away competing networking elements and cluttered scheduling to just focus on the IMR and manufacturing segment?
This kind of attention is invaluable. Quality, targeted and personal networking time between yourself and the businesses you need to connect with is, without question, the best way to make the new business connections you're looking for.
"There are many valuable benefits offered at the IMR Summit, but I feel one of the
biggest benefits is all of the networking possibilities," said Kevin Weinacht, president of
Weinacht & Associates, Collinsville, Ill., and chairman for ISA's IMR committee. "I hear a lot of positive feedback about the Summit every year, and the overall quality of networking is something that's mentioned often in those conversations. I think the value we're offering attendees in this area is one of the reasons the Summit has been growing so much year after year."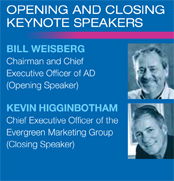 2) IT'S THE BEST WAY TO LEARN TO DIVERSIFY YOUR BUSINESS
If you're part of the IMR/manufacturer supply chain, you understand the value of adapting and diversifying your sales strategies and networks. You also know that this diversification and adaptation is a continuous process, something your business should always be doing alongside the ebb and flow of both its own growth and that of the marketplace in general.
The IMR Summit offers many opportunities for you to get first-hand information on diversification strategies for your business. One instance would be the opening and closing speakers for the Summit, Bill Weisberg, chairman and CEO of AD (Affiliated Distributors), and Kevin Higginbotham, CEO of Evergreen Marketing Group. The two speakers plan to cover a wide scope of topics vital to the industry, including how to work closer with industrial and construction supply distributors.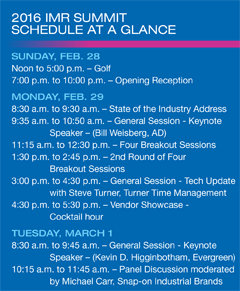 3) IT'S THE BEST PLACE TO GO FOR DISCUSSIng HIGH-LEVEL BUSINESS STRATEGY
The Summit offers many seminars, workshops and product showcases of practical value to your business, such as new technology demonstrations and seminars from industry experts.
But, practicality is not everything. Sometimes the creative, high-level ideas are what your business needs to advance to the next level. The IMR Summit has had many high-level speakers, panels and seminars over its five-year history. Last year, Major General Lawrence Brock III spoke on military communication and how the lessons he learned there could be translated to business strategy. His speech is not only a great example of creative business strategy often discussed at the Summit, but also an example of the overall prestige of its speakers and events.
"I have many fond memories from all the IMR Summits, but probably my fondest memory was having the opportunity to meet and introduce Maj. Gen. Brock as the opening keynote speaker at last year's Summit," Weinacht said. "That was quite an honor to have Maj. Gen. Brock there to discuss how important communication is in the Army, and how it relates to your own business."
From high-level strategy to the best in focused and relevant networking, the IMR Summit is a unique, business-building event that should not be missed. It will help you connect with the right partners, help you strategize for new markets, and help you think about your business in new, creative and high-level ways. (Not to mention, all while in the warm and sunny comfort of Southern Florida.)
For more information on the 2016 IMR Summit, contact Kim Wieland at Kwieland@ISAPartners.org or call (215) 320-3862.
Michael Cornnell is associate director, marketing and communications for the Industrial Supply Association. He can be reached at (215) 320-3862 or mccornnell@isapartners.org.
This article originally appeared in the Nov./Dec. 2015 issue of Industrial Supply magazine. Copyright 2015, Direct Business Media.
COMMENTS: 0
---