Hand tools
By Rich Vurva
Two primary drivers in the hand tool segment are ergonomics and safety, according to suppliers contacted for this story.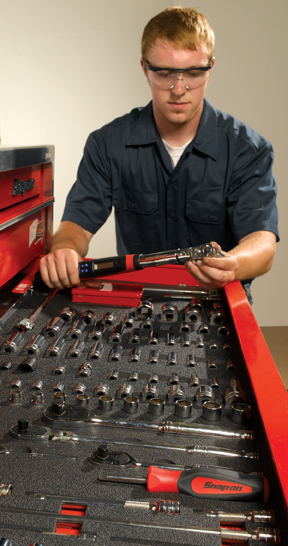 Snap-on
Ergonomics continues to be a main consideration in the designs of new hand tools. Manufacturers like Snap-on Industrial Brands are using more lightweight materials to make their tools easier and more comfortable for technicians to handle. A good example of that is found in Snap-on Industrial's ControlTech (CTECH) aluminum industrial electronic torque wrench.
The company says this torque wrench, which weighs just one pound, provides instant data on the exact torque applied.
Where this wrench is helpful is for applications that call for applying torque overhead. The CTECH's lightweight design reduces fatigue and enables more precise, reliable torque application in repeated use.
The marketplace and the types of products they're now producing is what's driving Snap-on Industrial Brands to engineer more lightweight, digital-based torque tools. Manufacturers are investing heavily to reduce weight and improve fuel mileage by using a wide array of materials, like high-strength alloys, aluminum and engineered composites, which is making torque more important than ever. Improved capabilities and technology mean manufacturers can maintain exceptional tolerances on components: contingent on accurate, consistent torque and angle application. Tools like the CTECH torque wrench help make that happen.
In addition, a full understanding of torque is needed to ensure the technician is accurately applying and reading torque measurements. Recognizing a need for more training in the area of torque within many industrial markets, Snap-on Industrial has developed a torque certification program. The goal of the program is to ultimately give technicians the training and education they need to understand all facets of the use of torque wrenches, making them more effective and proficient on the job. Snap-on has partnered with the National Coalition of Certification Centers (NC3), which is a network of education providers and corporations that supports and validates new and emerging technology skills, to help facilitate torque certification.
The role this type of certification brings to industrial markets is conformity and an across-the-board standard for the partnering technical schools to teach in-depth instruction on tool use, as well as theory and application. Upon completion of the torque certification course, technicians become certified in the proper use of torque products – making them a more productive and well-rounded professional.
The certification courses in torque and other disciplines serve as an enhancement or accent to the curriculum taught in today's technical classroom and labs; they're not an add-on, but rather an integration of the most current technology to provide students and technicians real-world experience.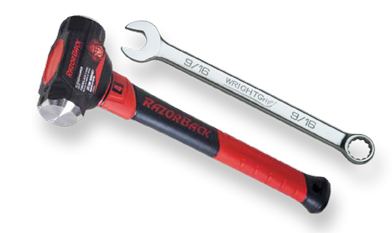 AMES Companies
"Our customers are the real drivers of our product development efforts. We're constantly looking to end users to provide us with feedback so we can continue to improve our tools and provide them with the most innovative technology on the market," says Karen Richwine, director brand marketing. "One of the biggest trends that we've identified from landscape and construction professionals relates to tool safety, durability and ergonomics. We use this insight to develop innovative tools with different feature sets to match those needs, such as our Striking Tool line with Safe-Lock Technology from our premier brand for professionals, Razor-Back Professional Tools."
Being able to respond to marketplace trends is a continuous process that is always evolving. "Once our research team identifies a strong trend within a specific industry, we create a comprehensive product development plan to meet those needs. It all starts with our knowledgeable research teams who survey the field and bring back the information we need to incorporate the latest technologies and materials to design and manufacture our tools," she adds.
AMES recently introduced a full line of fiberglass striking tools from its premier brand for professionals, Razor-Back Professional Tools, to ensure safety, durability and ergonomics. This line of tools utilizes a patented Safe-Lock technology, which uses a steel-anchored connection between the fiberglass handle and head for maximum durability, a baseball bat-shaped handle with a textured, non-slip grip for better ergonomic control, three-layer overstrike protection and a fiberglass reinforced lanyard hole for added safety. Whether customers are building a road, laying a foundation or working on the farm, Razor-Back tools stand ready to make jobs easier and safer.
"Safety is always going to be one of the most important features for professionals who work on dangerous jobsites, and as other trends emerge, we plan to stay ahead of them," Richwine adds. "The key is that we're always listening to our customers and basing our product development on calculated research. We find success by talking to customers for direct feedback. We also utilize our field specialists to talk to professionals directly on job sites where they can test our tools."
Wright Tool
Safety, ergonomics, and efficiency continually drive product development and enhancement, explains Ty Smith, director of business development for Wright Tool. "With industrial mechanics constantly expected to do more work in less time, we focus our product development around making the mechanic safer and more efficient," he explains.
He adds that Wright Tool's mantra is Perfecting Performance. "We are continually enhancing our products to make them stronger, and more durable to the ever changing conditions of our users."
The company plans to release enhancements to its WrightGrip anti-slip combination wrenches in early 2017. The existing tool boasts 80 percent more strength than other wrenches and is serrated to provide better seating and a tighter grip, two features that help prevent the tool from slipping when torque is applied.
The back end of the WrightGrip wrench opening is slightly enlarged. The additional metal in this high stress area helps stiffen the wrench jaws, thus decreasing the chance of their spreading under heavy loads. The modified U-shaped feature on the back end further reduces stress and improves performance.
This article originally appeared in the Nov./Dec. 2016 issue of Industrial Supply magazine. Copyright 2016, Direct Business Media.
COMMENTS: 0
---