Cordless power tools
by Clair Urbain
Today's Lithium-ion-powered cordless tools often out perform their corded counterparts. The following companies are among the suppliers leading this revolution.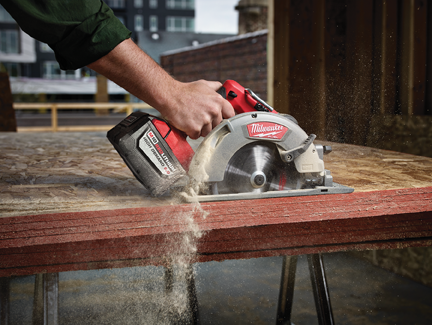 MILWAUKEE
"We're in an exciting time in the power tool industry," says Paul Fry, senior vice president, product management for Milwaukee Tool. "The technology introduced over the next few years will shape how users think about the capability and productivity of their cordless power tools on the job site."
"So much has happened since Milwaukee Tool introduced Lithium-ion technology to power tools in 2005. Significant leaps forward in motors and tool electronics, coupled with advances in Lithium-ion, have pushed the industry to a point few would have considered possible 10 years ago," he says.
Fry cites the new Milwaukee M18 RedLithium high semand 9.0 battery pack as a good example.
"Essentially, it's the industry's largest step toward full corded replacement on the job site to date. The new battery pack instantly increases the performance of users' current M18 cordless tools, delivering more work per charge and more work over the life of the pack than any other tool battery on the market, regardless of voltage."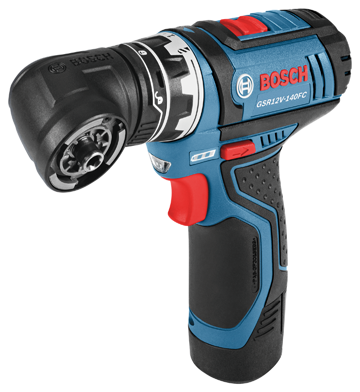 BOSCH
"The big news in cordless power is all about smaller batteries that pack more power," says Theron Sherrod, product manager. "Combine a smaller, more powerful battery with a smaller tool and the advantages are obvious — easier access to tighter spaces and greater functionality from a more versatile tool."
Ergonomic design plays a key role in the move toward smaller and lighter tools as well. If the tool doesn't feel good in the user's hand, its usefulness is minimal.
"One example of great ergonomic design and advanced functionality is the Bosch FlexiClick system, a five-in-one drill/driver that can help trade professionals meet the need for speed with a time-saving tool that delivers high-quality drilling and driving," Sherrod says.
The tool comes with a 3/8-inch keyless chuck, a locking bit holder, a right-angle attachment and an offset-angle attachment. The variety of attachments allow the tool to perform jobs that range from hanging cabinets to electrical box installation to pre-drilling holes in hardwood. Improved motor technology and advanced gear design close the loop on next-generation cordless tools that add greater efficiency to increased power and torque.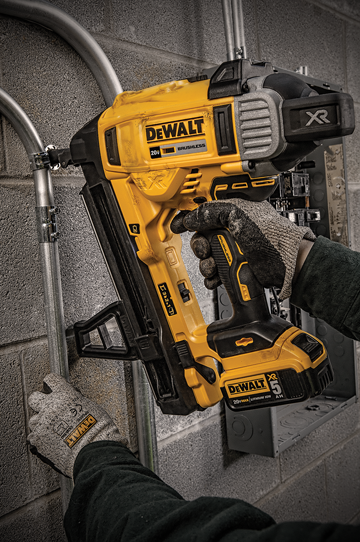 DEWALT
DeWalt recently introduced the 20V Max model DCN890 gas-free cordless concrete nailer for use in concrete and steel applications.
"Running on one DeWalt 20V Max battery, this tool eliminates the need for fuel cells and provides a consistent, powerful alternative that operates on the user's existing battery platform," says David Bertoni, DeWalt product manager, fastening. "This nailer is ideal for commercial framing and tracking, mechanical and electrical installations and insulation surface-prep applications."
The DCN890 nailer resolves several frustrations with gas concrete nailers. The inconvenience of maintaining and storing fuel cells on the job site is eliminated and the fully electric tool has a wider operable temperature and altitude range. Additionally, the fully electric design makes the tool highly consistent and easily serviceable."
The DCN890's flywheel-based mechanism yields fast speed, low noise and low recoil levels.
"The nailer operates at an application speed comparable to gas concrete nailers, providing the benefits of gas-free operation without sacrificing productivity," he says. "It is also the only competitive concrete nailer with variable power settings, which allow the user to adjust for applications ranging from hollow block to hard concrete and steel."
A brushless motor provides up to 600 shots per charge on a 5.0-Ah DeWalt battery, driving 3/4-inch .102 fasteners into concrete.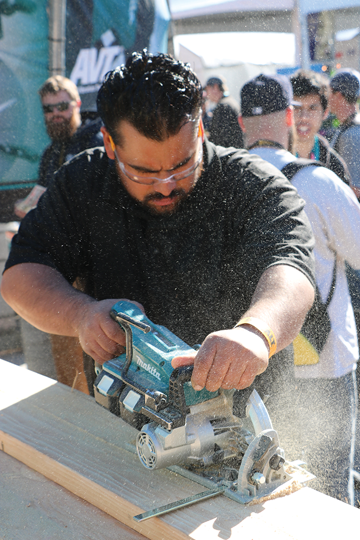 MAKITA
The boundaries are blurring between corded and cordless, with contractors getting corded performance with cordless convenience in tools and power equipment that were once found in corded and gas-powered domains.
"This revolution is driven by denser batteries and superior motor technology, and Makita is a leading innovator in both fields," says Carlos Quintana, senior product manager for cordless products.
Brushless motors are a key driver in cordless expansion. Makita has been a leader in brushless dating back to 2003 when its assembly tool division created brushless tools for exclusive use in defense and aerospace.
Today, Makita says it makes more purpose-built brushless motors than any other manufacturer — a sub-compact drill has a more compact brushless motor while a higher-powered tool like a circular saw has a larger brushless motor.
"The right motor for the right tool means exceptional performance, better application efficiencies and superior ergonomics. Makita will engineer a new motor to meet these qualifications; even if it's just for one tool," he says.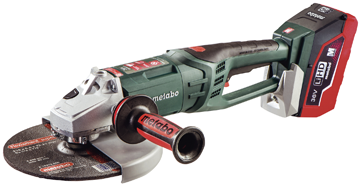 METABO
Driven by its Lithium High Density Technology, Metabo is experiencing tremendous growth in cordless sales.
"With exclusive solutions for industrial applications, only Metabo has the answer, and our customers are making the switch from air and corded tools to cordless," says Antoine Derché, director of product and marketing for Metabo North America. "With the introduction of the 7.0-Ah LiHD battery this year, our positioning as a technology leader has been strengthened. Only Metabo offers the necessary power and run time on the 18V platform using standard-size batteries."
Industrial customers are demanding more compact tools and batteries for standard applications, so Metabo created a compact 18V 3.5Ah LiHD battery that can deliver more run time than a full-size 4.0-Ah standard Li-ion battery.
"For super heavy-duty applications, our exclusive 36V LiHD technology delivers 2,400 watts of power for the industry's most powerful cordless systems such as our 9-inch cordless angle grinder."
Customers are also asking for innovative charging solutions, so Metabo has developed a multi-bay charger and is the only supplier today to offer a true industrial solution for up to eight batteries, 18V or 36V, in any mix, and charge them at the same speed at the same time.
Metabo's solutions include a cordless dust-free rotary hammer, a new circular saw designed for faster speed and deeper cuts and a cordless vacuum that fulfills the needs for safety and performance required by the latest OSHA respirable silica rule requirements.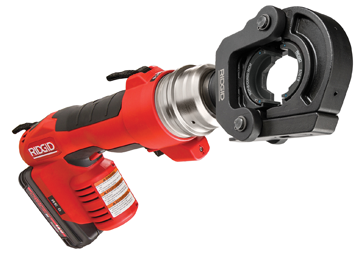 RIDGID
"The world's most versatile cable termination tool, the Ridgid RE 6, just got better with the addition of the Ridgid LR-60B latching round-die crimp head," says Gina Hartman, Ridgid global marketing manager. "The new head uses color-coded 6-ton U-style dies to crimp lugs and splices from 8AWG up to 600 MCM copper and 350 MCM aluminum in five seconds, and is classified to UL 1976, making it an ideal choice for electricians."
The LR-60B has a slim, compact design with 360-degree head rotation that allows for access and maneuverability in tight spaces. Crimp dies quickly snap into the head, don't require a push button or adapters to change dies and have a quick release latching system.
"The crimp head was developed from electrician feedback about what they need in a tool for demanding work conditions," she says. "Users need only purchase the base kit and only the heads they need for complete tool customization and job site flexibility."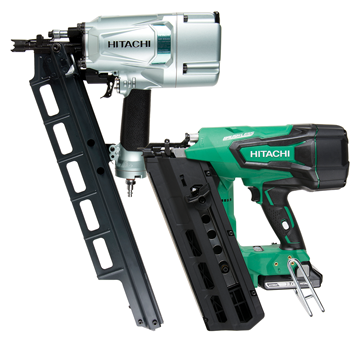 HITACHI
"More than ever, we are seeing job sites incorporate cordless tools where corded tools used to be present. New technology, whether it be with brushless motors, batteries or tool design itself, has given cordless a leg up to replace corded counterparts on the job, thus resulting in greater expansion through all markets," says Brett Bishop, product manager at Hitachi Power Tools.
"Hitachi's pneumatic and cordless engineers have collaborated to produce a top-of-the-line cordless finish and framing nailer series that offer the end user a pneumatic feel in a true cordless, gas-free body. No other cordless framing tools offer the consistent and powerful driving that Hitachi does, thanks to its unique Air Spring drive system. With our new cordless plastic collated framing nailer, model NR1890DR, and cordless paper collated framing nailer, model NR1890DC, Hitachi has taken cordless framing where no one has gone before."
The trend of improving comfort and producing lighter weight tools resulted in Hitachi's new 3.0-Ah battery. The model BSL1830C is 3/4 inches smaller and 0.6 pounds lighter than a traditional 3.0-Ah battery.
This article originally appeared in the Nov./Dec. 2017 issue of Industrial Supply magazine. Copyright 2017, Direct Business Media.
COMMENTS: 0
---