Warehouse solutions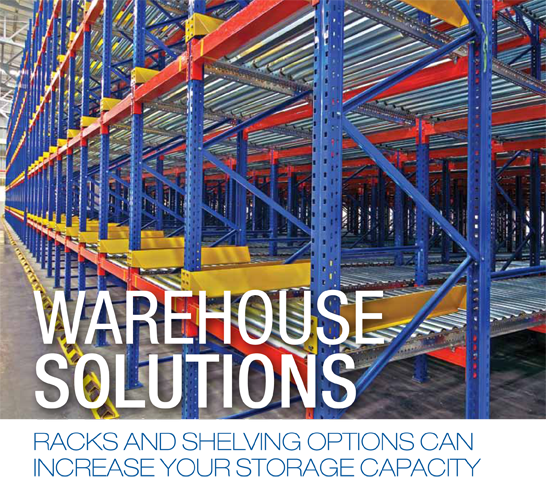 by Rich Vurva
Warehouse shelving and rack options are virtually limitless. With many types, sizes, and styles to choose from, selecting the best options for your facility can be daunting. Here are some ideas to consider from a handful of racking/shelving manufacturers.
REB Storage Systems International
Deciding what industrial warehouse shelving option to use doesn't have to be a stressful process. Simply consider the following factors:
How big is my storage space?
What items will be stored here?
How big/heavy are the items that need to be stored?
What shapes are the items?
What are my product flow requirements?
What type of environment am I storing in (humid, freezer, etc.)?
Rivet shelving, also known as boltless shelving, is easily assembled and does not require nuts, clips or bolts. Rivet shelving offers a variety of beam options to accommodate light to heavier loads. It is ideal for small parts storage, hand picking, backroom storage and archive box storage. Rivet shelving can be designed as a multi-level storage system.
Wire shelving is ideal for storage of items that require more air circulation, such as food and electronics. With storage capacities of 600 to 800 pounds, wire shelving is suitable for heavy-duty applications and is available in chrome, stainless steel, and epoxy-coated. Wire shelving can also be fitted with casters to provide mobility.
Industrial steel shelving can be utilized as a single-level or multi-level system. Multi-level steel shelving systems are typically designed with two or three levels and are an ideal way to maximize vertical storage space. Steel shelving can beoutfitted with bins or drawers for organizing inventory.
Worldwide Material Handling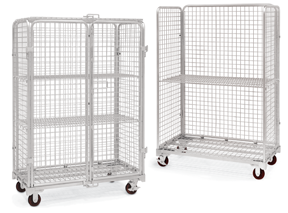 WWMH WorldCart industrial rolling carts provide a safer alternative to hand trucks, pushcarts or pallet jacks when picking orders in the warehouse and replenishing shelves on the sales floor.
They feature a tubular frame, wire mesh construction and a precision-welded 2-inch by 2-inch wire mesh pattern. Model WC-11 is a standard three-sided cart with open top and front, 24 inches deep by 48 inches wide and 70 inches high, with an 1,800-pound capacity. Model WC-8 is a fully enclosed design to keep contents secure in storage or in transit. An optional shelf can hold up to 220 pounds.
SpaceRAK
SpaceRAK roll formed selective storage racks feature the "Tear-Drop" punching pattern. The versatility and adaptability of these storage systems make them the mainstay of the storage rack industry, the company says.
SpaceRAK can provide roll formed frames in "open-column" style, based on desired capacity and the warehouse environment. Additional enhancements are also available to frames, such as welded reinforcements, welded protectors, and set-back/kant-leg options. Roll formed beams are manufactured with the industry standard 1-5/8-inch interior step. SpaceRAK's Structural Selective Rack system is adjustable on 2-inch vertical increments, and is available in various heights and depths. SpaceRAK can provide a hybrid-style system, using bolted roll formed step beams and structural channel frames.
Structural Selective Rack Systems are a durable choice for high-abuse and high-capacity applications. SpaceRAK provides Structural Selective Rack systems with a bolted beam-to-frame connection. Channel beams are manufactured with a standard two-bolt, four-hole by 8-inch end connector. This end connector design allows for 2-inch vertical adjustability.
Republic Storage Products
Republic's Wedge-Lock shelf framing systems provide economical and versatile storage solutions for retail stockrooms, auto parts centers and archive store rooms. Primary framing members snap together for easy assembly without bolts, rivets or other fasteners. Shelves are accessible from all four sides because no cross-bracing is required. Posts and beams are roll-formed from 14-gauge steel. They are finished with a heavy coat of baked enamel.
Bulk storage units offer larger shelf areas than standard units, making them ideal for storing large or odd-sized items. The wide range of shelf sizes and capacities, combined with the option of adding extra shelves, permits design of a bulk shelving system ideal for specific needs.
High-capacity bulk shelving units can carry up to two-and-a-half times the shelf load of regular bulk units. Extra shelves can be added for more storage area.
Tier-Rack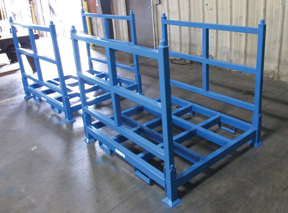 Tier-Rack's LN-2 stacking rack is a versatile nestable stack rack. It can hold heavy loads: they are typically stacked in tiers of four or five racks, with each rack holding 2,000 to 4,000 pounds.
This nesting rack is uniquely designed. Unlike empty industrial racking, the LN-2 model steel rack can be "nested" – one rack set inside another rack – up to six or seven at a time, without the need to remove the posts, saving time and floor space. Even greater space savings can be achieved by removing the posts from the nesting bin to create a manageable stack. This feature is helpful during seasonal or production fluctuations when fewer nesting racks are needed.
When used to store product, these stacking racks can be front-loaded with full pallet loads without removing the front posts. This is because the front posts are farther apart than the posts in the rear of the rack. The spacing of the rear posts offers an additional benefit by acting as a stop for the pallet load, so the forklift operator does not have to judge how far into the rack the load should go. All Loadnester storage racking can be made to handle products of almost any size and weight.
This article originally appeared in the Nov./Dec. 2017 issue of Industrial Supply magazine. Copyright 2017, Direct Business Media.
COMMENTS: 0
---