Tool storage solutions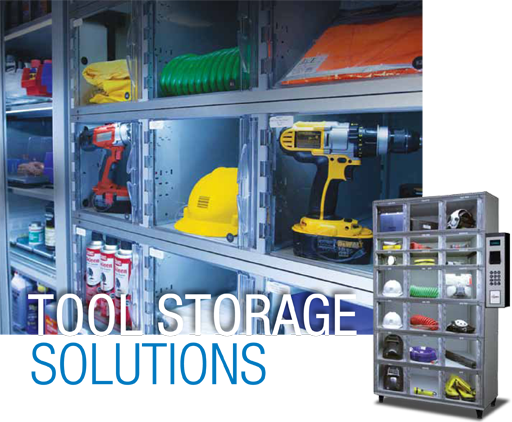 by Rich Vurva
Distributors recognize that investing in tool storage solutions in their own warehouses — and at locations where they manage inventory for customers — offers significant benefits. Innovative solutions are available to help distributors improve inventory control without costing an arm and a leg. Here are some examples from three companies with expertise in storage solutions, Apex Suppy Chain Technologies; Orbis Corporation, manufacturer of LEWISBins; and Stanley Black & Decker, which offers the LISTA, Vidmar, and InnerSpace brands.
Kent Savage, CEO and founder
Apex Supply Chain Technologies
www.apexsupplychain.com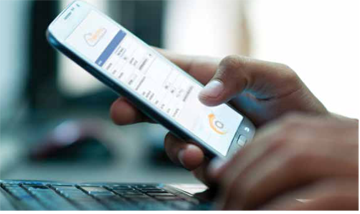 Forward thinking companies want more than just tool storage, they want intelligent storage. This enables them to manage their tools — this means always knowing what they have on hand, and who's using what, as well as optimizing tool maintenance. By having better information and better control, companies avoid unnecessary costs and inefficient tool use. And by creating digital records for all of their tools, they can even extend continuous improvement efforts into this area of their operations.
Here are two examples of solutions offered by Apex Supply Chain Technologies:
The Apex Trajectory Cloud: This is our secure, cloud-based transactional processing platform that automates the flow of data from all Apex self-serve, automated storage devices. It has a powerful system of notifications and alerts that let management know real-time status of tool check-out and check-in as well as when usage patterns change, or tools are not returned on time. This helps reduce costs, improve efficiencies and optimize operational processes.
AXCESS Self-Serve, Automated lockers: Our intelligent locker solutions have become a best practice for tool storage. They help some of the biggest companies in the world get control of essential equipment, tools, parts and calibrated instruments. They can be deployed at strategic locations to increase productivity and, through the Apex Trajectory Cloud, can send alerts for scheduled maintenance, tool service and calibration.
Business intelligence and analytics lead the way as an untapped opportunity in this area. When it comes to intelligent tool storage, it starts with getting control of your tool and having real-time access to data. But then making sense of this data moves front and center.
Companies usually don't have time to extract strategic insights from this transactional data beyond simple reporting. This inspired the creation of our analytics and business intelligence platform, Apex Lenz. Apex Lenz helps companies easily extract insights from this critical operational data. It allows you to see patterns and trends and identify opportunities for improvement and in general make sense of massive amounts of data quickly and easily.
The technology will get smaller and more mobile, allowing for more flexible deployment at the point of work. This also includes a new generation of cloud technology, supporting a wide range of new devices.
And they'll get even simpler to use. In fact, some intelligent tool storage won't even require a user interface. Access to tool storage will be gained by handheld devices and smartphones. We will also see virtual control systems. This involves the use of digital technology to define and manage the storage space. And as user needs continue to change, we'll continue to deliver products to meet their needs.
Lynn Briscki, regional inside sales: Catalog account manager
LEWISbins
www.lewisbins.com
Warehouses today need standardized storage. As more technology enters warehouses and supply chain processes evolve, reliable and consistent packaging will be needed. Reusable bins offer repeatable performance when used with new storage systems that require standardized and durable bins, allowing systems to run appropriately.
Vendor-managed inventory, for example, is gaining popularity in warehouses. It is a storage solution in which the vendor manages the manufacturer's inventory. The distributors, which resemble vending machines, house products and automatically update the manufacturer about inventory changes, preventing product outages. Reusable bins are used to sort products in the distributors, so standardized bins are needed to fit in the allotted space.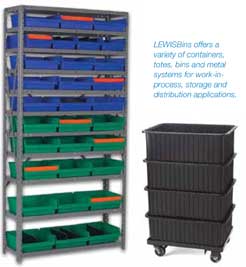 Identification solutions support warehouse efficiency. Whether it is a visual cue or scanning technology, bins that feature next-level identification make sorting and training easier. Bins offered in multiple colors, for example, offer better tool management and faster, more accurate product picking. They also assist with warehouse training — learning what to pick and where. Some reusable bins also offer identification tags and labels that work with radio-frequency identification (RFID) technology and bar codes to improve tracking.
Warehouses are even adding Kanban dividers to their bins. These dividers indicate a product's status, such as out-of-stock, or cue workers when action is required, such as replenishment.
LEWISBins offers a range of reusable totes and storage systems to increase warehouse efficiency, such as LEWISBins+. It offers a full family of injection-molded parts bins, in sizes from 5 3/8 x 4 1/8 inches to 18 x 16 ½ inches. Bins are available in six primary colors including red, green, yellow, blue, stone and clear. The bins pair with metal storage systems such as floor stands, wall-mounted units and full cabinets in tool areas.
LEWISBins material handling bins are manufactured in high-density polypropylene (HDPE) plastic and have smooth walls, consistent dimensions and a range of sizes to suit many storage setups. The bins are designed with label holders and a spot for bar codes or RFID tags to enhance identification capabilities. LEWISBins also has storage solutions that offer an easy and efficient way to store tools in either a floor, hanging, mobile or static display.
Warehouses need flexibility. With so many design options, LEWISBins gives employees a way to easily access, sort and identify their tools. In addition, if a warehouse already has a storage system in place, LEWISBins experts offer customization capabilities to help create a storage solution specific to a unique need.
Plastic reusable bins offer tool storage and warehouse safety benefits, including:
Sustainability: More warehouses are considering plastic for its clean and durable features. As sustainability integrates throughout the supply chain, reducing the reliance on corrugated bins will drive users to plastic, reusable packaging.
Product damage reduction: Plastic bins are offered in an electrostatic discharge (ESD)-safe material. This protects items such as sensors or circuit boards from the damaging effects of static electricity. These bins can combine with ESD-safe metal storage systems for a safer tool storage solution.
Mobility: Bins that are compatible with fitted dollies and mobile carts or cabinets allow sorted tools to easily move throughout the warehouse. This reduces the need for workers to revisit the storage stand to swap out tools.
Cleanliness: All-plastic bins with smooth walls are easy to clean and reuse, versus expendable packaging that gets damaged with water, dirt, debris or oil. Especially with electrical or advanced storage systems, a clean and durable bin is a must.
Material innovations are likely in the future. Bin material largely determines what it can and cannot do or hold. So, as needs evolve, and regulations are implemented, bin materials will be an essential element to storage solutions that are safe, sustainable and efficient.
Also, newly invented storage solutions will need bins that feature the shape, size and details to integrate with the new structures. Packaging providers that have those design and custom capabilities will be among the first to offer new and current bins that continue modernizing warehouses.
Saad Malik, vice president and general manager, Storage Solutions - Lista and Vidmar
Stanley Black & Decker
www.storage.stanleyblackanddecker.com
Stanley Black & Decker Storage Solutions is a global provider of high-density storage solutions that help workforces work efficiently and safely. We partner with businesses to design customized storage and workspace systems that maximize productivity while saving space. Our trusted brands LISTA, Vidmar and InnerSpace make up the broadest storage portfolio in the marketplace and enable us to provide tailored, cost-effective solutions to our customers' unique storage challenges. We are currently seeing three main trends driving development of our solutions in the distribution industry:
1) The increased and continued evolution of inventory control, inventory access control and active/digital management via ERP integrations, lending itself to Industry 4.0 enablement.
2) Further recognition of customers needing to maximize the use and efficiency of their existing facilities, before expanding their warehouse space.
The focus in years past has been on labor and cost of purchased components and how to minimize that. The cost of facility was always capital spending, typically one-time, and the efficiency of that spend was not focused on as heavily.
Some ways to bring greater focus on this trend are:
To more densely store inventory items; i.e. space utilization
To store items vertically – use the "air" above the floor to the max ceiling height if possible – that "air" is free space, and often not well utilized
3) A greater focus on ROI and quick paybacks, especially compared to investing in building expansions.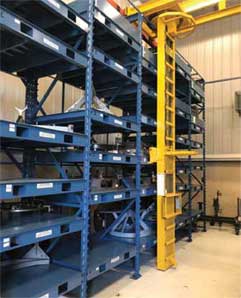 The Stanley Black & Decker Storage Solutions group is responding to these trends by investing heavily in product, sales and implementation training of our Vidmar VLMs (Vertical Lift Machines), which are Automated Storage & Retrieval Systems (AS/RS), with control over who has access, when/where they have access, improving accuracy on inventory cycle counts, and integrating the machines with users' in-house ERP systems like SAP and Oracle. Through these investments, we have seen double-digit growth of this product line in the last 12 to 18 months.
We are also working on new products that will have more electronic and digital aspects to them, which will further allow users to manage their inventory and control over who/how the inventory is used. We expect to launch these new technologies in 2019.
Another new product we launched recently to help with ROI and payback is our Shelf Converter system – where end-users can re-use their existing shelves, and add drawers to those shelves using our converter system. This can be a much cheaper way to implement dense storage of drawers vs. shelves, and it also protects the inventory better than open shelving configurations.
Our Vidmar VLMs and our Vidmar STAK system (dynamic pallet racks), are examples of better utilizing the vertical "air" above the floor space. Again, this is an area we are seeing double-digit growth for these unique products.
We have also developed ways of working with our end-users to help develop an ROI plan for them, to make their life and the overall customer experience significantly better and easier. This allows them to financially justify their investment with ease and confidence, and we typically see ROI on our solutions in six to 12 months.
Stanley Black & Decker's products are designed to optimize storage of items of varying size, shape and weight.
Our alternative solutions to ubiquitous racking/shelving include cabinets for small items allowing denser storage of inventory; VLMs that are an ultra-dense storage device utilizing vertical space, allowing ERP integration, and Industry 4.0 enablement; Dynamic pallets – Vidmar STAK - which can move up/down depending on how much space you need to store your pallets. This is a much more dense and efficient way of storing pallets, vs. industry standard pallets racks.
Target application – MRO services within DCs
An area that is easy to overlook but can be critical to the operation of the DC is maintenance and repair of equipment within a DC. The storage needs for this customer are different.
Our adjustable pallet storage and retrieval system – STAK – offers efficient storage of mixed size items in a vertical manner. It's a highly dense storage solution for items that don't fit into cabinets.
Connected solutions that expand control of inventory and management of the storage item remain a focus as customers wish to have information readily available in real time and have constant control over who can access inventory and when. We expect to launch these new technologies in 2019.
COMMENTS: 0
---