Managing your digital transformation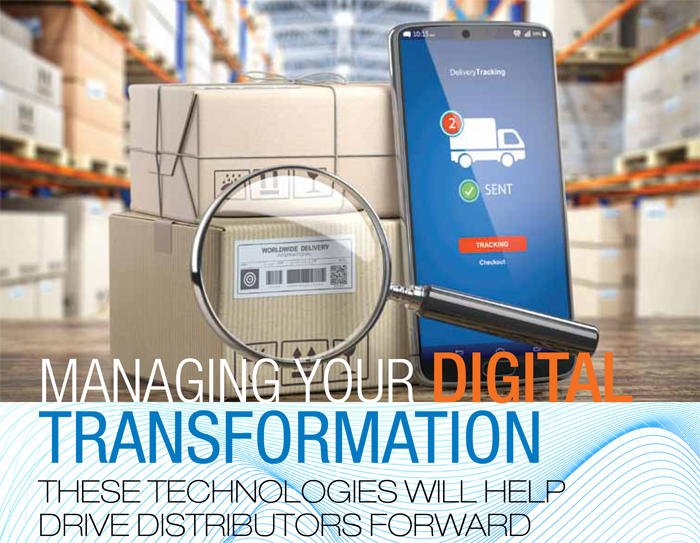 by Rich Vurva
While most distributors were already moving toward boosting their e-commerce capabilities, the pandemic added a greater sense of urgency to those efforts. Customers are increasingly demanding digital solutions for researching products and services, placing and tracking orders, and communicating with their suppliers. Here is a look at how select distribution software providers are responding to evolving marketplace requirements.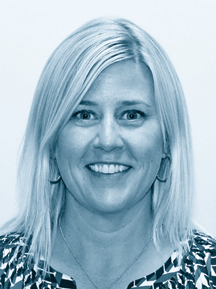 Sally Reitan, director of product marketing
Epicor
The last 18 months have provided unique challenges to businesses across the world. Many trends that distributors were seeing prior to the pandemic became more pronounced as a result of the pandemic. The need to be digitally connected to suppliers and customers, concerns around protecting customer and business data, and the race to recruit and keep talent were all trends that distributors had on their radar prior to the pandemic that have become even more prominent. We have seen many of them move more rapidly toward digital applications such as cloud-based ERP systems. Increased security concerns, talent and labor shortages and supply chain disruptions have all impacted the move toward digitization and the cloud.
Cyber-crime is on the rise and business of all shapes and sizes are not immune. The additional security that the cloud provides, along with always being on the most current release, gives many business owners and IT staff a peace of mind, knowing their data is protected.
The flexibility to access their ERP solution remotely without the need for a VPN has helped with remote and hybrid workforces. This will continue to be key, especially as workers continue to demand different working arrangements, and offering them will be critical for retaining and attracting a strong workforce.
Finally, the supply chain had been disrupted even before the pandemic, with new entrants such as Amazon for business and other non-traditional entrants into the distributions space. The pandemic has accelerated that disruption. We will continue to see new challenges as we continue to face labor shortages from everything to truck drivers and warehouse workers, and unexpected events, such as natural or human disasters. To overcome these new challenges, distributors need to stay agile and look for new ways of offering value to their customers.
ERP systems allow customers to better manage their inventory and meet their customers' demands. They help create an efficient supply chain, ensuring that distributors have the products their customers want, when they want them. We provide unique functionality, such as industry specific supplier integrations and inventory management tools that help our distributors make the most of their inventory, and have implemented new tools to help them as they look differently at safety stock levels, new suppliers, unique solutions for their customers that add value.
Distributors are looking to pull more data that their ERP systems can provide. Distributors are using data analytics to gain insights about their inventory levels and provide more visibility into their suppliers, allowing them to make adjustments early on to maintain customer expectations. Our ERP solutions provide reporting capability as well as advanced Business Intelligence tools to help our distribution customers use these insights to make strategic decisions about their business.
Many customers have discovered over the past year that their on-premises solutions just aren't allowing them to be as nimble as they need to be to keep up with the changing market. Distributors are continuing to ask the question, "What more can my ERP do to help me be a better supplier?" and looking at how to get ahead by finding ways to easily integrate with other technologies.
Epicor has been been deploying our software in the cloud for several years. We help customers and prospects understand the value of cloud deployment for their ERP systems, and help them move at their pace to meet their specific business needs.
Our ERP solutions are created to meet the demands of our distributors out-of-the-box, providing them with tools to drive efficiencies throughout their unique businesses. We understand their specific challenges and provide them solutions to address the challenges of an ever-changing marketplace so they can stay profitable in the competitive marketplace.
Not only do distributors have to face constantly changing technology, the world in which we work is changing as well. We are now always on and always available. The rate of change is increasing, driving a change to the way we manage people and information. The speed, scope and reach of change is unprecedented. The ability to stay current is more important than ever. Therefore, the ability to be agile, adapt or make change with minimal interruption is critical.
People are changing, too. For the first time ever, we have five generations in the workforce, often with different comfort levels with technology. This has created a new dynamic in the workplace – for hiring, training and retaining talent, getting the people you need, bringing them up to speed and driving the adoption of your business systems.
Today's employees crave tools that allow for collaboration and improved efficiency, providing quicker access to information and answers. Although this provides workers with the opportunity have more work/life balance, it can also lead to burn out. Each organization needs to find the right balance of technology for their unique organization and make the technology investments needed to attract and retain talent.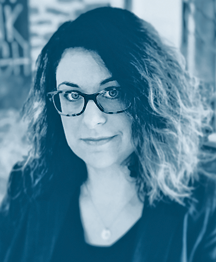 Kate Fucci, marketing director
DDI System
Having the ability to service customers from anywhere, anytime, with on-the-go mobile ERP functionality is imperative to distributors moving forward. Mobile ERP on a smartphone or tablet equips sales teams with the information they need to take immediate action by creating orders, seeing customer service details and viewing performance dashboards from any mobile device.
Customers are looking for real-time order status and much more granular communication. They desire end-to-end tracking and messaging, from initial order through pick, pack, ship and final destination delivery. They also expect a greater proliferation, refinement and deployment of digital catalogs. Distributors will be looking for more ways to get their products and services in front of customers and new opportunities to connect and take advantage of a distributor's expertise.
Another more obvious trend is the need for a robust e-commerce platform. Consumers expect substantial online content with multi-level attribute filtering to reduce the time it takes to locate products of interest. They need full access to their past orders, shopping carts, pricing, payment options, and advanced capabilities such as approval levels. DDI's Inform eCommerce is an extension of a customer's Inform ERP software so all information flows seamlessly in real-time delivering the same experience online, in-store, or on the phone. Inform eCommerce includes a professional product management solution (PIM) to host an unlimited array of products and attributes and a customizable Magento platform for greater SEO, brand awareness, and ease of use. Investing in a more robust e-commerce solution will protect a distributor from large online competitors and maintain long-standing customer relationships.
There have been groundbreaking developments in e-commerce capabilities for the mid-sized distributor, and a recognized need for a real-time connection between a distributor's ERP software that holds their customer, product and inventory data with their online storefront. This connected platform delivers what is now an expected, unified and personalized shopping experience for the valuable customers of distributors. Features such as advanced search and filtering attributes, buy online-pick up at the store, SMS order status messaging and online payments became must-haves during the pandemic.
DDI Inform ERP users who had an established e-commerce webstore were able to service customers without any interruption and take advantage as online orders unexpectedly increased almost overnight. Customers succeeded in using the distributor's online portal to access their sales order history, special pricing and invoices, and requested quotes and completed orders. Unlimited web store customization gave each distributor the unique ability to showcase their specialty brand and drove greater customer sales and attracted new customers during some very uncertain times. Having the same company deliver your ERP and e-commerce dramatically streamlines the process and can have significant cost and support benefits as well.
Serving customers anytime and anywhere took on new meaning. Customers truly expected answers from distributors no matter where they were or what was going on in their areas. DDI's Inform mobile puts ERP on your smartphone, delivering the ability to check the stock, price and complete an order in real-time. No upload or download is required, eliminating manual entry and misinformation. New technologies are making distributors smarter and better prepared to take on the challenges of a changing marketplace and changing customer demands.
As customer purchases fluctuate, the ability to rely on your ERP system to quickly identify inventory exceptions increases the return on your inventory investment, fill rate and eliminates dead stock. Exceptional demand swings skew your purchasing forecast, ultimately leading to stock level issues. Inform ERP's professional demand forecasting tools turn purchasing managers into inventory control experts. Powerful forecast algorithms, easy-to-use exception management, and unique, intuitive purchasing screens provide distributors with an array of tools not found in any other ERP software. Real-time replenishment calculation enables your purchasing staff to respond to customer demand as it is occurring, with the ability to re-balance warehouse inventory and adjust as needed.
Most distributors would agree that the pandemic caused them to be exceedingly busy, with their focus shifting strongly towards sourcing and delivering products. Carving out the time to implement newer technologies, more times than not, got pushed to the back burner. But those distributors who realized that a full-featured e-commerce site would keep their customers researching and ordering from them throughout the pandemic took on the challenge of allocating personnel to enhance their online presence. As a result, they were able to effectively more than double their online sales.
If a distributor doesn't know where to start, this is where DDI System's dedicated e-commerce implementation team comes in. Our team of experts will collect and place product content information into your online catalog and work collaboratively to deliver a best-in-class B2C and B2B customer service experience.
DDI System has spent the past 25 years developing, installing and supporting ERP and e-commerce technology solely for distributors. Dedicating the time to take advantage of new technologies, such as EDI connections, new locker integrations, task notifications, package tracking, wireless warehouse operations, mobile ERP and so much more enhances the customer experience and drives new sales in any marketplace.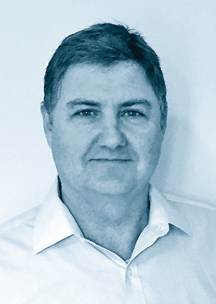 Mark Jordan, solution manager
SAP
Three trends are driving ERP software development today: the cloud, advanced technologies and e-commerce.
The Cloud: Although there are several technology trends, a cloud ERP solution that is flexible, configurable to accommodate personal requirements, and can scale with a distributor's growth is paramount. As distributors expect more from their ERP systems, it is critical to have cloud offerings that cover the entire market from the very small business to the largest enterprises. Cloud systems need to be designed to accommodate personalized requirements, as well as be able to integrate into other ERPs and customer systems both on premise and in the cloud.
Advanced Technologies: Advanced technologies such as machine learning, IoT, predictive analytics, AI and mobile ERP are also driving SAP's development based on the distributor's requirements to digest large amounts of data to determine areas where they can differentiate their business.
E-commerce: The importance of tight e-commerce and marketplace integration into the ERP processes is also driving much of SAP's development. With the recent supply chain disruptions, distributors need real time visibility across their entire operation to help them manage these disruptions and this drives much of SAP's development strategy.
SAP has been delivering ERP systems to distributors for over 50 years and we have solutions that fit every industry both on premise and in the cloud. SAP has Business One and Business by Design offerings that can accommodate the small to mid-sized distributor on a limited budget to a full blown S4 ERP solution for the mid to large enterprise. In addition, our latest SAP RISE offering provides easy to consume solutions that enable distributors to pick and choose their digital transformation journey through a set of customizable solutions and technologies that best fits their business. In addition to ERP, SAP offers a comprehensive solution set and technology stack that covers every aspect of a distributor's business from small to large multi-national requirements. To name a few, SAP solutions include people management, supply chain planning and execution, financial planning and analysis, procurement and customer experience solutions.
Recent supply chain disruptions have been a wakeup call for many distributors. Many are running legacy systems that are inflexible and cannot effectively manage any disruption to their business and allow them to reach future business objectives.
In general, we have seen a strong need for visibility into their supply chain by building a single source of planning and collaboration tools that allow them to have a resilient supply chain, help in developing and commercializing more value-added services and improving
their e-commerce capabilities. These areas are at the top of mind and are driving a lot of distributors' decisions. SAP has multiple solutions that help distributors achieve these objectives.
However, it's important for distributors to approach market disruptions from a business goal and process perspective versus a technical one. First and foremost, we try to understand our customers' needs and goals and then build a roadmap for the proper solution set for their journey. Through our extensive portfolio and SAP's broad partner network, we help our customers with whatever solutions and expertise they require in order to realize their business goals.
Depending upon the size of the distributor and the technology they adopt, the challenges will vary in degree. However, large or small, it's critical to not do everything at once, but rather properly plan the implementation with capable resources and realistic milestones. It is also important to recognize that no matter the project size, it will be disruptive. Minimizing that disruption to your business is going to be a crucial part of planning your implementation strategy.
To that end, effective change management practices are key as many employees don't like changes to how they conduct their work. Therefore, change management must be managed effectively by building consensus among teams and providing the proper motivation and training; in many cases this alone can determine whether a project is successful or not.
Lastly, digital transformation can be daunting. There are many solutions on the market today and it may be difficult to know which solution makes the most sense. Therefore it is critical to have a good partner that understands your business, and how you want to transform your business over time. Together, they can backfill the business goals with solutions and process changes as part of a long-term roadmap. Technology for technology's sake is not the right answer, especially if it does not deliver on the long-term vision for the business.
This article originally appeared in the Nov./Dec 2021 issue of Industrial Supply magazine. Copyright 2021, Direct Business Media.
COMMENTS: 0
---