Never let a good crisis go to waste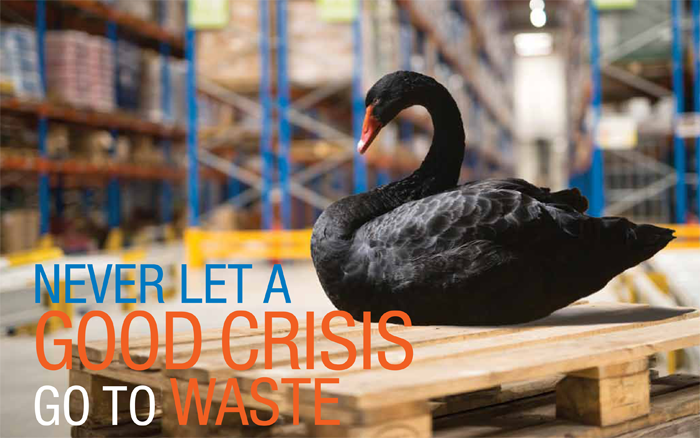 How to prepare for Black Swan events
by Nelson Valderrama
As I write this article in September 2021, we're seeing hoards of distributors and manufacturers struggling to keep up with supercharged demand — and it's still unclear when supply constraints will ease.
Surely, the fourth quarter of 2021 will be one of the busiest times ever for logistics in U.S. history, as B2B businesses are still trying to normalize supply chains and retailers prepare to take advantage of the Thanksgiving and Christmas rush.
Materials, products and labor shortages, and shipping delays almost everywhere have led to outsized drawdowns in inventories as companies fight to meet one of the strongest paces of B2B and consumer spending since the 1950s. As a result, the government's initial tally of second-quarter economic growth was missed by a long shot and price hikes and shortages of durable goods are unprecedented.
So, who is to blame and what can we do about it?
Some analysts blame many of the recent supply shortages on the popular "just-in-time" theory of minimizing inventory levels in order to keep costs low. While this model is efficient in times of stability, volatility like what we've experienced over the past 18 months can quickly destroy businesses that adopt this philosophy.
Conversely, there are a rare few companies that opted for a "just-in-case" model with higher reserves of safety stock. Toyota, for example, which pioneered the notion of JIT and Lean manufacturing supply chains, began stockpiling semiconductors 10 years ago.
That's why it's the one major automaker that has enough supply on hand now.
While neither model is perfect, it's clear that distributors need better processes for black swan events, such as alternative suppliers or materials. Starbucks, for example, sources coffee from multiple areas in case one has a poor harvest. Likewise, aluminum replaced copper during price spikes.
Perhaps even more importantly, companies need flexible supply chains. When lockdowns began last spring, there were instances of milk shortages while milk was being dumped. Produce rotted in fields while shelves were sparse. These shortages were not caused by a lack of inventory, but by inflexible processes.
As demand shifted to supermarkets from restaurants and schools, these producers lacked flexibility to switch to different labels and packaging types required for retail markets. They had plenty of the wrong stuff.
Today, those distributors with deep inventory levels of the "good stuff" are realizing gains for years of hard/smart work; the end of government stimulus programs, both for businesses and individuals, is likely to create some speed bumps on the road to recovery.
What can you do if you don't have "good stuff" to sell?
While it may seem daunting to find yourself in this position, I firmly believe that for many organizations, this is the best situation that could have happened. Being cornered by something catastrophic and unpredictable forces us to re-evaluate our role as a leader, the talent we have, and our business model at large. For those of us that make it through this, I promise you'll emerge stronger than ever and more prepared for what comes your way.
But first thing's first. Let's share some ideas on how to serve current customers.
Communication
If you do not have the "good stuff" to sell yet, the first best option is to manage expectations with your customers by providing visibility and clarity about when you will (or will not) receive goods from manufacturers. Trust is paramount, so make sure you and your team are being clear, open and honest about timelines, quantities, implications, etc.
When I ran a distribution business, I asked the sales team to respond to any customer inquiry within 24 hours max; even a note saying "I got your email" is important. You need to make sure that any field that is used in your ERP to state the latest promised date is not only accurate but that your team uses any field available for notes to communicate priorities.
The goal is that if you cannot provide the "good stuff" your customer is waiting for, the next best thing they can have from you is accurate and timely information.
Creativity
Finding ways to make your business work without disappointing customers in these rocky times means being willing to think outside the box. For example, say you only received 25,000 pieces of an item from your supplier despite having five customers each expecting 10,000 pieces. It's time to get creative.
Call your customers and explain the situation; ask them what their bare minimum short-term need may be and offer them a discount on something that won't kill your bottom line down the road. Odds are you'll find at least a few customers who are happy to reduce their order in the short run, while still building trust in you for your honesty and flexibility.
Let's take this scenario even further. Say the shortage becomes a recurring issue. You can't keep cutting orders across the board, right? That's where a creative customer segmentation strategy can be a massive win. Use data from your ERP to determine which customers are your core and VIP accounts, which you have to serve, and which ones are drain accounts which can be moved off your books to free up resources.
Remember when I said, "This is the best situation that could have happened to all of us"? This is what I mean. Something like an efficient, ever-evolving customer segmentation strategy can make or break your business, and now is the time to create one if you don't have one that works. If you don't have the tools in house, feel free to reach out for help.
Innovation
Challenging the standard procedure is the only way many distributors will come out of this pandemic alive, plain and simple. Start with the talent you have, and find ways to uncover more value across the board.
For example, if you happen to have a lot of solution providers (instead of order takers) on your sales team, help them shine by encouraging them to ask your customers the right questions to understand if there are other products you have in stock that can be used for the application/use they have. While this may not work for specialized items, you'll likely find many cases where it is effective, and the conversations can lead you to much larger, more valuable innovations.
For those skeptical, simply look at Tesla, which weathered the chip shortage by rewriting its vehicle software to support alternative chips. CEO Elon Musk listened to the market and recognized that the shortage had upended the auto industry at a time of historic demand for new cars, leading to factory shutdowns, longer wait times and higher prices.
"We were able to substitute alternative chips, and then write the firmware in a matter of weeks," Musk said. "It's not just a matter of swapping out a chip; you also have to rewrite the software."
Never Let A Good Crisis Go To Waste
I don't know about you, but during my life I had to go through several black swan crises. Early in my career, I thought it was bad luck, bad timing, or something worse. But now that I have more gray hair I try to learn from every crisis.
For example, five years ago I was completely wrong about Amazon Business, their growth, their business model. I was in denial. It took me too long to recognize that if you have companies that, within a matter of a few years, become worth billions of dollars, there must be something really to it, even if it seems to have so many holes on paper.
The truth is, sometimes it is all about mindset. In the business model mindset, you need to be able to take a step back. This sometimes is very difficult for managers because they're so focused. They work in organizations, within certain functions, so they're good at one thing. They're good at strategy, they're good at marketing, etc.
They may work in sales, or they may work in finance. But they rarely have this opportunity to take a step back and rethink the entire infrastructure architecture of the business for which they're working. How does it all hang together? How are all these activities connected to each other?
Wharton's Raphael Amit and Christoph Zott from IESE Business School have discussed this exact concept, and consistently preach the importance of being able to shift the level of analysis from a focus on activities, to the system level.
This system-level innovation also doesn't need to come just from the top. Democratize system-level ideas and follow the best ones to building a new and better business as a whole. Just ensure that there's a strategic framework in place to help you not get lost along the way.
Grab the Black Swan by the Wings
There's no easy way to put it; the pandemic has been a struggle unlike any most businesses have faced in generations. But therein lies the beauty of this moment we live in. If we could wish it away we certainly would, but since we can't, we as business leaders need to be using this black swan as an opportunity to rediscover our business itself.
Exploring new models, engaging with customers in new ways, investing in segmentation strategies and reinventing yourself to meet market needs is not just a winning combination for startup entrepreneurs, it's a mindset that can help business leaders weather just about any storm they encounter.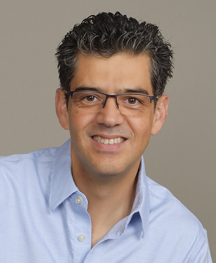 Nelson Valderrama is the CEO of Intuilize, which specializes in helping mid-size distributors transform data into profits. Nelson has 22 years of experience in the industrial distribution industry helping businesses uncover hidden competitive advantages and unleash the power of data in the new digital economy. For more information contact him by email nelson@intuilize.com or visit www.intuilize.com.
This article originally appeared in the Nov./Dec 2021 issue of Industrial Supply magazine. Copyright 2021, Direct Business Media.
COMMENTS: 0
---