Painless Training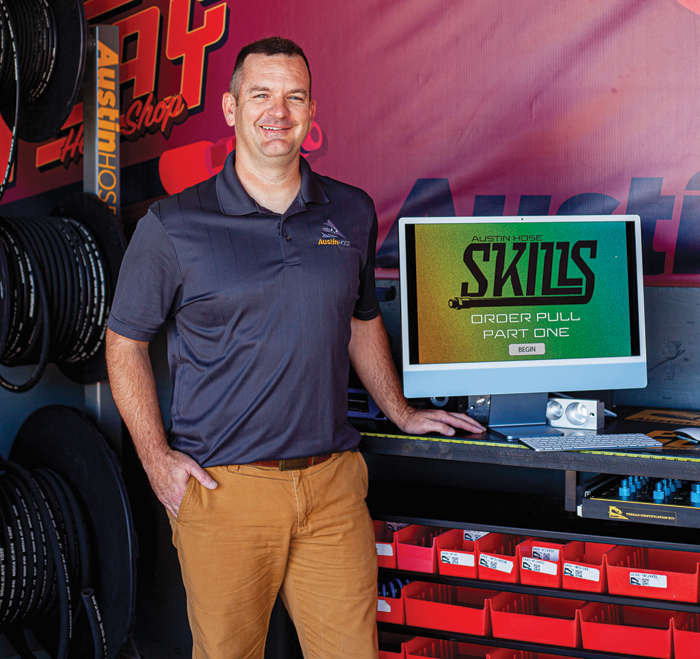 Drake Taylor, chief information officer at Austin Hose
How Austin Hose morphed from continuous errors to consistently
correct performance using its own, home-grown e-learning system
by Kim Phelan
Seventeen years ago, three former PayPal colleagues introduced the first major video sharing platform, and America has been a YouTube culture ever since. People of all ages lean on video and online resources to learn virtually anything from driving a car to training a dog to tying a necktie. By the time 2015 rolled in, tying employee training into a web-based, video-rich learning solution made perfect sense to Drake Taylor, chief information officer at Austin Hose, a nationwide, multibranch hose, fittings, and accessories supplier. Starting small and aiming modest resources toward a specific warehouse-related problem, Austin Hose has now evolved its fully in-house e-learning system into dozens of tailored courses used by nearly all of its 200-plus employees.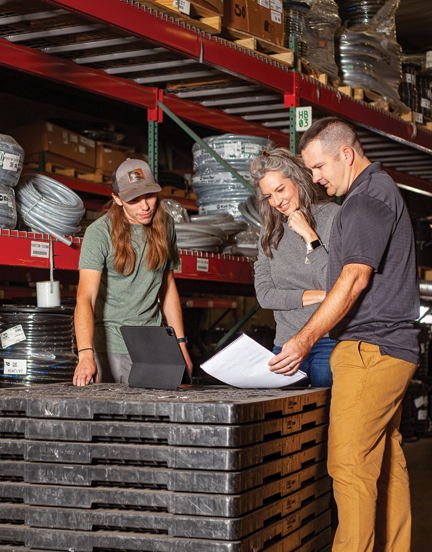 Austin Prescott and Stephanie Jaquess review a training module with Drake Taylor
Taylor, who has a master's in Instructional Design and Technology, was immersed enough in the business to detect a pattern of distinct inconsistency in how new warehouse hires were trained, particularly in high-turnover positions. Methods, content, and priorities among those doing the training varied widely, resulting in knowledge gaps and process preferences that didn't always align with company SOPs.
"As we were growing with more locations and more employees, the training was becoming like the game of telephone, where information goes down through a line of people but comes out totally different at the other end," said Taylor. "We ended up with the same job being done differently—and not necessarily correctly—at different warehouses, and people saying, 'Well, that's how I was told to do it.' Just a lot of inconsistency."
The company achieved an immediate win by creating job-and area-specific online training segments that sent performance up and mistakes down. Today, a new warehouse employee can start at 8 a.m. on a Monday, go through three or four hours of training on his or her own device or a company computer, and after lunch is ready to come out to the warehouse floor and be productive and helpful.
"It's more of a 10,000-foot view on Day 1 rather than something so specific that you can only go out and do one thing," Taylor said. "We show them the few things they need to be helpful, and we set the standards like, here are the tools you need to have on you at all times. It's touching on all areas of the warehouse so they know what to do, what to look for, and can be versatile in different situations."
An added benefit: Experienced team members and supervisors no longer have to be pulled away from their jobs to perform time-consuming training of new hires. Next on Taylor's list is putting finishing touches on the Week 1 curriculum and creating a Week 2 segment for new employees to round out their job-specific training.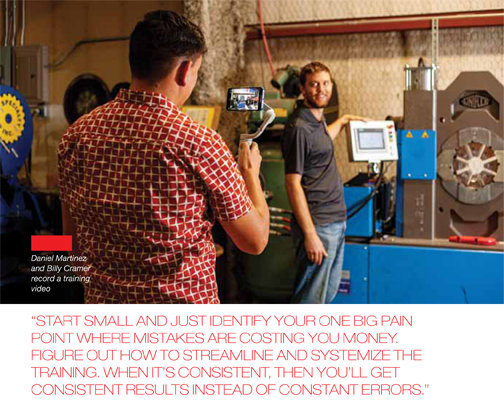 Well Received
Feedback from management has been positive at each step, recognizing the high ROI that comes with better productivity, accuracy, and knowledge, all of which drive an improved customer experience. As an ambitious, growth-focused company that has gone from six to 11 locations in seven years, Austin Hose has seen the dollar value of e-learning grow exponentially with the size of its team.
But staff, both new and seasoned, have embraced the program, too, as not only the means for doing their jobs better but as a path for advancement in the company. E-learning at Austin Hose goes way beyond the warehouse, today, with a range of content that spans five key categories—HR/Onboarding, Equipment, Product Knowledge, Operations, and Software—and bisects everyone who works for Austin Hose, from warehouse and customer service to sales, maintenance, and operations.
Originally, the program was launched as the Austin Academy in 2015, but the company has since changed the moniker to Austin Skills, moving away from an overly academic (aka intimidating) perception. Grading has also been removed, but the training still ensures that learning has occurred—an employee cannot advance to the next question until the correct response has been selected.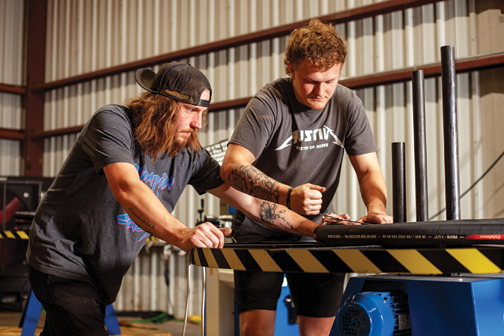 Trevor Mize and Braxton Peace fabricate a hose order
How To Do It
Launching an in-house e-learning system for your company needn't break the bank and can be achieved slowly with a small budget or more rapidly with deeper pockets—in either case, says Taylor, a few basic prerequisites must be adopted. First, however, he's very clear about what you don't need.
"I don't want companies to think they have to have an e-learning expert already on staff," he said. Taylor does possess an uncommon skill set as a CIO who knows how to develop content, organize and design online training, shoot video, and basically produce a finished course single-handedly—but a company can hire for those abilities, he said.
Taylor asserted that every company will have its own journey that's defined by (1) the project champion who may be on the team now or needs to be found and (2) by whether the C-suite decides to execute e-learning in-house or by outsourcing to an LMS (learning management system) specialist. Against the backdrop of these variables, however, it's essential, says Taylor, that company leadership demonstrate absolute buy-in and commitment to the endeavor.
In addition to staffing, the other key resources needed for producing web-based training in-house, said Taylor, can be boiled down to two things: software and hardware.

His straightforward, DIY approach keeps the physical equipment to a simple and attainable minimum. Since he incorporates a large amount of video into most curricula—shot with a newer-version iPhone—Taylor acquired a good-quality gimbal to hold the phone still for smooth, non-shaking footage, as well as a lapel microphone to capture clear audio from whoever is speaking.
On the software side, Austin Skills training content is developed on Adobe Captivate, and all its courses are hosted on Paylocity—which turned out to be a happy accident. Paylocity is an HR system used primarily for payroll functions, but, to Taylor's surprise, an embedded e-learning section comes with the software. While no one would subscribe to Paylocity solely for the training piece, it couldn't have worked out better for Austin Hose.
"It's been absolutely amazing—this is the one login that everybody is going to have because that's how they see their paycheck," said Taylor. "I know that everything is correct in there because it's maintained by HR. And what's nice is, I can just layer the e-learning on top of that, and both HR and department managers can assign and track courses for anyone who needs training."
Taylor recommends that, regardless of the software used, you should make sure it enables creation of groups. His company has organized groups by job title to simplify training notifications.
"If I need all branch managers to be aware of a training or a read-and-sign, I just pick that group and assign it through Paylocity, which fires off an email that includes things like how long they have to complete it, when it starts, and the duration. Once you set that up, it pretty much takes care of itself."
Of course, there won't be much e-learning if all you've got is tools—developing training content begins with answering the fundamental question: What do you want them to learn? Taylor works with department heads to then thoroughly explore the issue or topic, using his instructional design background to probe and visualize the best way to teach the information. He harnesses the talent of an in-house graphic designer to enrich training segments, but keeping the training lively for the learner is always top of mind.
"Some of this material may not always be the most interesting, so sometimes we try to break it up into sections, like four 15-minute segments instead of one solid hour," he said. "We do use video and some interactivity, but keeping it engaging is a huge, ongoing challenge, and we're always exploring new ideas."
LMS experts say animation, gamification, and rewards can all be effective strategies in holding the participant's attention and incentivizing them to do their best. Features such as points, badges, levels, progress bars, leaderboards, and plenty of interaction help keep employees invested. Austin Hose has found employees take pride in receiving printable certificates of completion.
It's challenging, too, to keep courses up to date, Taylor said. Just as he puts one new training to bed, another may be waking up in need of revised information. But he's undaunted by the obstacles that pop up, and his message for larger industrial distribution organizations is plain.
"If you can create efficiency in even just one area, it's worth it," he said. "Start small and just identify your one big pain point where mistakes are costing you money. Figure out how to streamline and systemize the training. When it's consistent, then you'll get consistent results instead of constant errors."
This article originally appeared in the Nov./Dec. 2022 issue of Industrial Supply magazine. Copyright 2022, Direct Business Media.
COMMENTS: 0
---