Find your inner leader
By Mary Jawgiel
It's coming and it's coming soon: By 2020, millennials will make up close to 50 percent of the workforce. Already, millennials are the largest generation in the workforce. That means many of these younger employees will be thrust into leadership positions without the experience and skills they need to be effective leaders. If you want your millennial employee (or an employee of any generation) to be able to handle positions where they are managing others, the time to provide the tools and training they need to lead is now.
Boomers are rapidly retiring and leaving the workplace, and not enough Xers are available to take on vacated management/leadership positions. So, many of these roles are falling to millennials who have little experience with leadership skills. It's hard to manage people when you don't have the skills or know the rules.
Where do millennials (and other first-time managers) struggle most? One problem area is providing constructive or negative feedback to a direct report. It is never easy to tell someone they need to do a better job, and perhaps even more difficult for a millennial who may have been a team member and developed relationships with the people they are now charged with managing.
Previously, these direct reports may have been peers and in some cases friends. Now everything has changed. First-time managers could be hamstrung by many concerns including: hurting a direct report's feelings, damaging an existing friendship or not being taken seriously as a young manager. This is especially true if they had been part of the same team they are now managing, and perhaps perpetuated the same activities or actions they are now telling their employees is unacceptable.
Another area where new managers have trouble, especially young managers, is feeling overwhelmed and stressed out with their new responsibilities. A new employee only has to manage themselves. As a manager, they are being asked to do that AND help manage the jobs of others on their team. The feeling of stress can manifest itself in various ways from emotional outbursts, inappropriate actions or simply not dealing with the situation by calling in sick or avoiding any unpleasant tasks.
Millennial managers haven't had the same luxury many of us older folks had, which is being groomed for a management position over a long period of time. Rather, they are being thrust into roles without proper preparation and basically being told to sink or swim.
It doesn't have to be that way.
When you hire or identify a millennial employee with management potential, there are some things you can do to make the transition from worker to leader smoother for them and for you. First, communicate your intentions. Tell them they are on the management track. Put together a plan with timelines as to skill sets they should be looking to master. Then:
Assign a short-term coach to help them develop a specific skill as a manager
Provide a mentor (different from a coach) to help them develop long term as an individual
Make access to upper management available on a regular basis, so they feel they are being groomed for upward mobility
Schedule opportunities for them to learn other areas of the business.As an example, Enterprise Car Rental provides a training program to educate employees in every aspect of the business before sending young managers to their own branch
Provide opportunities for outside professional development
Many associations offer leadership training programs. Send your new hires and younger employees. Other options include: enrollment in a program at a nearby college or participation in an online learning event.
Also, it's important to remember that a coach or mentor should not be a direct boss or supervisor. Coaching and mentoring works best when both parties have nothing to lose by being honest about their fears, weaknesses and educational gaps.
That being clarified, even if yours is a small company, a leadership training program for the employee you see as a future leader in your organization is doable. It may take some time and thought, but in the long run, preparing your future leaders is more effective and less costly than hiring a new recruit every year or two or suffering from a new manager's on-the-job learning mistakes.
Create a place where employees can learn and grow and you will keep your employees for years to come, and they will help your company grow.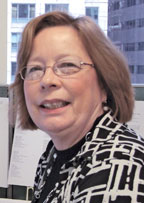 Mary Jawgiel is program director for Industrial Careers Pathway (ICP), an initiative of the PTDA Foundation and eight other organizations in industrial distribution. Her life-long passion is working with young people. For more insights on recruiting, hiring, onboarding, training, managing and retaining millennial employees in the distribution industry, subscribe to the ICP Talent Tipsheet at www.industrialcareerspathway.org/Tipsheet.
This article originally appeared in the Sept./Oct. 2016 issue of Industrial Supply magazine. Copyright 2016, Direct Business Media.
COMMENTS: 0
---