The Expediter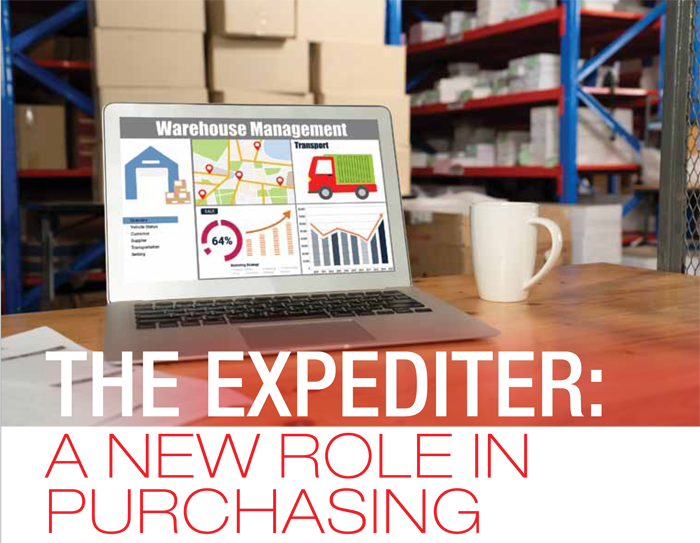 by Jason Bader
The role of the purchasing manager, or inventory investor if you like modern titles, has changed dramatically over the past year. There was a time where the items you ordered actually showed up within a predictable lead time. We did not know how good we had it. Supply chain disruption has caused frequent scarcity and significant delays in inventory replenishment. I recently ran across a YouTube video that attempts to explain the current supply chain crisis and traces it back to Toyota "autonomation" and the birth of just in time (JIT) inventory management. Although a lot of my teaching has been geared toward the conventional wisdom of lean inventory and driving inventory turns, we can all recognize that these practices are severely challenged during disruptions in the supply flow.
Over my consulting career, I have seen purchasing teams become more specialized in their roles. Traditionally, the purchasing agent managed a set of buy lines and made sure to find a balance between high customer service percentages (order lines shipped complete) and not having too much inventory on the shelves (inventory turns). In the modern inventory investment team, I have seen companies create product managers. With this twist the product manager manages the inventory replenishment of a line, but then takes it a step further to establish margin goals and recommend pricing strategy. This is really taking on the responsibility for the GMROI on a buy line.
In other organizations, I have seen the role of inventory analyst emerge as a crucial member of the team. This person doesn't have direct responsibility for any buy line, but makes recommendations on how to improve the performance of all of them. This is a report-heavy function suitable for those who live in the world of Excel and other business intelligence (BI) programs. They are looking for products that have fallen out of favor with the customer base, products that are rising in popularity and, in some cases, products where we should be changing the buying strategy to take advantage of deeper discounts. (By the way, this role pays for itself very quickly.)
Last month, a purchasing manager shared that his company was creating a new role primarily to deal with the current supply chain challenges. This new role will serve as a backup to all team members. The expediter will focus on filling the gaps created by lead time delays, product scarcity and allocation issues. Like any good solution, this role is designed to mitigate the current pain points in the procurement process.
If you ask anyone in purchasing, one of their biggest pain points is tracking down open purchase orders and updating the expected arrival dates. In this new role, the expediter will take over this function and follow up with suppliers to get a better handle on delivery expectations. Furthermore, this person will have the authority to request releases of certain line items when those become available. There are several instances where an entire purchase order is held up because the manufacturer is waiting to ship complete orders. Now you might be thinking that the supplier should be able to recognize this situation and adjust to shipping a partial order; but remember, they are scrambling just like distributors these days, and this doesn't always happen. What may have been a purchase order meeting a discount level or freight consideration is now breaking those parameters. This is where our expediter can focus on finding solutions, breaking up log jams and updating expected availability in the system.
Another opportunity for this person to thrive is in the sourcing of alternate suppliers. Most distributors have been comfortable with their traditional replenishment sources and have not had to become agile in their process. Today, those supply lines may be compromised. The expediter has the time to research and locate alternate ways to source product. Inventory can be hiding in many different places, such as master distributors, manufacturer rep agencies and even competitors outside the geographic region. Several manufacturers have alternate channels, such as home centers or distribution verticals. These are all areas to source product. Finding the most economical source has taken a back seat to product availability. Customers are handcuffed by a lack of available product. I am certain that they would be willing to pay a bit more to get back to work.
Another benefit of this role concerns training. Think about the time spent training a new person in the art and science of inventory replenishment. Ideally, they will have had some exposure to your software package, but the inventory management module is probably foreign territory. Think about the expediter as an inventory investor in training. What better set of activities could we lay out to prepare someone for the challenges of replenishment.
Just like any team in the organization, purchasing has a difficult time justifying the expense of a trainee. This one pays for itself.
How long this supply chain disruption will last is anyone's guess. I suspect that it will be here longer than the normal business cycle. There are many things out of our control. There are labor shortages at the ports and in the trucking industry. Wages are not keeping up with inflation and the cost of living. Shipping containers are piling up on the wrong side of the ocean. And finally, we are having to unlearn some of the core tenets of inventory management. This will take some time to sort out. If you decide to take the leap and create this new role, I suspect that it will pay dividends for many years to come.

Jason Bader is the principal of The Distribution Team, a holistic distribution advisor who is passionate about helping business owners solve challenges, generate wealth and achieve personal goals. Reach him at (503) 282-2333 or via email at jason@distributionteam.com or on his website, www.thedistributionteam.com.
This article originally appeared in the Sept./Oct. 2021 issue of Industrial Supply magazine. Copyright 2021, Direct Business Media.
COMMENTS: 0
---