Forward Thinking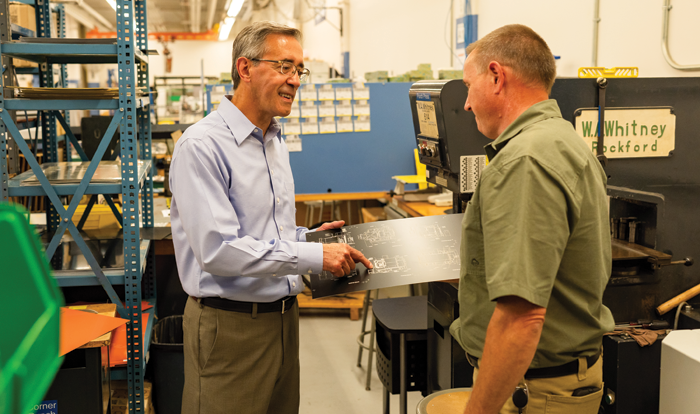 KDG president and CEO Ben Mondics and John Arnold, manufacturing supervisor for Kaman Automation, review a custom-designed laser-engraved print
Kaman Distribution Group is poised for growth under new ownership
by Rich Vurva
With 50 years of history in its rear view mirror, Kaman Distribution Group (KDG) has experienced just about every scenario a business can face. Through multiple economic cycles, ever-changing customer demands, a change in ownership and – more recently – a pandemic, KDG always finds a way to compete and survive.
About to celebrate its 50th anniversary, the company got its start in 1971 as Kaman Bearing & Supply, a subsidiary of Kaman Corporation. Over the next four decades, the company completed 55 acquisitions to establish itself as one of the premier distributors of bearings, power transmission and related components.
Since its acquisition by Littlejohn & Co. in 2019, Kaman Distribution Group operates as a stand-alone company with three business units: Kaman Industrial Technologies (KIT), Kaman Automation, and Kaman Fluid Power.
After being acquired by Littlejohn, one of the first orders of business was to put together the executive team to lead the company into the future. Industry veteran Ben Mondics was named president and chief executive officer in November 2019. He brought a 35-year track record of success leading companies that include ERIKS North America, Kaydon Corporation and Applied Industrial Technologies.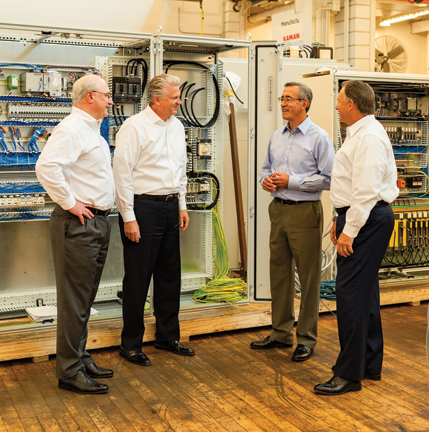 David Mayer, VP and GM, Kaman Fluid Power; Todd Boone, VP and GM Kaman Automation; Ben Mondics, president/CEO; and Mark Stoneburner, executive VP and GM, Kaman Industrial Technologies.
The next step was to build a corporate structure in those areas that were previously handled by Kaman Corporation. Stephen Martin was named vice president – general counsel, and John Crawford was hired to be vice president of human resources. In short order, additional executives were added to the management team: Mark Stoneburner, a former Motion ndustries executive, was named executive vice president and general manager of the KIT business unit; Kevin Glorio was hired as vice president of corporate accounts for KIT; Tom Holtry and Edwin Mitchell became area vice presidents of KIT; Bob Boyle was hired as vice president of supply chain for KIT. In 2021, Chris Henson was appointed vice president of business development for KDG; and Todd Boone was hired as vice president and general manager of the Kaman Automation business unit. David Mayer serves as vice president and general manager of Kaman Fluid Power.
Mondics says that talent acquisition, retention and development will continue to be a major focus moving forward. A newly hired corporate trainer and a corporate training
platform will help in those efforts.
"We have built not only what I believe is a very strong team of experienced executives, but one that is also very collaborative. I'm proud of the team we've brought together," Mondics says.
He's equally excited about the working relationship that has developed between KDG and Littlejohn & Co.
"Littlejohn is the perfect partner for us. They understand distribution. They know the importance and the value of supplier relationships, the importance of deep customer knowledge and the value of a strong employee base," he says.
He adds that since Kaman Distribution Group became a standalone entity, the company is better able to focus on its core business.
"We're very agile and we can make decisions with speed. We're not encumbered by the challenges that public companies have in hitting the quarterly expectations. So although most people wouldn't think it, we have the ability to look longer term, beyond the pressures of those quarterly numbers," he says.
Mondics acknowledges that the company would not have earned its reputation as a $1.2 billion leading national distributor with more than 220 locations nationwide, if not for the steady leadership provided by Kaman Corporation for 48 years.
"Kaman Distribution benefited from being a part of Kaman Corporation also. The disciplines, the base business and the strong group of employees is due to the management and leadership of my predecessors and the Kaman Corp. team, whom I respect," Mondics says.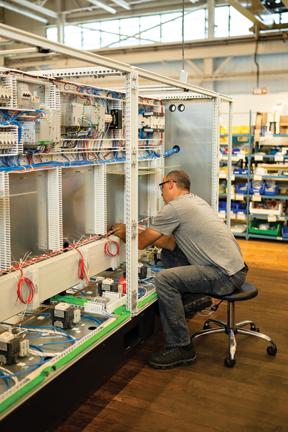 Control panel technician Jacob Ortiz works on a control panel for an aerospace customer.
Three distinct channels
KDG operates three distinct go-to-market channels. The legacy business, Kaman Industrial Technologies, provides bearings, power transmission and other components and systems for a broad range of applications.
Kaman Fluid Power specializes in hydraulic, pneumatic, electromechanical, filtration and lubrication technologies.
Kaman Automation is heavily focused on OEMs, delivering technical expertise and highly-engineered systems and components that improve precision, increase productivity and create value.
KDG operates five distribution centers, 18 fabrication and assembly centers, and more than 220 branches. Mondics doesn't envision any major changes to the longstanding business model.
"We are a strong believer in the DC/branch model. We see value in that local presence and having local inventory. So I don't think there will be a change there. But, when it comes to optimizing the network and looking at better ways to service the customer, expanding into new geographies, increasing our shop and assembly capabilities, and just improving our overall efficiency and logistics, we are constantly doing that," says Mondics.
M&A on the horizon
With its history of acquisition activity and the backing of private equity investors experienced in investing in middle market companies, KDG will continue to look for opportunities to acquire more companies.
"Acquisitions are a core strategy for us and for all three business units. We hired Chris Henson to focus purely on acquisitions in January of this year, so we have a tremendous amount of activity going on right now," he says. "We don't take a one-size-fits-all approach. We take a look at the opportunities. In the end, we want to make sure that our acquisitions are a good fit in many ways, and where coming together we can create more value for the customer than we could have
separately."
Lessons learned from the pandemic
With customers ranging from food and beverage plants to critical infrastructure, keeping them up and running was crucial during the recent pandemic. Still, plant closings and difficulty in getting in to see customers in person had a negative drag on sales during 2020. As business returns to normal, the company is back to pre-pandemic revenue levels.
Most KDG employees who worked remotely during the pandemic have returned to the office.
"We're trying to take what we learned through the pandemic and improve our performance going forward, and we are being more flexible on creating a hybrid type of an environment. We still believe in in-person collaboration. We believe the in-person interaction is important," Mondics says. "In addition, most of our value is provided in-plant, solving problems, upgrading equipment and improving up-time. That's certainly where we provide our value."
E-commerce presence growing
The pandemic demonstrated the need for distributors to invest in e-commerce capabilities and other digital technologies. Supply chain purchases continued even when customers elected not to visit in-person with distributor salespeople and technical specialists. Large, national accounts in particular are exploring ways to conduct business electronically.
"Our e-commerce numbers will grow purely because of this focus on large, national accounts. It varies by business unit, too. The automation business being more OEM oriented, more value-add, like fabricating control panels and such, you're not going to see that high percentage of e-commerce yet," he says.
In general, however, KDG recognizes the need to offer multiple channels for customers to transact business. "We've installed a new e-commerce platform, we're working on improving the quality of our data and our capabilities to provide that digital experience that customers expect. We are going through a major enhancement right now through our e-commerce platform in the second half of this year that will streamline the online shopping experience for our customers. It's a focus area for us, and we're making a fair amount of investment into it," Mondics says.
Mondics is energized as he thinks about KDG's future.
"For me, personally, this has been a tremendous opportunity. We have a fantastic foundation for the company," he says. "Building the team and our capabilities, and getting back on the acquisition trail, I see great opportunity ahead."
This article originally appeared in the Sept./Oct. 2021 issue of Industrial Supply magazine. Copyright 2021, Direct Business Media.
COMMENTS: 0
---