2020: A Year Like No Other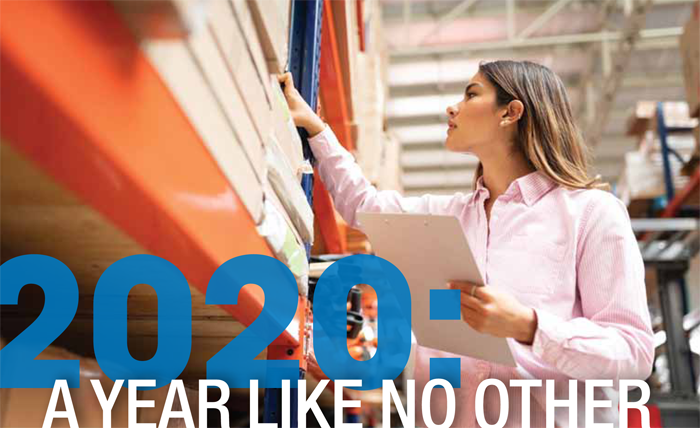 by Eric Smith
COVID-19 impacted all companies, no matter their geography, primary sector or end-customer profile. Because the pandemic was an equal-opportunity disruptor — and because no market-shifting M&A occurred among the largest industrial companies — there weren't any major shifts in MDM's ranking of Top Industrial Distributors in the U.S.
If one theme emerged during the year of the pandemic, it's that industrial distribution proved itself resourceful amid the challenges of lockdowns and social distancing.
For a snapshot of the industry competitive landscape at the end of 2020, we present here the top 15 MRO industrial product distributors, based on 2020 annual revenues, as ranked by Modern Distribution Management. Our annual rankings reflect 2020 revenues, whether company-reported or estimated by MDM.
(One note about the rankings: In most cases, MDM used fiscal 2020 revenues, but occasionally MDM used calendar-year revenues for a more accurate comparison. To normalize the way MDM formulated the rankings, they included total company revenues rather than break out individual sector revenues.)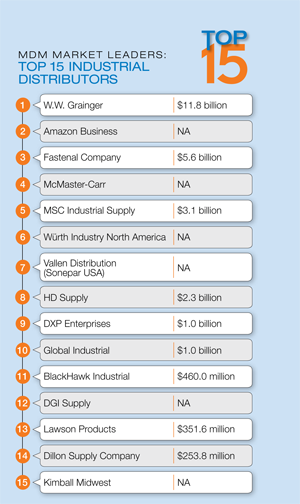 Only one company, HD Supply Holdings, dropped in the rankings due to the divestment of its White Cap division. The company was ranked No. 2 a year ago, but for the 2021 Top Distributors list, the company slid to No. 8. Later in 2020, of course, HD Supply was acquired by The Home Depot. (And while The Home Depot won't break out HD Supply's numbers in quarterly earnings reports, the distributor said it will continue to send annual revenue to MDM for ranking purposes.)
Once again, Amazon Business was difficult to rank. The company reported $25 billion in annual sales, but the parent company, Amazon.com, doesn't break out the division on its balance sheet. Of course, based on pure revenue, $25 billion would place Amazon Business squarely at No. 1 of the Top 15 MRO industrial product distributors. However, MDM didn't see their distribution businesses as an apples-to-apples comparison with the traditional distributor, so they triangulated an estimated revenue that's on a par with these other companies and thought No. 2 was the right spot (up from No. 3 a year ago because of HD Supply's downward move).
Now that COVID-19 is mostly in the rearview, look for companies to return to pre-pandemic activities. There remains a need for distributors to adapt to evolved customer demands, and nowhere is that more evident than in the importance of developing a sound digital strategy.
Here are the key themes that emerged during an unprecedented year across the industrial MRO sector.
Pandemic Pivots
Distribution was at an advantage relative to other industries because it was deemed essential. That didn't mean companies could do things the way they've always done them.
The biggest shift was the pivot to remote working. Distributors that were able to set up their employees at home quickly with all their technology needs — laptop, VoIP phone systems, virtual conferencing software — hit the ground running in late March. The same goes for companies that added touchless or curbside pickup.
Like businesses elsewhere in the economy, distributors had to pivot to virtual meetings and social distancing in both the office and warehouse. The biggest challenge here was reducing or eliminating the in-person sales call, one of the hallmarks of the distribution model.
Another was the rise of e-commerce. Companies that entered COVID-19 with more mature online shopping and purchasing capabilities were at a distinct advantage as B2B buyers sought ways to place orders from their home office.
MDM profiled some of these changes at three leading industrial distributors — Fastenal, Lawson Products and W.W. Grainger — speaking with their top executives to see how these companies adapted to COVID-19 and the lessons they learned during the pandemic. Three key themes emerged from the conversations.
1. Flexibility with sourcing paid off. Fastenal CFO Holden Lewis discussed the value that came out of branch employees' ability to reach out to their local connections to quickly source materials when other supply chains were clogged. Being empowered to act independently provided much-needed flexibility in quickly changing circumstances. "That's what's really allowed us to be nimble and flexible, and more importantly, to have the product that the customers need when they need it," said Lewis.
2. Global supply constraints remain a factor. However, even successful local sourcing efforts haven't kept larger global supply chain issues from affecting distributors. Grainger Chairman and CEO DG Macpherson called the current supply chain snags the "worst in 30-plus years" as manufacturers struggle to normalize after the demand swings of 2020.
3. Ongoing talent investment is critical. Additionally, most companies have been touched by ongoing national labor shortages. Lawson Products EVP and CFO Ronald Knutson said, "I don't think you'll find anybody else that services their customers to the level that we do." To maintain that level means a concerted effort to bring in the best new sales rep recruits.
M&A Activity Ramps Up
M&A usually plays a huge role in determining the order of MDM's latest Top Distributor rankings, and while it didn't have an impact on the Top 15 MRO industrial product distributors for 2020 — aside from HD Supply — consolidation played a role throughout distribution last year.
Like everything else in the world, of course, the M&A landscape was upended due to the coronavirus. When COVID-19 began disrupting the economy back in March, deals were delayed or scrapped altogether, creating about a three-month lull in activity as companies focused solely on their own operations. They were more interested in keeping their employees safe, serving their customers with curbside or touchless service, and perhaps pivoting to PPE and safety sales. Acquiring businesses or putting themselves on the selling block was not top of mind.
But activity did pick up beginning at the end of the second quarter and it accelerated throughout the remainder of the year, with some of the most high-profile deals in history happening in distribution.
As consolidation accelerated across the industry — especially in the latter half of 2020 as deal-making resumed against the easing of COVID-19 restrictions on business — some of the biggest distributors united, resulting in some shifts to this year's lists.
M&A themes to emerge during COVID-19 — and which should continue into the latter of 2021 — include the following:
Private equity firms deployed plenty of dry powder in 2020. PE funds made big headlines in the latter half of 2020 as they invested heavily in distribution, especially building materials and construction.
Valuations became harder to calculate. With lockdowns in place and many companies' revenues stunted due to COVID-19 restrictions and the general economic slowdown, it became difficult to gauge how much a company was worth.
Buyers began looking even more closely at distributor management. While this statement is always true no matter the macroeconomic environment, companies that came through COVID-19 relatively unscathed financially rose to the top of target lists for active buyers.
MRO distributors were acquisitive during the year, and while the moves didn't affect the actual rankings, companies that grew through acquisition could be positioned for growth when the 2021 rankings are released next year.
Notable deals among the Top 15 include the following:
BlackHawk Industrial acquired Machine Tools Supply, Costa Mesa, California, and D&L Industrial, Irwin, Pennsylvania (financial terms of the deals weren't disclosed).
Lawson Products acquired Partsmaster, a Greenville, Texas-based MRO solutions provider, for $35.3 million.
Grainger divested its Fabory and Grainger China businesses.
DGI Supply, a DoALL Company, Wheeling, Illinois, acquired Production Tool & Supply, Rockford, Illinois (financial terms of the deal weren't disclosed).
Meanwhile, several companies — including MSC Industrial, DXP Enterprises and BlackHawk Industrial — have announced deals in the first half of 2021. Look for M&A to accelerate in the latter half of the year.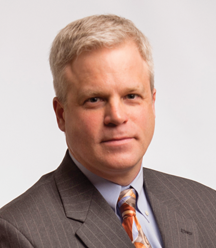 Eric Smith, a senior editor at Modern Distribution Management, is an award-winning business journalist whose coverage focus includes economic news and insights, industry trends, M&A, and analysis of small businesses and public companies across the wholesale distribution marketplace. Reach him at eric@mdm.com or (720) 207-0335.
This article originally appeared in the Sept./Oct. 2021 issue of Industrial Supply magazine. Copyright 2021, Direct Business Media.
COMMENTS: 0
---