Progress in Motion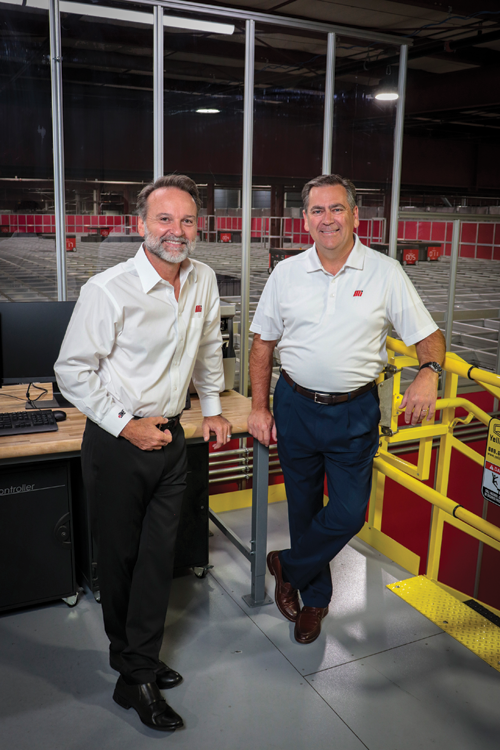 Joe Limbaugh, executive vice president Supply Chain, Operations Support, Marketing and Enterprise Excellence, and president Randy Breaux in front of the automated goods-to-person system in the Birmingham Distribution Center.
Motion Industries is on track to complete KDG integration ahead of schedule
by Rich Vurva
Since closing on its agreement to acquire Kaman Distribution Group (KDG) for $1.3 billion in early January, a 60-person integration team at Motion has been hard at work on a three-year plan to integrate KDG. That effort includes executing plans with customers, suppliers and employees. The work is running so smoothly that Motion president Randy Breaux anticipates that the team will likely finish its job a bit ahead of the original schedule.
The acquisition is the largest ever completed by Genuine Parts Company—Motion's parent company—in North America.
As typical private equity firms operate, Littlejohn & Co.'s original plan was likely to hold onto KDG for five years or so. But when GPC expressed an interest in acquiring one of Motion's largest and oldest competitors in late 2021, a deal quickly fell into place.
"The thing about it is, [KDG] wasn't on the market for sale. We approached [Littlejohn & Co.] and asked if they would consider selling KDG," says Breaux. "They agreed that if we could put together a compelling offer and do it within a specific time period, they would take a look at it. We did just that, and I think we caught the entire industry by surprise."
Breaux says that when making an acquisition, Motion looks for three things.
"First, we consider if there is a strategic fit with our business. Second, we look for cultural fit. And third, we see if they have talent that can be complementary to our team. In the case of KDG, they fit all three criteria."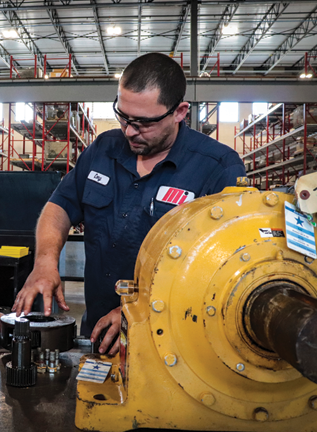 Cory Bowman inspects a planetary gear carrier at Motion Repair & Services, Birmingham, Alabama.
The integration process
Thanks to a long acquisition track record, Motion has developed a detailed playbook for successfully integrating newly acquired companies. One of the earliest steps is to onboard employees of acquired companies into Motion's HR programs and align support teams to integrate systems and processes.
A major focus of the KDG integration process is determining how best to blend the five KDG distribution centers, 200-plus branches and 18 fabrication and assembly centers into Motion's existing footprint.
"The strategy for creating synergies is to consolidate bearing and power transmission branch locations and have all employees working out of one location instead of two. Co-location is when we bring the people together into a single facility, and they operate on their existing systems. We have started to merge locations, bringing the traditional Kaman Industrial Technologies group onto the Motion operating system," he says. Breaux says this effort will occur in about 120 locations over the next 18 months.
About 60 percent of KDG's business was in the traditional bearing and power transmission category. The remaining business is evenly divided between automation—which merged into the Motion Automation Intelligence (Motion Ai) brand—and fluid power products and services, which fits into the new Mi Fluid Power Solutions brand. Motion introduced both new business unit brand names in the first half of 2022.
The company now has over 700 branch locations combined, but that number will likely be reduced a bit when the consolidation process is complete. In addition, about 25 facilities are either distribution centers that replenish branch inventory or fulfillment centers responsible for "last mile" delivery to customers.
Customer synergies
Another major part of the integration plan is introducing the company's full breadth of products and services to KDG customers. Motion works closely with strategic supplier partners to improve programs and product availability and uses cross-functional field teams to sell services across shared customers.
"The interesting thing about the KDG acquisition is we didn't have very many overlapping customers," says Breaux. "Motion primarily calls on larger customers, of which many have multiple locations with multi-year contracts. Most of KDG's customers were small to mid-sized with no agreements in place. So, it was highly complementary from a customer standpoint."
New acquisitions in the pipeline
With the integration of KDG running smoothly, Motion continues to search for additional acquisition candidates.
"We continue to explore a healthy pipeline of acquisition targets, and M&A remains an important part of our growth strategy," Breaux says. While he doesn't rule out acquiring another bearings and PT-focused distributor, more likely targets will fall into categories where Motion hopes to rapidly build additional market share. "We are looking for market share gain in automation, fluid power, value-added repair shops and services, and conveyance. We've also looked at the process pump industry as a potential category to expand," he says.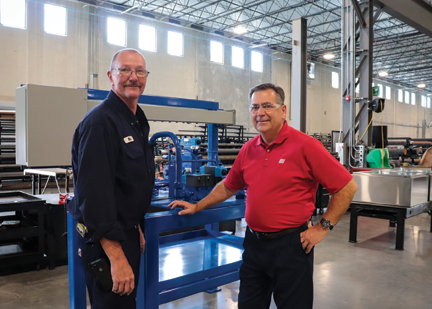 Mike Smith, shop supervisor, discusses a hydraulic power unit with Randy Breaux.
Supply chain delays and inflation
Managing the KDG integration is not the only major project at the Alabama-based company. New technology, automation and e-commerce projects have enabled Motion to navigate the double-edged problems of supply chain delays and inflationary pressure not seen in several decades.
Breaux says supply chain problems that began during the COVID-induced recession have moderated somewhat but have yet to return to pre-pandemic levels. He says that while many distributors drew down inventories during the pandemic in order to strengthen their balance sheets, Motion opted for a better strategy.
"We began increasing inventory in late 2020, thinking we would pull out of this COVID-induced recession in early 2021. And that is exactly what happened. So, in 2021, our inventories were in pretty good shape as the supply chain continued to struggle," he says.
"We believe we gained market share in 2021 as the business came back, and we've been able to keep our inventory in good shape this year in large part because of our solid forecasting and strong strategic supplier relationships. We're very transparent with our suppliers as to what we are seeing in the market, and we leverage a highly accurate, demand-forecasting algorithm to keep our inventory in good shape.
"We have also been moving towards a fulfillment center strategy in some areas of the country, consolidating inventory from multiple branch locations into a single location that handles last-mile deliveries—eliminating the need for every branch to maintain every SKU. The fulfillment center has the inventory that the customer needs, and we can usually get it to the customer within six hours," he says.
With inventory available from centralized locations, each branch functions as more of a sales and service center, allowing more focus on the customer.
Breaux says that managing costs and improving productivity have certainly helped Motion mitigate inflation impacts. "We've seen more price increases in the last 12 to 18 months than we've probably seen in the last three or four years," he says. "Not all of the increases we received can be quickly passed to our customers, so we must continually find ways to reduce our operating costs to offset inflation."
Introducing automation to fulfillment centers and distribution centers has greatly improved efficiency and reduced operating costs. "The first automated system we put in was here in Birmingham, Alabama during COVID and we saw more than a 500 percent productivity
improvement in that area of the distribution center," Breaux says. "So, our newer facilities will have much more automation than the older ones."
Motion has an aggressive plan to set up a new fulfillment center or convert an existing DC to an FC every four months. The overarching goal is to improve customer service, providing the best experience in the industrial distribution marketplace.
"The benefit to the customer is that they get more of a business-to-consumer service level than traditional business-to-business service. So, if we take an order by 3 p.m., it's on the customer's dock the next morning," Breaux says. "The goal is to improve the speed at which we can take care of customers because, in most cases, our customers don't know that they need something until it breaks on the plant floor."
Automation and technology have also been added to improve Motion's productivity in other areas of the business. For example, e-commerce now accounts for more than 30 percent of orders processed and will likely continue to grow. These include sales through the dot-com portal, electronic data interchange and other systems.
Artificial intelligence has improved the functionality of the company's e-commerce platform and other departments as well. For instance, most invoices and purchase orders are processed by AI and RPA, eliminating the need for a person to handle them.
Breaux says that all the projects currently underway are designed to make Motion more responsive to customer needs. Despite uncertainty in the current economy, he is bullish about the long-term future for Motion and will continue to invest accordingly.
"At Motion, you'll see continued investments in the business through acquisitions as well as organic programs that we have in place," says Breaux. "We think there's still a lot of available market share that the Motion team can capture partnering with the right strategic suppliers at the right customers."
This article originally appeared in the Sept./Oct. 2022 issue of Industrial Supply magazine. Copyright 2022, Direct Business Media.