Storm Fighters
Allied Bearing & Supply has demonstrated how to survive storms of the economic and meteorological variety

by Rich Vurva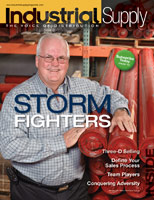 Jim McLain and Gary Schmidt, co-owners of Allied Bearing & Supply in Harahan, La., have proved they can adapt to surprises.
They've already survived one of the worst natural disasters their region has ever faced. In 2005, Hurricane Katrina dealt the business a devastating setback, flooding the company's main office on the outskirts of New Orleans for three weeks, and cutting power to the Baton Rouge branch for two days. Fortunately, they had adequate insurance protection to pay for repairs to their damaged building and replace lost inventory. Many of their customers were not so lucky. Some were wiped out by the storm. In the first few months following the hurricane, business plummeted by 80 percent.
"When the storm hit, we had been on track for a record year. We probably dropped $1 million to $1.5 million in sales after the hurricane," says McLain.
As local companies began to rebuild following the storm, Allied Bearing's business picked up dramatically. Initially, orders came in droves as customers called in emergency requests for bearings, motors, conveyor idlers and other parts damaged by floodwaters.
"We had some nice orders specifically because of the damage from the hurricane," says McLain.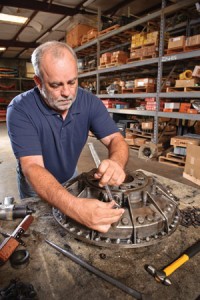 When emergency repair work tapered off, a larger view of the local economy slowly came into focus. Some customers were unable to get back on their feet because of insufficient insurance or because their customer bases were depleted. The population of New Orleans fell from nearly 485,000 to about 211,000, crippling entire business sectors, such as the hotel and restaurant industries, which were hit especially hard by the drop-off in tourism and convention business. Distributors that traditionally didn't compete against Allied Bearing & Supply started to encroach on their market in search of new customers to replace lost business.
"Even if my customers were not affected, some of my competitors had customers who were affected and they started competing against us. When a competitor loses 30% or 40% of his customers, he's on the street looking for new customers, and then prices start to drop," McLain says.
Just when they were finally adjusting to what McLain calls the "new normal" post-Katrina marketplace, the recession hit with a vengeance. Having learned the lessons of how to survive a major meteorological storm, McLain and Schmidt refuse to allow an economic storm to deliver a knockout punch to their company.
Multi-niched focus
Recognizing that an independent distributor with less than $10 million in annual sales can't compete head to head against national chains, McLain says Allied Bearing has carved out a unique niche for itself.
"We service the service industry," he says. The company supplies bearings, power transmission and material handling products to job shops, 24-hour-service centers, motor shops, machine shops, pump shops, and various facilities that repair their own equipment or provide repair services to oil refineries, grain elevators, ship builders and other major industries.
"I think the days of having only one niche are long past. We're kind of multi-niched. Our focus is in what I would call non-contract needs," he says. In other words, the company provides services to suppliers to the area's major industries, but doesn't compete on national contracts. Often, it's a secondary source for hard-to-find bearings or other products that competitors don't keep in inventory.
"One of our strengths is finding products that other people can't find," says Schmidt.
Situated on the southern end of the nation's largest river, the Port of New Orleans is one of the busiest ports in America. The location creates unique opportunities for businesses like Allied Bearing. Cargo from up north is loaded onto barges for shipping south on the Mississippi River. Once it arrives in New Orleans, it's offloaded from the barges and transferred onto larger ocean-going vessels. These ships require large material handling equipment and massive conveyors for loading, which use huge idlers, pulleys, bearings and other components that most distributors don't keep in stock.
"People don't want to carry inventory or to take on responsibility for these products, so it makes a nice niche for us to have it on the shelves and service it," says McLain.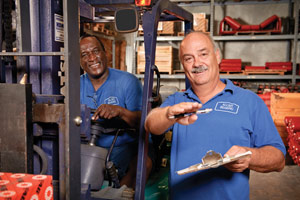 Local inventory
The company strives to maintain a larger inventory than most local power transmission distributors. Different from national chains that maximize inventory turns by shipping product from a regional distribution center for next-day delivery, Allied Bearing believes local inventory is a key differentiator.
"We're not an inventory turns-based business.
Everybody's talking about I've got to turn my inventory X number of times. We don't look at any one item based on turns," says McLain. He says Allied Bearing bases decisions about what to stock on a number of factors, but primarily focuses on local customer needs. For example, a gear coupling has two hubs, two sleeves and a bolt kit. It does no good for a distributor to stock hubs but no sleeves, or sleeves and hubs but no bolt kits.
"If I'm a major chain, turn is critical for success and everything is sent from the warehouse the next day. But success for guys like me depends on what we do different, not how well we try to play their game," says McLain.
In addition to closely watching inventory levels, Schmidt keeps an eye on accounts receivables. If a customer who typically pays in 30 days stretches payment to 50 days, he calls to find out why. The delay might be caused by an invoicing error or because the customer is waiting to get paid from his customer. Either way, Schmidt wants to know as soon as possible if he needs to take corrective action, like require cash on delivery or credit card payments on future orders.
He also regularly reviews invoices to make sure he's getting appropriate margins but not pricing himself out of the market. It's often a delicate juggling act. For instance, he may sacrifice margin points in order to qualify for free freight or to earn a better discount on a larger order placed with a supplier.
"If you get 50 calls a day and you lose one or two a day, you don't worry about it," says Schmidt. "But when it's slow, you want to look at every order."
The job sometimes requires creativity, like the time he put a product in a taxi and split the cost of cab fare with a customer who couldn't wait for delivery.
Job descriptions for small distributors like Allied Bearing are often blurred. Most of the inside salespeople have some outside sales responsibilities. "A lot of times, they can coordinate a visit to a customer with a delivery, so they get to go in the back door. If they see something on the floor, like a pallet of sorbents, they can say, 'We sell that,' " Schmidt says.
"We don't hire a lot of rookies"
McLain and Schmidt each have 35 years of industry experience, and the average employee has 20 years of experience. They believe a knowledgeable, experienced staff gives them an edge over competitors. The staff commonly helps troubleshoot problems, such as replacing a brake line on bulk material handling equipment that continually broke down because moisture in the high-humidity climate of south Louisiana contaminated the brake fluid.
McLain also credits involvement in the distributor cooperative IDC-USA and participation in the Power Transmission Distributors Association (PTDA) for helping enlarge his company's footprint and knowledge base.
"Because of our involvement with the cooperative and PTDA, we're able to find out what's going on outside of our little area," says McLain. "Knowing who specializes in what product, the kind of deals that are available, or plans that suppliers might have for the future helps me provide better support to my customers."
He says the ability to purchase products from IDC-USA enables him to focus more of his attention on the products that are most important to local customers.
"The cooperative has my back. It allows me to concentrate my time with a few manufacturers that are most important to me so I don't have to worry about every product on our line card. They handle those negotiations for me," he says.
IDC-USA is a valuable source for products beyond traditional bearings and power transmission components. The cooperative also offers tertiary lines that include sorbents, power tools and other products outside of Allied Bearing's primary supplier agreements.
The fight continues
In the four years since Katrina blew into New Orleans, the city's population has climbed to nearly 312,000. It's still well below pre-hurricane levels, but the growth was enough to earn the Crescent City the title of the nation's fastest growing city in 2008. No one can predict how quickly the business climate in the area will rebound from the current downturn. But one thing is certain. You can expect to find Jim McLain and Gary Schmidt hard at work, fighting whatever storms Mother Nature or the economy send their way.
This article originally appeared in the Sept./Oct. 2009 edition of Industrial Supply magazine. Copyright 2009, Direct Business Media, LLC.
COMMENTS: 0
---