Changing Gears
MPT Drives learns to become less reliant on the auto industry
by Rich Vurva
Ed and Keith Nowak understand all too well the benefits and perils of having a business closely aligned with a single industry. As CEO and majority stockholder, Ed has been involved with MPT Drives since the Detroit-area company was founded in 1959. His son, Keith, joined the company after finishing his education and became president and co-owner in 2001.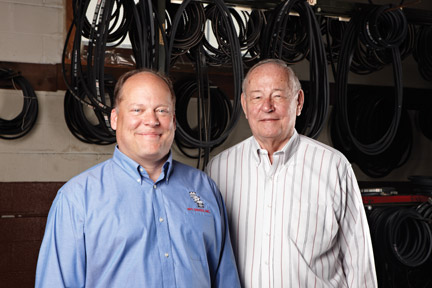 Keith Nowak (left) and his father, Ed, are repositioning MPT Drives to be more than a supplier to the auto industry.
Like most of southeast Michigan, the company maintains close ties to the auto industry, with 90% of its business related to providing mechanical gear boxes, chains, bearings, drives and other power transmission components to automotive industry OEMs. Customers include companies that make conveyors and other factory automation devices for moving vehicles and parts through auto manufacturing plants.
In its heyday, MPT employed 22 people and billed close to $10 million annually.
When Detroit automakers started losing market share to foreign imports and began transitioning assembly plants outside of Michigan, the local economy suffered. By mid-summer 2010, the Detroit metropolitan area registered an unemployment rate of 14.3%, which ranked as the third highest jobless rate in the nation among metropolitan districts with 1 million people or more. Most job losses were tied to the auto industry.
Today, MPT Drives employs eight people and annual sales are about $3 million. Sales are up considerably in 2010 and Keith Nowak attributes much of the increase to the resurgence in automobile sales. But the company is actively striving to expand into other industries.
"There is a lot of other business here in southeast Michigan that isn't directly automotive related, and that's what we're trying to focus on right now," he says. "I'm not going to lie; the transition has not been easy. Any substantial order we get outside of automotive is cause to celebrate."
New market opportunities
Most non-automotive sales are in the HVAC industry, where MPT sells belts, bearings, sheaves, grease, grease guns and even wasp spray used by installers who uncover a nest of wasps when they remove the cover from a rooftop HVAC unit. The company also has achieved some success expanding into food manufacturing, water treatment, baggage handling and material handling industries.
In some cases, key suppliers introduced MPT to new market opportunities. For example, drives and gear manufacturer Sumitomo Machinery Corp. offered guidance on the types of products used at water treatment plants and provided the names of contacts within the industry.
"Our biggest challenge is recovering from the recession and doing things differently so we're not so pigeonholed into one market," says Keith Nowak. "The business that made this company so successful for the first 40 years is not there anymore. We need to get out of that niche."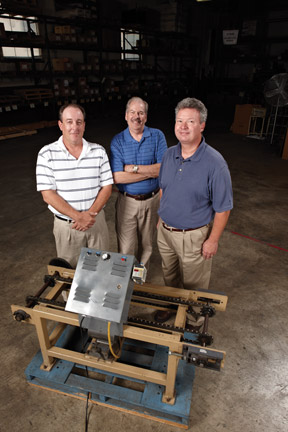 John Piotrowski, Craig Senzik and Hank Ebel average more than 20 years of sales service.
Much of the new business is being uncovered the old-fashioned way, by salespeople knocking on doors and introducing themselves to prospects.
"You have to do more prospecting now. You've got to be constantly getting new accounts," says Craig Senzik, a sales engineer with 27 years of industry experience.
Because customers are strapped for time, Senzik has learned to do more research about prospects before making his first sales call. "People have a shorter amount of time to be with you now. While you're with a customer, they want to know what you can do for them. Can you save them energy? What kind of efficiencies can you offer?" he says. "You've got to get your message across pretty quickly because they don't have much time."
Senzik says OEMs used to comprise more than 90% of his customers. Today, about 20% of his account base is aftermarket business, and that will likely grow to 25% or higher. Even his automotive OEM business is changing. Rather than building conveyor systems that stretch for miles in an assembly plant, automakers are installing shorter lines, lowering the volume of power transmission products required.
"Instead of selling 100 gearboxes that will eventually make it into a plant, now I go into the plant also to get the one or two pieces that are worn out that I sold them five years ago," he says.
Additional opportunities arise as long-time OEM customers shift from the auto industry into other markets. Sales engineer Hank Ebel, who has been with MPT for 31 years, recently expanded into new industries by following customers striving to modify their own business models.
"OEMs aren't just sitting on their hands feeling bad about the economy. They're constantly bidding on new jobs," he says.
One OEM that previously designed material handling systems for conveying automotive transmissions is now working on a project to build a conveyor for transporting pickle jars. Another former automotive OEM now builds polishing machines used by major faucet manufacturers. As those companies extend their reach, they're relying on Ebel for help in selecting the proper power transmission components to install in the new systems.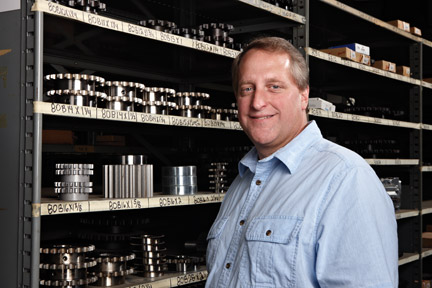 Vice president K.C. Craven is in charge of purchasing and operations for MPT Drives
From pistons to pickles
Whether supplying products used by automotive OEMs or in other industries, MPT's bread and butter is providing solutions. If a customer's objective, for example, is to move three 3,000-pound gears down a 16-foot conveyor, MPT will calculate the weight of the material, the chain requirements and the needed horsepower.
"We figure out the gearboxes, motors, chains and bearings required and give them a bill of materials to bid the job," Nowak says.
Although employees have access to the latest computer modules from suppliers to help them recommend the correct products for an application, as often as not, sales engineers use a catalog and a calculator to choose the right product for the job.
"One of the first things we teach a new salesperson is how to choose a v-belt drive the old-fashioned way, with a calculator and catalog," says Ed Nowak. "We do this so a sales associate understands the concept, not just how the computer selection program works."
Long-time customer Henshaw Inc. designs custom automation systems that transport parts, racks, carts, bins and totes through manufacturing and assembly facilities. Henshaw recently asked MPT for help selecting the proper electric linear actuators to power a conveyor that carries boxes of seeds through a large agricultural processing facility.
"In this particular case, the customer uses this equipment outdoors, so I'm looking for advice from MPT on an actuator and bearings that will be suitable for an outdoor application," says Terry Pelc, a Henshaw engineer.
For another company, Henshaw developed a lift assist system for a manufacturer of fiberglass cloths. A different supplier provided gear motors that failed in the wet, humid environment where the product was manufactured.
"MPT looked at the application and provided us with some products that worked," says Pelc. "I have no other vendor that is as responsive and willing to help as much as they are. That's why we've been working together for 25 years."
The company has shied away from charging consulting fees for its applications expertise. On occasion, customers will ask MPT for product recommendations and then purchase the items at a lower price from a competing distributor. MPT minimizes that risk by only providing a complete bill of material to trusted accounts and removing or disguising parts numbers on proposals for unfamiliar prospects.
With business improving, MPT plans to hire additional inside and outside salespeople in the coming months to help drum up more sales opportunities. Keith Nowak aims to lower the percentage of auto-related business to 60%. He believes that changing gears from an automotive-dependent company will position MPT Drives to be better able to weather future recessions.
This article originally appeared in the Sept.Oct. 2010 issue of Industrial Supply magazine. Copyright 2010, Direct Business Media.
COMMENTS: 0
---