Angling for sales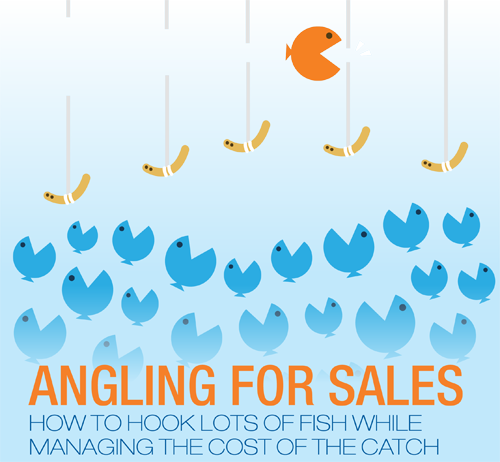 by Tom Halpin
If you fish, you know there are different ways to catch fish, ranging from equipment to bait to location. Living in Michigan, I observe people fishing off of docks, in streams or trolling the lakes in boats. In some locations, people use nets or even spear fish. All methods are driven by the type of fish being pursued, how they behave, what they like, where they hang out or the fisherman's resources. Much like their angler counterparts, sales leaders need to consider their target market in determining how best to hook targets while managing the cost of the "catch."
The factors that weigh into determining the best channel strategy include market potential, sales coverage, cost of sales and pre- and post-sale customer support.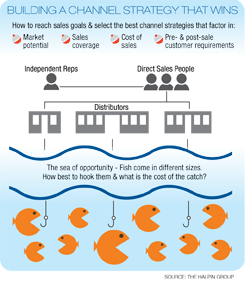 Market Potential
What is the addressable opportunity in a given market? Addressable market potential is far more important than overall market size as most businesses have a unique selling proposition that doesn't resonate with the entire market. The slice of the market that your business is targeting is your addressable market opportunity.
Example – Starbucks isn't interested in the person that brews coffee at home or buys their coffee at the local gas station. Those folks aren't likely part of Starbucks' addressable market. Coffee drinkers at large need to be segmented more narrowly to arrive at their addressable market. The same goes for your business.
Sales Coverage
Is your product line mature or emerging?
Is your target market highly fragmented or highly defined and small in number?
Which sales channels will provide the necessary number of customer touches and support the uniqueness of your sales cycle?
For companies that sell through distribution or utilize resellers, that is a big factor in reaching end-users.
Example – If 10,000 end-users fit the profile of your target market, six direct salespeople will unlikely provide adequate coverage to achieve your true sales potential. Build a channel strategy that casts your net wide and deep.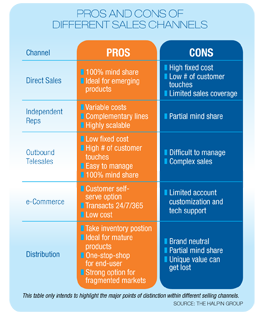 Cost of Sales
All sales channels have associated cost but it's best to choose those that are scalable, sustainable and position you to win.
What is the total cost to assign one selling resource into a market?
Is a direct salesperson, independent rep, outbound telesales agent, e-commerce or distribution the best option to maximize the market opportunity?
Can you segment the market and blend a channel strategy that makes sense for end-user types or market opportunities?
Since free doesn't exist, settle on sales channels that can be replicated.
Pre- & Post-Sale Customer Requirements
Imagine the difference between selling magazine subscriptions and capital equipment. Or selling ERP software versus industrial supplies. Customer expectations and support before and after the sale dictate which channel strategies will be most effective. What works in shorter, simpler sales cycles won't necessarily transfer over to complex selling scenarios.
Many small- and medium-sized businesses have one channel strategy for all verticals and all end-user types. This leads to a sub-optimal situation since different markets and end-users respond to different hooks, methods and bait.
As you consider your sea of opportunity, begin to think differently about your channel strategy and align resources to drive sales success.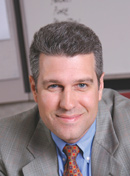 Tom Halpin is president, The Halpin Group, a Michigan-based consulting firm focused on leadership, strategy and revenue generation. He can be reached at tom@thehalpingroup.net.
This article originally appeared in the Sept./Oct. 2014 issue of Industrial Supply magazine. Copyright 2014, Direct Business Media.
COMMENTS: 0
---