Building a killer loyalty program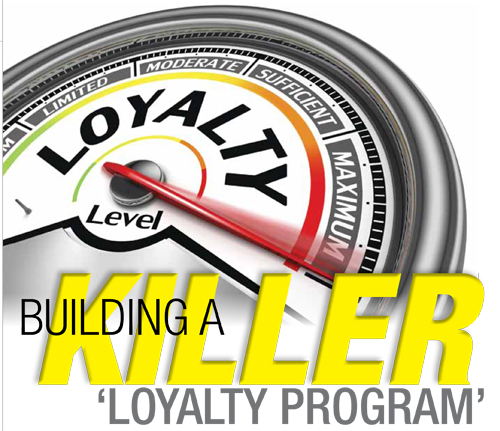 By Frank Hurtte
Delta Skymiles, Starbucks Rewards, Best Buy's Reward Zone and Walgreens Rewards join the Boozie's 3rd Street Bar and Grill punch card and a picture of my dog in the left side of my wallet. Unless they were making a "fashion statement" it would be darned hard to find someone who isn't toting around some kind of rewards card. Truth is, they've become as American as apple pie. And, there is a reason for their popularity. They work.
Or maybe we should say, some of the programs work. In our exuberance to have a similar program for our business, we need to remember that many programs don't work and some just become obsolete.
Thinking back to my teen years at the Texaco station, I remember S&H Green Stamps. For you from the Millennial generation, let me digress. Trading stamps were huge back when I was a kid. The S&H Green Stamp rewards catalog was the largest single publication in America and the company issued three times more stamps than the U.S. government. It was a loyalty program of sorts. Companies like my dad's gas station gave customers "trading stamps" they could trade in for transistor radios, toasters, waffle makers or anything else in the big S&H catalog.
Problem is they really didn't encourage loyalty because every gas station in town had them. The fact that you haven't heard of them might be an indication of this program's ability to drive results. Today, nearly every distributor has some kind of deal which could be considered a "loyalty program." Some of them should go the way of the Green Stamps.
Distributor programs manifest themselves in the form of free coolers when you buy a case of product, counter day promotions, punch cards good for NASCAR and customer nights at the local ballpark. At alternate ends of the loyalty program spectrum we see low-cost brat barbecues and outré expensive customer appreciation cruises. All of these programs should be designed with a single thought in mind: drive gross margin growth.
But, we have a problem Houston. As I speak to distributor owners and their marketing staffs, I hear lots of descriptors. Many of them don't come close to hitting the gross margin growth target. Instead, I get words like: "giving back to the community," "demonstrating customer appreciation" and "company tradition." All are good words, but wouldn't a donation to the United Way or Community Chest be more efficient? Shouldn't useless traditions be reevaluated?
What do you say we knock down a few golden calves, barbecue a couple sacred cows and lead the herd to greener pastures? Let's take a new look at these programs by tossing out a few assumptions.
Selling more to the same folks is good business
According to the experts, it costs a distributor five to 10 times more to sell to a new customer than it does to sell to an existing account. If we can develop a plan for grabbing greater wallet share from the people who already like us, we grow our business.
Product groups fall somewhere between destination products, commodities and the other stuff. Many of your favorite customers purchase nearly everything from you but grab a few items from the guy down the street. Others split their business between several supply houses. Figure out how to impact this in a loyalty program and your gross margin dollars soar.
Retaining customers is a thing of beauty
We already said it costs a lot to find and sell to a new customer. With this little nugget still on your mind, it makes incredible sense to do everything in your power to tenaciously hang on to customers once they start buying.
The customer service gurus say we should make our customers feel special, encourage an emotional attachment, solicit their opinions, shake their hands and kiss their babies. All of these make a great deal of sense but how in the heck do we design a program that establishes emotional attachment?
A really great loyalty program would build on this emotional tie. But, if we fell just below the mark, could we settle for building a habit instead?
All customers are not created equal
Even Captain Obvious recognizes this one: customers are different. Here's the rub, any plan that applies to everybody is probably not going to be totally effective. The stuff that motivates the small OEM may not apply to the Fortune 500 industrial. For instance, I have received great feedback on a distributor's counter day brat lunch from a small OEM down the street and negative from the larger end-user.
It seems the large end-user was disturbed with their people traveling to and lingering at the counter day. Further, they needed an outline of the training offered for their HR files. Union issues prohibited everyone from attending. We discovered most of the Fortune-sized guys shared this concern. Through a series of discussions, we discovered the customer did appreciate training and allowed my client to host a series of in-plant training sessions which drove loyalty and encouraged additional business (and gross margin).
Similar observations could be made about any customer segment. Service truck drivers respond to a different set of values from the maintenance team at a large institution and the project foremen place a value on a whole new set of drivers. The more you target a specific group of people, the better the resulting upticks in purchases.
The more we know about our customers the better we perform
Nearly everyone I speak to slings around some kind of value-added service. Many distributors talk about solution selling. Hawking products like a vendor at the circus is pretty simple assuming you have the greatest price on the planet and best availability in your market. Solving customer problems is more difficult. We have to know our products and services, plus we must know a great deal about each customer.
The problem is many distributors don't have deep insight into anything but superficial customer issues. The obvious solution to this gap in understanding is to ask questions, but sometimes customer answers and customer behavior are not in perfect sync.
If we can develop a program which allows us to test behaviors at the customer level, we move closer to a position of selling strength.
Not every sale is a profitable sale
Review of distributor benchmarking data, like the PTDA or AHTD Profit Report, reveals typical industry costs for holding inventory, processing orders, pulling stock and all the other things necessary in a wholesale distribution business. Further thought directs us to a simple point. Some transactions, especially small or time consuming orders, aren't necessarily profitable.
Industry experts tell us the behaviors of some of our customers actually drain profits from our organization. A few progressive distributors have taken the time to study their customer list and determine specifics on the profit-sucking customer. Most distributors haven't gotten scientific about customer analysis, but they have a pretty good suspicion as to who falls into the negative profit group.
Wouldn't it make sense to design programs that didn't encourage unprofitable business?
How does all this tie to loyalty programs?
Many distributor loyalty programs produce less than stellar results. I can't help but imagine that some of this is the result of poor process. First, there is no documentation for employees. Most don't know the real reason for the program. Sometimes, their management team hasn't taken the time to thoroughly think about the specific results required to make a difference. Other times, loyalty programs are spillovers from a supply partner. Most importantly, some distributor teams don't make time for reviewing the results.
A plan is required. Time spent ahead of the game will create more of the desired result: gross margin dollars. There are three pitfalls to avoid as you think about your plan.
The program does nothing to truly encourage additional business. Simply stated, existing customers get a prize for buying the stuff they were going to buy anyway. While it's cool to occasionally flip a goody out to customers, in general, you should have higher aspirations.
The program is not properly targeted. Unless the distributor invests in determining the subset of customers they want to impact, results can stray from the ideal. We've already touched on why a plan designed for the construction market will probably not be effective with MRO customers. But what happens if you want to impact a subset of the construction business, forinstance, profitable service truck drivers?
The plan is difficult to administer. Gathering customer data is good; not planning for how the data will be collected on the fly is not good. When the paperwork and tracking customer behaviors are poorly planned and viewed by employees as overly complex, the front-line folks don't focus on execution. Commonly, customer-facing distributor folks either fail to introduce the program to their customers, or reinterpret the target group to include everyone. The program becomes a giveaway (see pitfall one).
A final thought
There are plenty of good examples of loyalty programs delivering positive results by following the rules previously laid out. For instance, a few years ago the airlines revamped their frequent flier programs to influence the business traveler, as opposed to the family traveling once a year on vacation. Harrah's stepped away from the rest of the industry in its plans to expand business via a unique program designed to pull in the "occasional gambler."
The list goes on and on. There are lessons to be learned by thinking about other industries.
Step back, and consider how your own life is influenced by some of your favorite companies. Then, think about how to do something similar in your business.

Frank Hurtte speaks and consults on the new reality facing distribution in a post-recession world. Contact him at River Heights Consulting at 563-514-1104 or at frank@riverheightsconsulting.com.

This article originally appeared in the Sept./Oct. 2014 issue of Industrial Supply magazine. Copyright 2014, Direct Business Media.
COMMENTS: 1
Industrial Supply Loyalty
Posted from: Dave Meigel, 10/17/14 at 11:54 AM CDT
Frank,
Great article. TapSpaces is a start up out of Chicago that is making traction in the loyalty space. I look forward learning more from your insight and the potential understanding of our approach and benefits to you and your consulting group.
---