Training Tips: Food-grade lubricants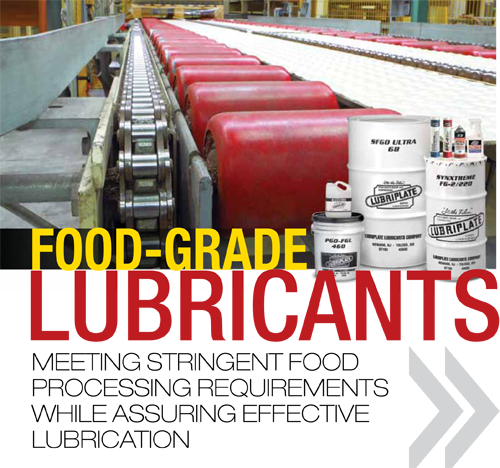 By Clair David Urbain
Food processing and logistics continue to play a very large role in the U.S. economy, says Jim Girard, vice president and chief marketing officer at Lubriplate Lubricants Company, which manufactures Lubriplate brand industrial lubricants.
"Although many economists report that the United States economy is slipping back into a recession, everyone still has to eat, drink and take medicine. Food-grade lubricants continue to be an area of growing potential for many distributors and even end-users as they get more involved with food-grade manufacturing processes," he says.
Protection from contamination
While it's a growing field with great potential, strict regulations require end-users, distributors and product suppliers to think twice about their lubrication approaches to food and beverage processing equipment.
"In the past, the USDA had a simple list of lubricants that could be used in food, beverage and pharmaceutical processing that was the industry standard for food-grade lubricants. The USDA/FSIS List of Proprietary Substances and Nonfood Compounds was the only reference for food-grade and non-food-grade lubricants. It was used by food and beverage processors worldwide," Girard says.
That list served as a watchdog, of sorts, for the lubricants and food processing industries and protected the consumer against substances that had the potential to contaminate food and beverage products. But in 1998, that program was replaced with the Hazard Analysis Critical Control Point (HACCP) program that is monitored by the USDA and the FDA. It monitors potential physical, chemical and biological hazards at food and beverage processors. Because lubricants are considered potential chemical hazards in HACCP, only NSF H-1 registered lubricants can be used in lubrication applications that may have incidental contact with food or beverages being processed.
"To mitigate contamination HACPP concerns, many plants now mandate that only NSF
H-1-registered lubricants be used in their facilities. The use of NSF H-1 registered lubricants eliminates the need for a HACCP plan for lubricants because NSF H-1 lubricants are not considered potential chemical hazards.
No watchdog, new watchdogs
"The NSF H-1 registration process has been developed by the National Sanitation Foundation (NSF) and is presently relied on by most facilities in the United States. The NSF developed an authorization program that mirrors the USDA/FSIS program and is guided by Title 21 of the FDA's Code of Federal Regulations. Once products are registered, the lubricant manufacturer may use the NSF-registered logo in its promotional literature and trade advertising. The NSF program also requires formulations and products be continually monitored for efficacy," Girard says.
Anatomy of NSF H-1 lubricants
The lubrication industry continues to develop additional petroleum- and synthetic-based Class H-1 food-grade lubricants that provide lubrication for capital-intensive
food and beverage processing machinery that do not require HAACP programs.
"Petroleum-based H-1 food-grade lubricants are developed with either technical white mineral or USP-type white mineral oil," says Girard. "USP mineral oils are the purest of all white mineral oils and are the most oxidation-stable. They provide optimum lubrication better than other white mineral oils and manufacturers add FDA-compliant ingredients to increase anti-wear capabilities, improve oxidation resistance and prevent rust and corrosion."
Synthetic H-1 food-grade lubricants, the other main type of food-grade lubricant, are primarily polyalphaolefin (PAO)-based fluids, Girard explains. "They provide significant oxidation resistance vs. petroleum-based H-1 food-grade oils and have significantly better cold-temperature operating capability. PAO-based food-grade H-1 fluids are outstanding lubricants for air compressors, oil recirculating systems, hydraulic systems and gear reducers. Their initial high cost is more than justified by their long-range performance. Fluids that are 100 percent PAOs significantly outperform the PAO
plus polymer semi-synthetic fluids," he says.
Polyalkylene glycol (PAG) and Polyol Ester (POE) H-1 food-grade synthetic fluids are becoming very popular for applications where temperatures range from 400 F to 600 F. "Bearings, chains and gear reducers subjected to these temperatures are candidates for PAG and POE H-1 fluids," Girard says.
"H-1 food-grade lubricants can now effectively handle every machinery lubrication application in any food or beverage processing plant. That means maintenance and production crews can consolidate their lubricant inventory. That is good for the food- and beverage-processing plant employees, and most important, gives added protection to the ultimate consumer," says Girard.
He adds that Lubriplate will soon become ISO-21469 registered, which is one of the international standards for H-1 food-grade lubricant oversight.
"Our company is also developing more 100 percent synthetic H-1 food-grade lubes for longer life, less disposal and overall sustainability," he adds.
Many lubricants come in more than one formulation and some even come in colors, which make leaks easier to detect.
NSF Class H-1 registered lubricants may have incidental contact with food and beverage processing machinery; NSF Class H-2 registered lubricants can be used on food- or beverage-processing equipment but must not have any contact with processed food or beverage. Class H-2 lubricants may also need a Hazard Analysis Critical Control
Point (HACCP) program.
This article originally appeared in the Sept./Oct. 2014 issue of Industrial Supply magazine. Copyright 2014, Direct Business Media.
COMMENTS: 0
---