Marketing in Motion
Videos have become a key part of the marketing efforts for Motion Industries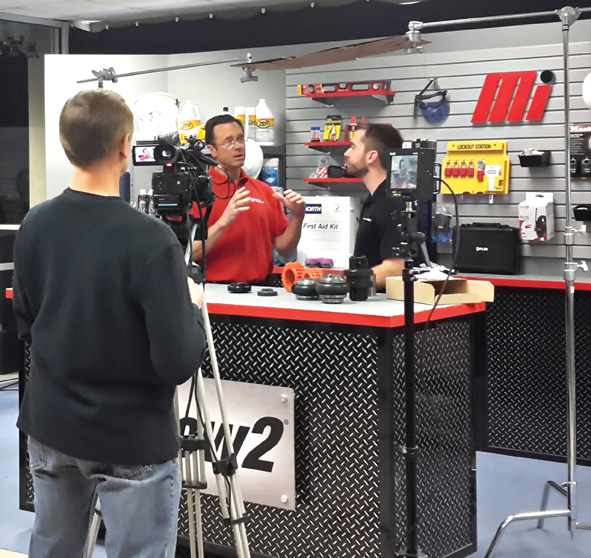 Tom Clark (above left), host of the MiHow2 and Tom's Toolbox videos, often appears alongside a Motion Industries supplier to discuss how to solve a common power transmission/motion control problem.
By Rich Vurva
Technology has dramatically transformed the way people make buying decisions. Even customers who still prefer to buy products from a brick and mortar location often perform online research, compare features and benefits, read reviews and check for availability.
Those evolving habits have required B-to-B companies to adjust the way they market to customers. Motion Industries recognized that because its customer base was changing – especially younger people who are accustomed to using the Internet, apps and video technology to satisfy their informational needs – Motion's way of reaching customers needed to change too.
Randy Breaux, Motion Industries' senior vice president, Southern U.S. operations, Corporate Marketing and Strategic Planning, recalls asking his son how he searches for information about products he wants to buy.
"Normally, what I do is I'll Google it and then find a video that I can watch," his son replied.
That conversation helped reinforce the decision to launch an instructional video series called MiHow2 in 2012. The videos are hosted by energetic and affable Tom Clark, who typically appears with a representative from a strategic supplier. Clark is an Atlanta-based actor and voice-over announcer who has adapted to the role so well that many viewers assume he is a Motion Industries trainer.
"Some of the vendors come in and think I'm a Motion Industries employee. That makes me feel good. That means I'm learning and I understand their product," he says.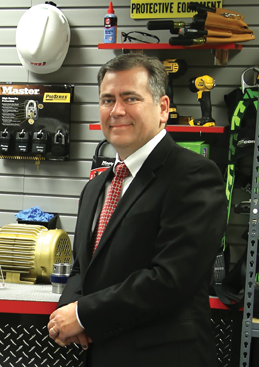 Breaux explains that before the MiHow2 series was launched, the Motion Industries team knew they needed a strong spokesman that viewers could identify with and find believable, not just a "pretty boy actor."
"We went out and did a search for somebody to be our spokesman. We found Tom Clark. He projected the image that we were looking for. We wanted somebody that was credible, believable, a regular guy," recalls Breaux.
Supplier participation key
The suppliers provide the scripts, but Clark adds his own personal touch and frequently ad libs, engaging with the supplier by asking questions or making comments to clarify the demonstration. While the five- to seven-minute-long videos are meant to be informative and instructional (and ultimately sell the vendor's products), they're also often fun to watch. As host, Clark knows how to make the supplier representative helping with the demonstration feel comfortable, and also has a knack for explaining technical material in everyday language.
Some suppliers have become MiHow2 veterans by participating in multiple videos, while other suppliers, new to the program, are eager to make their MiHow2 debut.
"We are thrilled to have such high supplier enthusiasm for the MiHow2 program," says Tim Breen, Motion Industries' president and CEO. "Our suppliers inject their years of specialized expertise and know-how into each episode, and offering knowledge to industry is a large part of Motion's service."
The success of the MiHow2 videos spawned a spin-off called Tom's Toolbox in 2014. These videos – which have shorter time frames – follow a similar format as MiHow2, taking place in a workshop setting, but Clark appears by himself.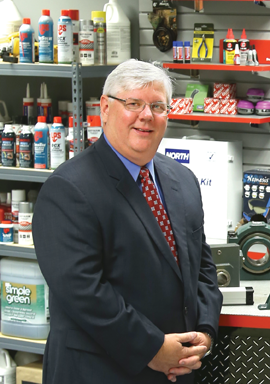 The company usually records eight to 10 videos each quarter and recently released its 100th episode. The videos can be found on the Motion Industries website, but also are available for viewing via Facebook and YouTube.
Viewers looking for advice on how to adjust tension on a chain, lubricate or install a bearing, or learn how motion control valves function can search by product, manufacturer or application to find a solution. A search of the MiHow2 videos on the Motion Industries website shows that most of the videos have hundreds of views and some have been viewed well over 1,000 times. Since being introduced in 2012, total hits of all of the videos combined has surpassed several million views.
"We've been very pleased with MiHow2 audience growth," says Breen. "It shows there is a hunger out there to skill up on the ins and outs of proper mechanical and operational technique. And a crucial part of this is worker safety, which we emphasize within each episode – specific to the demonstration."
Shared production costs
The videos have become a major part of ongoing marketing programs developed cooperatively with select suppliers.
"We have a good co-op advertising promotion program that we run every year. About 100 of our strategic suppliers participate. MiHow2 and Tom's Toolbox are just a couple of the things that they can participate in," says Breaux.
Suppliers use co-op funds to share in the cost of producing the videos, which are recorded in an in-
house studio at Motion Industries' headquarters location in Birmingham, Ala.
"We built our own in-house studio and shoot them with our own people. We keep the cost pretty low for a video as a result of that. But we did make an investment up-front to build a studio," Breaux says. Each video may take three hours or more to shoot, and the production team aims to complete two to three videos in a single day.
Spreading the word
Promotional efforts include sending out press releases when a new video is produced, posting them on social media and producing printed handouts for distribution at trade shows and other events.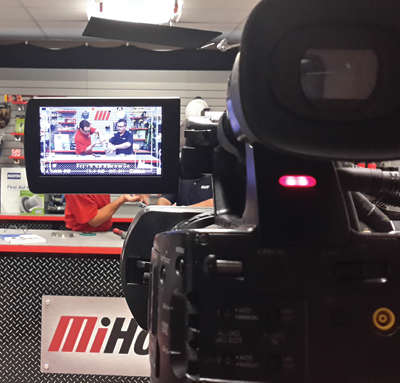 The videos are also posted on "Mi Knowledge Links" sites devoted to specific categories, such as electric motors (TheMotorSpecialist.com), bearings (Bearings.com) and safety (MiSafetySpecialist.com). "All of these are what we call knowledge sites. These are not transactional sites. These are purely sites to go out and get all the information about that type of product that you're looking for," Breaux says.
If a customer is trying to determine why a bearing in a motor has failed twice in the last six months, for example, he can go to the motors knowledge site, search for a how-to video on motors and learn that improper shaft alignment can cause bearing failure.
Several more knowledge sites will be developed in the next year focused on industrial supplies, power transmission, pneumatics and other product groups.
"The thought behind that is to provide a one-stop shop for the information side of the product content. Then if they find what they're looking for and they've narrowed it down, they can immediately link over to our MotionIndustries.com site, where they can transact an order," Breaux says.
He adds that customers often leave comments about the videos, mentioning that they placed an order as a result of watching.
The success and popularity of the MiHow2 and Tom's Toolbox videos are helping to grow Internet sales.
Breaux says the company closely tracks sales by SKU, and can determine that products being actively promoted perform better than those that are not being promoted, which helps suppliers calculate a return on their advertising and promotion investment.
The company doesn't publish results by e-commerce vs. traditional sales, but says that the Internet sales channel continues to trend upward and is a growing percentage of total business today.
This article originally appeared in the Sept./Oct. 2015 issue of Industrial Supply magazine. Copyright 2015, Direct Business Media.
COMMENTS: 1
Superior Abrasives Manufacturer
Posted from: Pat Mathes, 9/24/15 at 7:25 AM CDT
I would like to inquire more about this. Motion Industries is already one of our largest customers and would like to help with increasing business anyway possible.

I look forward to hearing form you soon
---