Why distributors must have an e-commerce site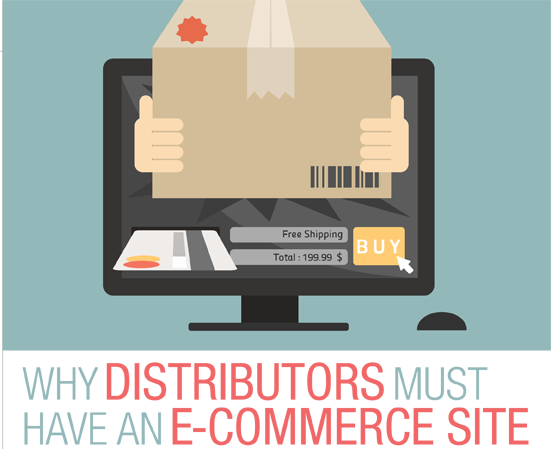 By Dean Mueller and Jonathan Bein
B-to-B purchasing is experiencing a major shift toward a multichannel model with an online focus. Online firms, such as Amazon, have elevated our expectation of how a transaction is completed. The convenience and time savings we enjoy as consumers translates into our B-to-B work world, and B-to-B buyers expect a similar online buying experience as they enjoy in their personal life. Not surprisingly, Forrester recently released their estimate that B-to-B e-commerce would grow from $780 billion in 2015 to $1.13 trillion by 2020, accounting for more than 12% of all B-to-B sales in the U.S.
Even with those forecasts, many B-to-B distributors have not yet embraced e-commerce fully or are frustrated with their experience. Indeed, with B-to-B e-commerce, you can feel adrift at sea with not even a life raft to climb aboard. There is a vast ocean with different rules and technology than with offline sales channels. Is your e-commerce enjoying a full sail, or has it run aground and needs new bearings?
According to research from the CEB Marketing Leadership Council, B-to-B buyers contact a supplier when 57% of the purchase process is already complete. That means having accurate and complete product information is important regardless of what channel gets the actual sale.
This article will discuss why it is no longer a question of if a distributor needs an e-commerce presence, but how to do it or how to make the site you have better.
B-to-B distributors face online pressures from two key areas:
Traditional competitors that have made the multi-channel transformation
zNontraditional new competitors that may be selling into your space, such as, Amazon, Alibaba, or eBay
While distributors often have unique value propositions compared to the new threats, make no mistake, these are real and credible competitive threats.
B-to-B customers that are active both online and offline buy more in total than those only purchasing through nondigital channels. The average order value (AOV) is also higher with multichannel customers. Most important may be that multichannel purchasers tend to be more profitable than those that purchase only offline or only online.
The shift to multi-channel purchasing is happening, whether you're ready for it or not. Distributors that do not enter the e-commerce space run a strong risk of having customers defect. The change may be small at first; but as customers find an online resource to purchase products and have an experience more similar to what they enjoy in their personal online experience, that change is likely to occur more frequently.
If your current e-commerce platform is capable of providing the functionality your customers need, then a reboot or simple change may be needed to take advantage of those features. However, if your customers require features such as user management, then it's possible you need to implement a new platform, or "replatform."
We often see situations where a homegrown e-commerce system was implemented out of necessity several years ago. Providing new functionality now expected by customers, a replatforming project might be the best option.
Do you have customers that would move some of their transactions to another supplier if their online experience were better? Think it would never happen to your company? Think again.
A recent survey revealed that end-users, who identified a distributor as their primary supplier, up to 22% of the overall revenue was at risk in favor of a new supplier that could provide a better e-commerce experience. For a $100M revenue stream with 25% gross margin, that means up to $5.5M of gross profit dollars at risk. Just looking at the margin dollars at risk, this distributor could clearly invest what is needed to get the right e-commerce platform to provide the experience users need and expect.
Real Results Marketing has developed a financial model that takes into account the costs associated with a platform/replatform initiative, along with marketing and personnel costs. While there are a several variables and assumptions, the table on page 26 shows what a conservative ROI would be for a firm getting into, or expanding, their e-commerce.

Taking into account full expenses, the total cost of ownership (TCO), the NPV and ROI, are highly attractive and warrants investment. The model assumes only a 1% improvement in customer retention as a result of a better e-commerce offering; based on the example above, this is clearly a very conservative assumption, so your financial benefits will be even more attractive.
What are the next steps? The following discussion applies if you are starting an e-commerce site as well as if you are doing an e-commerce reboot or replatform.
Start with an e-commerce and multichannel strategic plan. Focus and prioritize on features and functionality that customers need. In research conducted by Real Results Marketing, we have seen significant differences in customer expectations, so it is critical to gain your customer insights through market research. Between customer feedback and your organization's priorities, build a feature roadmap that considers what features and functionality to include. The order or timing of when those features should be available for customers helps define a reasonable project plan. As you go through the multitude of options, it can be helpful to categorize functionality needed. The following categories provide examples of what to consider, but you may find your business needs have additional or different requirements. Additional language and multiple country support increases complexity.
Search
In the majority of purchases, regardless of channel, B-to-B buyers start looking for information with Google, Bing, or other search engines. Having a solid search engine optimization (SEO) plan will increase the probability that your products will come up in a desired spot in the search engine results page (SERP). When you search for something in Google, how often do you go beyond page one of the results? Not often – your customers won't either.
Once you get your customer or prospect to your site, you want to make it easy to find what they are looking for, whether it's product information or a MSDS document. In our research, one of the top reasons a customer leaves a website is the lack of robust product information. Investing in a good product information management (PIM) solution that is either part of, or has electronic hooks into, your e-commerce platform is a foundational requirement for most distributors. Most important is the quality of product data, which is the essential food to fuel your e-commerce implementation.
Depending on your products, it can be important to offer customers a faceted search, where products can be found quickly by filtering or drilling down to what is needed. Examples include products with different colors, sizes, power rating, etc.
Many other options can make it easy for customers to find what they need, including ratings and reviews, ask and answer, up-sell products, to name just a few. Knowing how your customers search for products or what tasks they would like to have in a self-service manner will provide guidance on specific requirements.
Registration and User Management
Is your site available for non-current customers to order? Assuming the answer is yes, then having the ability for a non-registered user to place an order is important. Generally, these are the highest margin customers for distributors, so make it painless and fast to register and check out.
Features in this area also include considerations on what capabilities are needed to handle multiple users/purchasers in an organization. Do purchase requisitions need to be routed for approval? Do certain users view a custom online catalog?
Our research shows one of the most important aspects is that if customer specific pricing is set up, then your customer must have the capability to see the correct pricing for his organization. Without that capability, those customers are unlikely to purchase online.
Quote/RFQ
The ability to request a quote is important for many distributors and their customers. Oddly enough, in our research studies, we find that customers often request a quote, then don't get a response. As the saying goes, half the battle is showing up! Distributors that respond in a timely manner to RFQs are already ahead of the game.
The quote request can be a simple text box or, more common, a simple form and may include the ability to upload an Excel or CSV file.
Order Management
All features and functionality related to how an order gets placed through delivery goes into this section. Given Google's recent algorithm changes, there are significant incentives to being mobile-friendly, so that should be a key consideration. Do your customers need punchout capabilities? If so, e-procurement considerations should be part of this consideration.
The goal is to make it easy and convenient for your customers to place orders, so understanding what they need will drive the order management features implemented.
Support
A best practice for distributors is to always provide a method for support. At the very least, provide a phone number and hours available.
Many distributors also have implemented chat capabilities to assist customers. The two options include passive, where the user clicks on a "request chat" button, or a proactive chat, where after a predetermined amount of time, a pop-up window inquires if the user would like assistance.
Offering chat of some type often leads to a higher conversion rate for distributors, and is relatively easy to implement. As with any customer service representative (CSR), training is important. The CSR must be fluent with not just the company and product information, but also be quick and have the ability to multitask.
URPS
The last category, but certainly not least, is usability, reliability, performance and supportability (URPS). A distributor could put great effort into all the previously mentioned categories and determine the correct feature set and roadmap, but without having a documented URPS plan, miss the full e-commerce potential.
Usability considerations include how to continually plan to test and improve usability for users (many tools and techniques are available to help in this area).
Reliability includes defining metrics for your site and who is responsible with an escalation plan for issues. And, assume there will be issues at some point.
Performance metrics include how fast the site should respond under specific scenarios. Having an escalation plan is essential in this area, too. There are many tools that help monitor and provide guidance for improvements.
Supportability of your e-commerce site is essential. Knowing how the site is supported and who is responsible for each aspect (technical, product data, marketing content, etc.) is important. As with the other areas, having a documented and agreed upon escalation plan helps the overall e-commerce implementation.
Conclusion
Doing your research and understanding customer requirements is a critical first step in selecting your e-commerce platform. Fortunately, the barrier to entry has been reduced in recent years. Distributors that needed much of the functionality identified above just a few years ago often had to develop their own homegrown platform. Today, many good B-to-B e-commerce platform options are available.
Clearly understanding both functionality and timing requirements not only serves customers better but can have a positive impact on your e-commerce ROI. The faster a distributor can compress the time it takes to move from the nascent stage to growth and maturity stages, the faster a positive ROI can be reached.
Remember to follow the money! Focus on multi-channel customers who generally are higher margin and have higher average order values.
Focus on the user experience. Remember, the individual purchasing from a B-to-B distributor is buying online personally and has a high standard for a pleasant online experience.
The competitive landscape for B-to-B distributors is rapidly expanding and changing. The ROIs shown here help point to a strong reason to embrace e-commerce and multi-channel sales. The barriers to entry are much lower today compared to just a few years ago. So, what are you waiting for? Jump into the e-commerce ocean. Your company's life just may depend on it!
Dean Mueller has more than 30 years experience in sales and marketing, including senior-level positions in marketing and technology leadership in public and private equity organizations. Using market research, Dean has a deep understanding of distributor customer needs.
Jonathan Bein, Ph.D., has worked with many distributors to make their marketing a profit center. He has developed and applied analytic approaches for customer segmentation, customer lifecycle management, positioning and messaging, pricing and channel strategy for distributors.
Contact them at jbein@distributionstrategy.com or visit DistributionStrategy.com.
This article originally appeared in the Sept./Oct. 2015 issue of Industrial Supply magazine. Copyright 2015, Direct Business Media.
COMMENTS: 0
---