Dock safety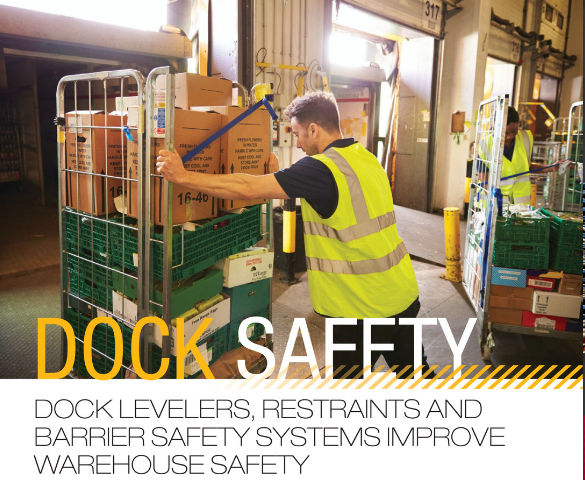 by Walt Swietlik
For distributors planning to build new facilities or remodel existing warehouse and dock areas, bigger is better. Companies are installing larger overhead doors and dock levelers. The reason is because, in many existing buildings, dock doors are too narrow and sometimes too short for today's trailers.
At Rite Hite, we recommend building the dock doors wider and taller than the trailers. With a larger opening, when the trailer is backed up to the dock, the employee has access to the entire trailer. There's no interference from the building. Industrial distributors might not often receive a full truck load but they may receive orders in odd shapes and sizes. We want them to receive orders as safely and efficiently as possible. Wider, taller door openings help considerably.
New dock levelers are also wider and longer than warehouses may have used in the past. By increasing the length, they can serve a wider variety of trailer bed heights. Most industrial distributors don't have multiple loading docks. Flexibility is important in those cases. Wider, longer dock levelers give them a better service range for varying sizes of trailers.
When it comes to making warehouses and docks safer and more productive, distributors may also want to consider installing restraints and barrier safety systems.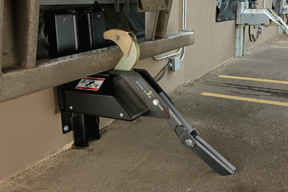 Restraint products are safety devices designed to prevent trailers from rolling away from the dock as they're being loaded or unloaded. Rite Hite's development of the Dok-Lok Vehicle Restraint System in the 1980s has helped improve safety at docks. Instead of putting a wheel chock in front of a tire that a driver can easily drive over, with a Dok-Lok, the trailer is physically attached to the building with hooks. It's become a standard for many loading docks across the country. The challenge is the variety of trucks and trailers that come into the loading dock. That's why it's especially important to engage a local professional to understand the needs of the application when selecting one of these devices. In Rite Hite's case, we make 10 different styles of truck restraints. They range in price from $3,500 to $15,000 per dock position, so you'll want to engage a sales professional to help evaluate the application to get the right solution.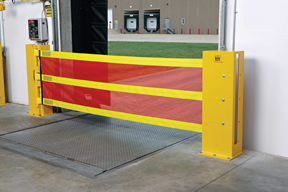 Barrier safety systems
In many warehouses facilities, lines are painted on the floor with the intent to mark the path for forklifts and other material handling equipment to stay on one side of the line and keep pedestrians on the other side. Insurance companies, safety professionals and, in some cases, OSHA, are requiring physical barriers. Rite Hite makes steel barriers, heavy-duty plastic barriers and removable fabric-strap barriers that can create the separation that safety professionals want. In some cases, they're permanent solutions that are bolted to the floor. In other cases, they're removable solutions that don't have as high of an impact rating, but the user has the capability to put them in place and take them down as required.
For example, the Dok-Guardian safety barrier helps prevent fork trucks, pallet jacks and pedestrians from falling off of a loading dock. It is designed to stop up to 10,000 pounds, features bright red PVC-coated fiberglass mesh curtain with three bright yellow heavy-duty restraint straps and serves as a highly visible warning sign.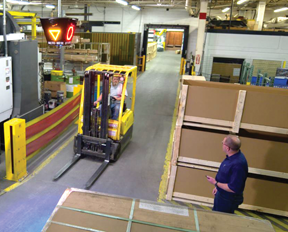 These solutions provide full access for loading and unloading a trailer and still allow fresh air into the building when no trucks are present.
We're always working on improving safety not only at and around the loading dock but throughout the warehouse. One of our new products, Safe-T-Signal, detects traffic from all directions and communicates with high-visibility traffic control LED symbols to the oncoming traffic. Some industrial distributors are in buildings that have been expanded, resulting in aisles that go in different directions as people move from one building to the next. The Safe-T-Signal warning system may be a cost-effective, simple solution to improve safety in that type of setting.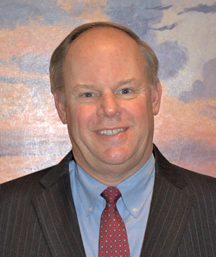 Walt Swietlik is director of customer relations and sales support, Rite Hite.
This article originally appeared in the Sept./Oct. 2018 issue of Industrial Supply magazine. Copyright 2018, Direct Business Media.
COMMENTS: 0
---