Putting people first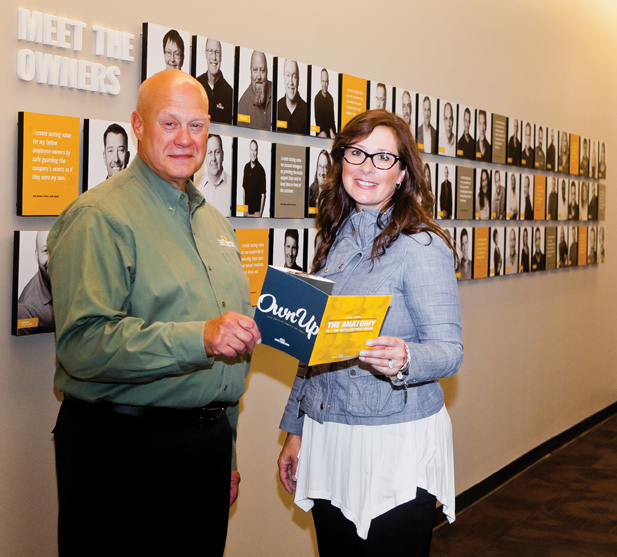 Jim Halverson and Jenn Bleil pose in front of a wall featuring photos of Van Meter employee-owners.
By Rich Vurva
If you ask any distributor executive to explain what makes their company successful, they'll say it's their people. But few of those companies back that statement with the kind of people development training offered at Van Meter Inc., an employee-owned electrical and automation distributor based in Cedar Rapids, Iowa.
It's an understatement to say that Van Meter offers employee training. Ongoing education and training efforts include live training communicated through an annual training calendar, online courses and self-guided training through a Learning Management System. Employee-owners are also encouraged to pursue development through offsite conferences and training courses and can receive tuition reimbursement for ongoing education. The company also provides a leadership development program.
"Putting your people first means you need to help them be their very best. We know that developing them, helping them reach their full potential is critical for them being their best," says Jenn Bleil, learning and development manager.
Bleil heads up a three-person learning and development team, which works with employee-owners at all levels to improve their job skills.
"My team spends a significant amount of our time and resources on helping people understand what it is to live our culture," she explains.
Earlier this year, Van Meter was named to Training Magazine's "Training Top 125" list for the third consecutive year.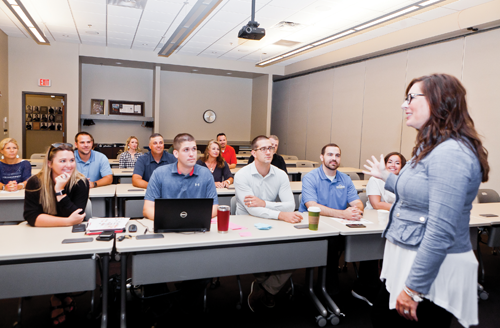 Jenn Bleil, who heads up a three-person learning and development team, speaks before a group of fellow employee-owners.
Van Meter recently launched a year-long in-boarding program for new employees. Note the use of the term "in-boarding" rather than the more traditional "on-boarding" phrase used by most companies when describing the process of teaching new hires what they need to know to do their jobs effectively.
"We want our people to be all in, all the time," explains Jim Halverson, sales manager for automation power products and services. The term also reflects the desire that new employees feel welcomed into the company.
"Starting a new job can be stressful. We want people to feel like insiders right from the beginning. We want our new people to feel like they are an inclusive part of our organization right away," says Bleil.
New employees complete 49 learning activities throughout their first year with the company. As they work their way through the program, employees earn badges to measure their progress and to keep the effort fun. In addition to a Van Meter badge, five badges correspond to the company's core values, or five Ps. A celebration marks their successful conclusion of the course work.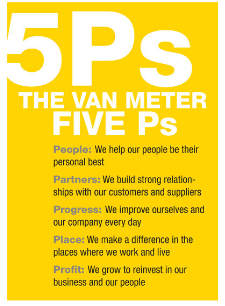 "We are a very values-based organization. Our purpose is to create lasting value for those we serve, and we believe that we can accomplish that purpose by supporting five core values," says Bleil.
She adds that in the hiring process, interview questions are geared around these core values rather than focusing on job skills.
For existing employees, learning opportunities range from self-guided e-learning programs that employees can complete online to classroom sessions and discussion groups. As needed, trainers travel to Van Meter's 15 locations throughout Iowa, plus facilities in Omaha, Nebraska, and Chicago to lead training efforts. For some courses, employees in other branches are brought to the Cedar Rapids headquarters location, which gives them an opportunity to meet fellow employee-owners in person and tour the corporate office and distribution center.
Much of the training is customized to fit individual requirements and is designed in cooperation with "people leaders" (not managers).
"If there are individuals that need specific work in any area, we'll help them find resources. We also offer additional training for existing employee-owners on things that we think are important for our culture," Bleil says.
Fierce Conversations
Because good communication skills are important for every employee-owner, regardless of their job title, one course teaches employees how to have "fierce conversations." It's based on the self-help book by Susan Scott called Fierce Conversations: Achieving Success at Work and in Life One Conversation at a Time.
The course, offered in a group setting, explains how to handle difficult conversations with tact and in such a way that both participants are enriched. The author wants readers to think about how every conversation they enter into with another person could be life-changing for that person. The objective is to make sure every conversation you have is impactful and purposeful.
"One thing we expect of our people is to have a 'tell me first' mindset," adds Halverson. "If one employee has a problem with another employee, we encourage them to talk to one another first. Don't go to your manager. I don't need to get in the middle of that conversation. I expect the two of them to have the conversation first."
Although participating in employee development is not required of employee-owners, it's rare when someone isn't involved at some point during the year.
"As a people leader, my most important job is to build my very best team. If I don't have the right team, I'm not going to be effective and the team won't be effective for the rest of the organization," Bleil says. "We've been very fortunate that we haven't had to put in incentives to get people to focus on their own development."
At least twice a year, people leaders sit down with each of their employees to have a "meaningful conversation." Different from performance reviews, these conversations focus on five key things the employee and the leader want to discuss. What is the person doing well? What are they enjoying most about their job? What are they most proud of? Are there areas they need to work on? Can the leader be doing anything different to help them in their job?
"I'm just finishing up with my employees on my mid-year meaningful conversations. It is a refreshing, casual conversation that talks about their development and how we can continue to help grow our company. Those are great conversations," Halverson says.
Van Meter partners with Tero International to provide sales training courses that focus heavily on building customer relationships, and involves manufacturers in product training. Every inside and outside salesperson and customer-facing employee has been through the sales training program. The curriculum was developed in order to provide value to new salespeople and seasoned veterans.
Halverson recalls a fellow employee-owner who balked at attending the training. "I had one salesperson come to me who said, 'Jim, I've been doing this since 1975. I don't think you're going to teach me anything in this two-day class.' I encouraged him to go the class. I told him, 'If you come to me at the end of that first day and tell me this is a waste of time, you don't have to go to day two.' He attended the class and later told me it was the best training he'd ever attended."
Leaders are provided follow-up questions to ask their staff immediately after they've completed the training and additional questions to reinforce the training a few months later.
Some customers who heard about the sales and communications skills training expressed interest in participating, so Van Meter began offering fee-based training to select customers. The company also provides about 250 product and service training classes to customers annually. Those are held through the branches and at customer facilities.
Leadership development
Every employee-owner in the company, from new hires to executive staff, takes part in professional and personal development initiatives.
People leaders – about 70 of the company's 520 total employee-owners – participate in a series of three to four annual meetings geared toward helping them become better managers. Topics include how to hire the right people; building accountability; aligning your people with common goals and similar subjects. New leaders participate in an additional four sessions during their first year.
"The neat thing is that these meetings include all leaders, not just sales leaders or people leaders in the distribution center. All of us get together and interact with each other. It provides a lot of different perspectives," says Halverson.
The leadership development program, like other training programs offered by Van Meter, demonstrate that this employee-owned company is not simply boasting when it claims to put people first.
This article originally appeared in the Sept./Oct. 2018 issue of Industrial Supply magazine. Copyright 2018, Direct Business Media.
COMMENTS: 0
---