Comfort and safety
Fans and lighting are key ingredients to a safe, comfortable warehouse environment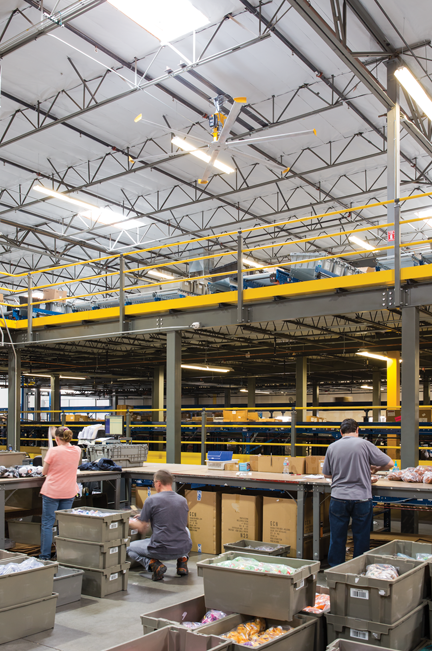 by Rich Vurva
Dimly lit, stifling hot warehouses are becoming ancient history. Distribution centers of all sizes are paying closer attention to the warehouse environment in an effort to make them safer, more comfortable places for workers to do their jobs more effectively. Sometimes, such as when distributors use motion controlled sensors to turn lights off in remote areas of the warehouse where there's little traffic, they save money as well.
Big Ass Fans
Distribution center operations live and die by process efficiency and order-fulfillment rates, but the industry's large spaces are often unconditioned and poorly lit. To maximize throughput, DC managers must recognize the connection between worker comfort and productivity.
"Everyone is competing for a limited amount of workforce and that means each company has to compete not only in wages and benefits but in work environment and conditions. By providing a more comfortable, renovated, modern work space, distribution centers of all sizes can attract and retain qualified talent," says Alex Risen, public relations, Big Ass Fans.
The costs of an uncomfortable work environment are significant but often unseen. Inadequate airflow and poor insulation leave workers at the mercy of extreme summer and winter temperatures. Such environments drain employee energy and focus, making them sluggish, error-prone, and dissatisfied. Employee retention is perennially pegged as a top concern for facility managers, while studies show that productivity decreases steadily for every degree above 77 F.
Big Ass Fans' products directly target these pain points to create cool, bright working conditions, allowing employees to focus on work instead of discomfort.
The airflow from Big Ass overhead and directional fans provides a cooling effect of up to 10 F, so employees working in picking aisles, pack lines, and shipping docks stay cool without A/C, even on hot summer days. While the temperature in the space may be 90 F, the fans' cooling effect makes people feel as if it's only 80 F, erasing a productivity loss of more than 11 percent. The fans dissipate excess body heat, which helps to protect workers from heat stress and fatigue. When floor conditions are frigid in winter, Big Ass fans gently recirculate heated air at the ceiling back down to where workers need it, helping them stay warm and focused. More comfortable work conditions lead to greater job satisfaction and helps reduce employee turnover, keeping skilled labor working and hiring costs down.
Fans provide a cooling effect to workers in both conditioned and non-conditioned spaces. HVLS (High-Volume, Low-Speed) fans can provide up to 10 degrees of cooling comfort by delivering elevated airspeed where it's needed. Fans can be a cost-effective solution to worker comfort when HVAC isn't practical or within the budget. In conditioned spaces, fans can improve the efficiency of the HVAC system and allow for higher thermostat setpoints in addition to increased longevity of the HVAC unit.
LED lighting provides an energy-efficient means of comfortable illumination. Certain tasks require certain footcandle output and by offering robust, versatile fixtures, employees benefit from increased efficacy and less maintenance time.
"We're always improving our products. Whether it's the next generation of airfoil design or higher efficacy and application versatility, the focus is on providing solutions to customers' needs," Risen says. "Our Light Bar product was a result of need. There wasn't a good product on the market, so our engineering team and staff set out to make the best work light on the market. Our recent launch of the Powerfoil D industrial direct-drive fan is the latest example of commitment to developing exceptionally engineered, purpose-built products to solve specific customer problems. It's not one-size-fits-all or one-product-fits-all. Every customer space and application is unique and we aim to deliver a tailored solution."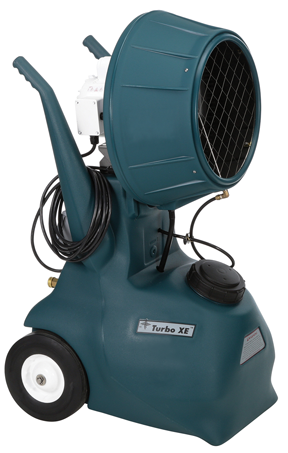 Airmaster
"One of the biggest trends that is driving the development of our solutions with distribution has to deal with the logistics of our products," explains Greg Helbling, vice president of sales and marketing for Airmaster. "Distribution has been more cautious about purchasing seasonal items. The shifting and changing weather patterns over the last five years has been the main driver in this trend. This shift has created more of a "fire drill" mentality for some distributors. They will worry about the problem if it occurs, not planning for when."
We have diversified our shipping points to have top moving items closer to the need. Our sales force has shouldered some of this burden by having local distribution models. Our pre-season programs have been modified to encompass most of the distributor's roadblocks.
Airmaster is currently in the process of establishing a line of ECO friendly and energy efficient products. "While some are still in the development stage, we have been exploring high performance products that have greater efficiencies and conserve electricity," he says.
Hunter Industrial
There is a renewed focus within the distribution industry around worker retention. With low unemployment rates, quality employees are more critical to acquire and retain than ever. Providing a safe and optimal environment is a key way to improve employee health, safety and retention.
"Hunter Industrial fans are a great solution to improve employee comfort, even in a challenging work environment. The fans are low cost and produce massive air movement with a virtually quiet operation," says Mark D'Agostino, senior vice president and general manager of Hunter Industrial — a division of the Hunter Fan Company.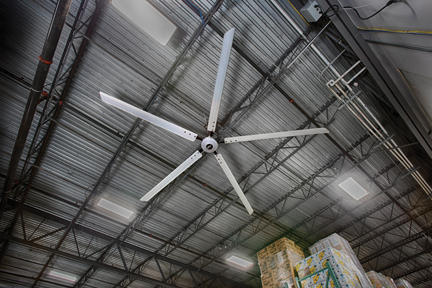 Launched in 2016, the Titan HVLS (high-volume, low speed) Series is the flagship product of Hunter Industrial. With blade spans ranging from 14 feet to 24 feet, this industrial ceiling fan offers a competitive edge when it comes to efficiency, ease of installation, cost, weight and maintenance. Using less power, the Titan efficiently delivers equal or better output than the competition.
D'Agostino says that with a low operating cost, quiet operation and massive air movement, Hunter high-volume, low speed fans are a great solution to improve the comfort in your facility. "Whether the need is improving comfort in hot weather or cold weather, moisture/condensation control or overall improved ventilation, our HVLS products can address one or any combination of these environmental factors."
The company's mid-sized product, the ECO Series, is among the most lightweight and economical industrial fans on the market. With blades ranging in diameter from 8 feet to 24 feet, this superior HVLS solution uses a custom direct drive motor and blades designed by aerospace engineers. Plug-and-play technology and lightweight components also make this fan quick and easy to install with no ongoing maintenance required. This affordable fan is crafted to deliver unmatched performance and built to last.
The newest product of Hunter Industrial is the XP Series, ideal for commercial spaces. The XP is engineered to deliver year-round HVAC cost savings and the easiest installation features on the market to date. This HVLS solution delivers highly efficient performance with a featherweight design and includes a uniquely streamlined plug-n-play, pre-assembled installation process that does not require any guy-wires. The XP operates on 110V standard power while still delivering exceptional air movement.
Hunter Industrial's Titan and ECO Series fans offer a full range of control options, including touchscreen controls with network capability and the flexibility to manage up to 30 fans. The XP series also offers a 1:1 analog control. Every Hunter Industrial fan is assembled and tested in the company's Nashville facility before being packaged and shipped to the customer—ensuring all products work correctly and arrive safely in one crate.
"At Hunter Industrial, we developed our entire Industrial HVLS product offering around low power consumption, ease of installation, zero maintenance, and easy control and operation. Very soon, we will be announcing product enhancements that take all of these value propositions to a new level. This fall, we will have a significant number of product enhancements to offer our customers," D'Agostino says.
Portacool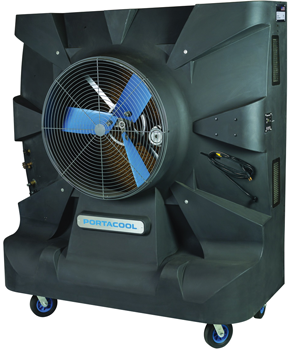 Many industries face challenges when it comes to providing a cool working environment, particularly in heat-susceptible areas such as industrial plants, warehouses, manufacturing facilities and outdoor jobsites. These extreme-heat situations can impact worker safety and productivity, and certainly, the company's bottom-line. Without adequate cooling, workers are put in danger while equipment and manufactured products are at an increased risk for failure.
According to the Occupational Safety and Health Association (OSHA), thousands of workers become sick from occupational heat exposure each year. However, heat-related illnesses are preventable. "The best way to prevent heat-related illness is to make the work environment cooler," OSHA states. The dilemma becomes how to effectively and economically cool large, open areas where high-ambient outdoor temperatures and heat-generating machinery are factors.
Evaporative cooling is a technology that has gained momentum recently. As manufacturers develop more efficient technologies and systems to utilize this technology, evaporative cooling popularity has surged in high-heat areas where people, equipment and animals need relief. From data centers to dairy farms and industries like refineries, manufacturing and warehousing, the need for flexible, efficient and affordable cooling has made evaporative technology rise to the top.
"The technology of Portacool evaporative coolers has evolved to become an energy efficient and effective product that can be used in any industrial environment – arid and humid. While evaporative coolers use water to cool naturally, they do not produce any mist, fog or spray water. Portacool constantly works to provide a wide range of solutions to fit a wide range of problems – including keeping employees safe, productive and comfortable in hot environments," says Scott Jacobs, PE, director of engineering at Portacool LLC, a manufacturer of a full line of portable evaporative coolers and evaporative cooling technology.
"No matter the industry or the business, managing costs is always an important factor to meet required profitability. Costs come in many forms and any prudent facilities manager would tell you that utility costs are a facet to overhead that requires a lot of attention. Newer facilities often incorporate better insulation technology to help combat the elements, but as buildings age, their efficiency levels for maintaining indoor comfort becomes more challenging," Jacobs says.
Since evaporative coolers have no chemicals or power-hungry compressors like an air conditioner (they require only pure tap water, ambient air and a little electricity), evaporative coolers are much more energy efficient and safer for the environment. Used as supplemental cooling for existing HVAC systems or as an alternative to fixed systems to spot-cool a dynamic workforce, portable systems allow further cooling flexibility to facilities looking to mitigate energy costs due to high temperatures. With ongoing technological advancements, evaporative cooling will continue to steal more market share from conventional cooling options such as air conditioning.
The type of solution you may need depends on the purpose and size of the space that needs cooling, Jacobs says. Here are a few criteria to take into consideration when selecting the right evaporative cooler for the space.
Size. Evaporative coolers are available in a variety of sizes, making it simple to customize cooling for both indoor and outdoor spaces. Portacool evaporative coolers can accommodate areas ranging from 500 to 4,000 square feet depending on the model. To cool even larger areas, two or more evaporative coolers can be used together to create a comfortable environment.
Portability and easy control functions. Mobility is an enormous benefit of portable evaporative coolers to spot or permanently cool any space. With heavy-duty casters, evaporative coolers can be easily moved from smooth to rough terrain by one person. Water hose connections, float valves and low-water shutoff features all enhance workability; with their use, there is no need for an employee to constantly monitor water levels or fill the reservoir manually.
Manufacturer. When researching and selecting the best evaporative cooler for your needs, a great place to begin is with the manufacturer. Choose a company that manufacturers its own parts in reputable facilities. Be certain to understand the kinds of media (sometimes called pads) and cooling technology that is utilized in the evaporative cooler you select. This extra research upfront will provide peace-of-mind in ensuring product longevity.
As an example, if you want to cool a large space, Portacool recommends a larger portable evaporative cooler, like the Portacool Hurricane 360. The Hurricane 360 cools up to 4,250 sq. ft. with 18,500 CFM.
Another option would be the Portacool Jetstream 250. This evaporative cooler is part of the extensive Jetstream lineup and is intended for spot-cooling employees or particularly hot areas. It can cool up to 2,125 sq. ft. with 8,500 CFM. It comes equipped with ease-of-use features such as a Liquid-Level Indicator with low-water shutoff, dual-fill option, and heavy-duty casters and built-in handles for easy mobility.
The Portacool Hurricane 360 is a modern cooling marvel, Jacobs says. This evaporative cooler combines high velocity and state-of-the-art, patent-pending cooling technology to provide impressive temperature drops. The Hurricane 360 features four Portacool Cat5 Air Boosters that deliver an extra surge of air for maximum cooling comfort. Additionally, the Hurricane 360 is equipped with Kuul Comfort evaporative media, made in the USA exclusively for Portacool products.
The Portacool Jetstream 250 provides powerful cooling with 8,500 CFM that cools over 2,100 square feet. With built-in handles and heavy-duty casters, this portable evaporative cooler is engineered to generate significant airflow and provide a superior portable cooling solution with easy mobility for a variety of work and spaces. Additionally, the Jetstream 250 is equipped with Kuul Comfort evaporative media, made in the USA exclusively for Portacool products to provide maximum cooling comfort.
Waldmann Lighting
As shopping has shifted heavily from brick and mortar to online, the distribution warehouse model has evolved to a new fast-paced fulfillment center. In the competitive landscape of online retailers, those that can quick-ship products are winning, and warehouses have been tasked with packing and shipping orders more expeditiously.
"We have seen the distribution industry implement efficiencies to meet increasing order rates, while maintaining accuracy, and incorporate new technologies like robotics and automation to meet this challenge," says James Golon, director of sales for Waldmann Lighting.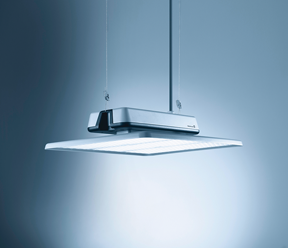 "Waldmann prides itself on a history of understanding and meeting the needs of the industrial workplace. Our ACANEO high bay light features optics that are
designed to illuminate in different light distributions," he says.
The light distributions can be customized to meet the needs of a particular workstation, providing high-quality illumination, minimizing errors and maintaining order rates. The light's low UGR glare rating also serves to alleviate the eye strain that comes with the repetitive nature of picking product. The high bay light is also available with occupancy sensors for turning on only when an area is in use, and can be controlled via Power over Ethernet for reviewing light use and implementing efficiencies.
The very limited amount of daylight in the distribution warehouse space and its long operating hours make it the ideal environment for use of biodynamic lighting. Biodynamic light, also known as Human Centric Lighting, is artificial light that replicates the dynamics of natural daylight. It can address the fatigue and reduced attentiveness experienced with the use of conventional artificial lighting in areas with insufficient daylight.
Waldmann's biodynamic smart lighting solution – LUM CONNECT VTL - has been incorporated in healthcare and senior care facilities and offices and is currently in
development for a solution in the industrial space as well. Challenges to providing this type of lighting to this space include high bay lighting not having a reflective surface for indirect lighting and the shift-based working model of distribution warehouses.
"That said, we see great opportunities in this space when we are able to develop the optimum product that can address these limitations while contributing to both the user's well-being and alertness in fulfilling their role," Golon says.
This article originally appeared in the Sept./Oct. 2019 issue of Industrial Supply magazine. Copyright 2019, Direct Business Media.