Top Industrial Distributors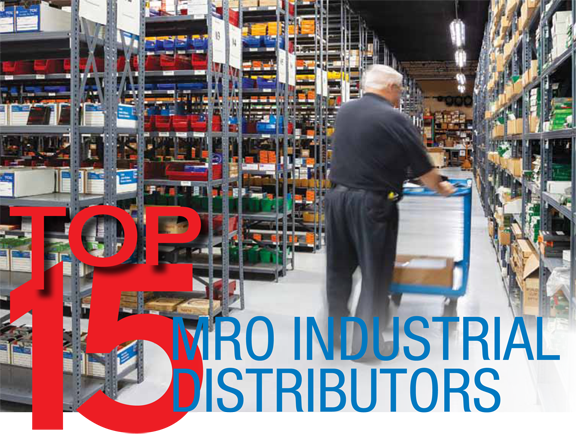 Taking stock of 2019 - The last year of 'normal'
by Eric Smith
Suddenly, the good old days weren't that long ago. After the tumult of the first half of this year, it's easy to forget 2019. COVID-19 has changed the business landscape, and many might say there's little value to dissect what happened within wholesale distribution before the pandemic drastically altered the industry.
But gauging where businesses stood at the end of 2019 provides much-needed benchmarks — for how they performed pre-pandemic and also how they navigated a crisis that for most company leaders has been the most difficult of a career. In hindsight, 2020 will surely be a defining transition for individual companies and the industrial distribution competitive landscape overall.
It's a safe bet that the lineup of the top distributors at the end of 2020 will look significantly different, based on the response and strategies being executed in this critical transition year. First, however, we need to know where they stood when the world as we knew it was upended.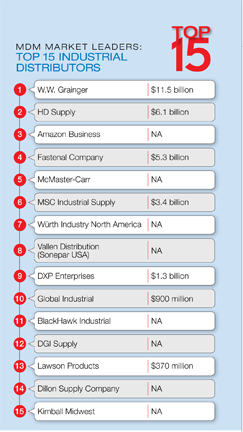 For a snapshot of the industry competitive landscape at the end of 2019, we present here the top 15 MRO industrial product distributors, based on 2019 annual revenues, as ranked by Modern Distribution Management. We took a slightly different approach this year to focus more specifically on the national and larger regional distributors that include as their go-to-market strategy a focus on the core category of MRO industrial products. As with all aspects of trying to analyze the highly fragmented and diverse sectors of industrial distribution, it's far from a perfect science.
For a more comprehensive view of these markets, MDM's annual Top Distributors List, which ranks revenues of the largest industrial distributors in North America, is now available at mdm.com. You'll also find an expanded listing of the top 150+ industrial and construction distributors in the U.S. across 16 product-specific sectors.
Amazon Business Keeps Rising
The list includes traditional broadline MRO industrial distributors, but also includes distributors with more digital- and catalog-based sales models, such as McMaster-Carr, Global Industrial, and the primary seismic disruptor of the past few years – Amazon Business. And while the impact of digital may take a few years to accelerate, Amazon Business at the end of 2019 finally had some company. Alibaba made its U.S. debut in 2019, and digital marketplaces of many shapes are quickly evolving and are sure to impact the future of these channels.
While Amazon Business does not divulge revenues, MDM conservatively estimates that the company's B2B marketplace is the third largest U.S. industrial distributor with estimated 2019 revenues of about $6 billion for MRO product categories. While that number is at best a moving-target guesstimate, the company gives occasional indicators of its pumped-up growth rate. Other analysts estimate Amazon Business total 2019 revenues at between $10-$15 billion at the end of 2019, but includes the broader categories of safety, jan-san and other commercial products.
The company continues to invest and innovate, and its willingness to think outside the box — or inside the box, as the case may be, with its recent interest in building fulfillment centers in malls — has fueled its ability to scale across distribution's fragmented markets that traditional or even hybrid brick-and-mortar business models are scrambling to match.
E-commerce as Inflection Point
Ironically, the threat of Amazon may have pushed industrial distributors over the past few years to up their digital games and position well for the overnight shift in the second quarter of 2020 to a virtual selling environment. The investments distributors made — or didn't make — in 2019 (and years prior) will continue to set the stage for their performance through and after this pandemic cycle. The critical differentiator for distributors, our MDM team believes, will play out in e-commerce and digital over the next 12 to 24 months.
Those companies that didn't invest in their omnichannel capabilities to fight commoditization of industrial products will find themselves on the wrong side of the inflection point that's sure to follow this current pandemic. Consumers have been shopping and ordering online for years now. With B2B buyers now working from home, and no real end in sight for this new normal, companies that enable them to procure purchase orders both large and small via their smartphone or tablet have a clear advantage.
Weakness Appears in Construction Markets
After a strong year in 2019, non-residential construction is facing a more perilous near-term future than previously expected. With companies now allowing or even mandating employees to work remotely, office space is no longer the premium it once was. Cash-strapped governments could scrap public facility construction or renovations. And as the travel industry struggles, airports might not have the budgets for capital improvements.
As Dave Manthey of Baird wrote in August while detailing a number of public projects that were canceled or delayed, "Distributors with non-residential construction exposure have indicated that backlogs stretch out into 2021, in part supported by large construction jobs such as airport renovations. Large scale, in-process multi-year infrastructure jobs were largely seen as unlikely to be impacted by economic weakness, but this recent news seems to call this thesis into question."
M&A Cools but Still Factors into Rankings
If we expand beyond the core MRO industrial sector to include power transmission, HVACR and other broader industrial product sectors, mergers and acquisitions continued at a strong pace in 2019, although the year didn't bring the market-shifting, transformational deals of the prior year. Other distributors that were acquisitive in 2019 include Core & Main (which is PE-owned) and Ferguson, which each made five acquisitions, while a few companies — including Winsupply, Atlas Copco, and
others — made multiple additions during the year.
Ferguson continued its acquisitive ways in 2019, adding five companies while also announcing it would demerge its UK operation, Wolseley UK.
Core & Main, which is backed by private equity firm Clayton, Dubilier & Rice, also announced five acquisitions during the year.
Applied Industrial Technologies made only one acquisition during the year — the August addition of Olympus Controls Corp. — but the company is still feeling buoyant after its 2018 purchase of FCX Performance, which significantly expanded its flow control product offerings and services to complement its fluid power segment.
Winsupply added two companies to its roster and also opened a few new branches in 2019.
And HD Supply Holdings said it would separate its Facilities Maintenance and Construction & Industrial (or White Cap) businesses into two independent publicly traded companies. However, the company on Aug. 11 said it was selling its White Cap business to CD&R for $2.9 billion. The company said proceeds from the sale will fund M&A activity, so look for additional moves from HD Supply later this year or in 2021.
Forecasts are dubious in 2020 at best. But with an uncertain economic cycle and more digital disruption certain to keep pressuring margins and traditional distribution models, we'll see some major shifts in market share as leaders leverage digital capability as well as acquisition opportunities that always emerge in challenging markets.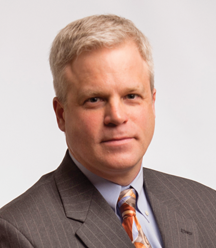 Eric Smith, a former MDM Editor who rejoined the company as Senior Analyst in May 2020, is an award-winning business journalist whose coverage focus includes economic news and insights, industry trends, M&A, and analysis of small businesses and public companies across the wholesale distribution marketplace. Reach him at eric@mdm.com.
This article originally appeared in the Sept./Oct. 2020 issue of Industrial Supply magazine. Copyright 2020, Direct Business Media.