Posted August 2, 2021
Sentec DX offers dust and debris protection
Dentec Safety's SenTec line now has a new replaceable foam insert that will add protection against dust and debris.
---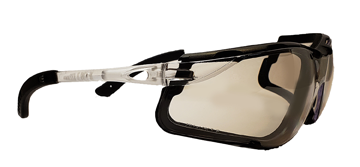 "This works well in construction for concrete cutting and dry wall sanding, grinding and cutting of metal, wood and plastics, underground and surface mining to name a few," said Claudio Dente, president of Dentec Safety Specialists.
The SenTec DX offers the best of two types of eye protection.
The SenTec DX provides a true goggle fit without the discomfort and appearance of a goggle. Its low-profile removable insert, intended to prevent foreign particles from entering the eyes, features a foam material providing an effective seal around the eye. The unique shape of the SenTec DX safety spectacle also allows it to provide an excellent fit when wearing a respirator, particularly, the Dentec family of reusable respirators Comfort-Air and disposable respirators Comfort-Ease.