ARC Abrasives Predator AP Flap Disc
ARC Abrasives introduced its new Predator AP Flap Disc line.
---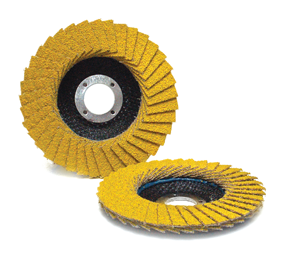 Predator Advanced Products (AP) are a new group of products that show an advancement in performance over the current Predator product offering.
Predator AP flap discs have an industry best cut and life. The flaps on a Predator AP flap disc lay flatter than the flaps on a conventional flap disc, allowing the AP flap disc to wear at a slower rate with increased cut over a normal flap disc.
Predator AP flap discs utilize cutting-edge technology giving them a new look and feel that offers excellent performance on mild and stainless steel. The addition of Performance Coating offers the same great performance for use on aluminum and other soft metals.