Posted November 19, 2018
Airmaster adds ceiling fan option
Airmaster introduced a new dark brown option to its line of Mark I and Mark VI Ceiling Fans.
---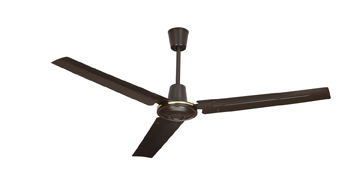 The new ceiling fans provide all the same features as previously released Mark Ceiling Fans with a new color to better match the interior of darker environments, such as restaurants, retail stores and churches. The Mark Ceiling Fans feature electro-static paint and are both moisture-resistant and dust-resistant.
Airmaster's Mark I and Mark VI Ceiling Fans are non-reversible, which ensures continuous performance without wasting energy. All Airmaster Mark Ceiling Fans ship complete with a watertight power cord and safety cable included.
"The dark brown version of the Mark I and Mark VI Ceiling Fans was designed so users don't have to choose between aesthetics and performance," said Greg Helbling, vice president of sales and marketing at Airmaster. "Now, users get the efficiency and durability of the original series with a new color option to match the latest trends in interior design."