Alfa Tools Tungsten Carbide Tipped Hole Cutters
Alfa Tools introduced Tungsten Carbide Tipped Hole Cutters for cutting in construction steel plate, stainless steel, iron, aluminum, copper, cast iron, fiberglass and plastics.
---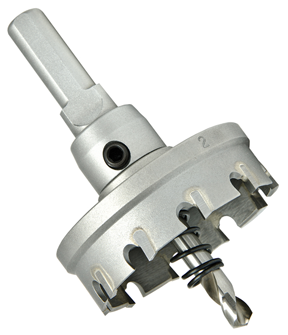 These industrial quality cutters are widely used by contractors, electricians, plumbers, mechanics, and HVAC professionals alike.
Alfa Hole Cutters produce burr-free holes so there is no additional finishing needed. The one-piece construction requires no assembly and provides stable, accurate cutting for a wide range of applications that include junction/switch boxes, metal studs, electrical appliances, lighting fixtures, auto body repair, vehicle frames, metal/ductile pipe, electrical and HVAC.
"Tungsten Carbide Tipped Hole Cutters are an extremely productive tool that is a very good cost-effective alternative compared to bi-metal hole saws," said Shaan Ahluwalia, vice president of sales and marketing, Alfa Tools. "You can drill considerably more holes with these Cutters."
The high speed steel pilot drill and ejector spring work together to eject plugs automatically after cutting. The safety stop collar prevents over-penetration. The ultra-hard tungsten carbide teeth resist heat and wear providing longer life.
The three-flatted shank design provides no-slip grip. It is ideal for cordless, keyless chuck, and conventional power tools. The Hole Cutters can cut dry, but as always, Alfa recommends that you use a lubricant to ensure cleaner, precise cuts.
There are two depths of cut available, up to 3/16" or up to 1". Choose diameters from 9/16" to 3".