Posted August 10, 2016
Alfa Tools expands MegaCut line
Alfa Tools has expanded its MegaCut line to include Carbide Tipped Circular Saw Blades for dry metal cutting.
---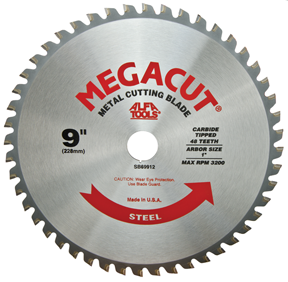 These premium quality blades are designed to quickly and cleanly cut difficult materials including pipes, threaded rod, profiles, wire ducts, sandwich panels, dry mortarless construction profiles and more.
These tungsten carbide teeth blades are suitable for both stationary and portable metal cutting saws for use in steel, stainless steel, steel studs, and aluminum applications. All MegaCut Blades are U.S. made, and they are hardened for heavy loads offering higher performance and more durability than ordinary steel blades.
"We are very happy to be adding U.S. made Carbide Tipped Circular Saw Blades for metal to our existing MegaCut line-up," said Shaan Ahluwalia, vice president of sales and marketing, Alfa Tools. "Now we have a complete line of saw blades to offer our distributors."
The Tungsten carbide teeth provide exceptional wear resistance for longer, more consistent blade life. MegaCut blade body construction is designed to lower vibration and dampen noise making it easier on the user. The Burr-free cutting means that there is no additional finishing needed.
Also new to the MegaCut Circular Saw line is the updated packaging. Now distributors can order any MegaCut Blades as a single SKU in a reusable clamshell to display in a showroom, or to sell them one at a time.

The new packaging is designed to be easily opened or closed for future use providing a safe place to store the blade in between cuts. MegaCut Metal cutting blades come in a variety of sizes from 7" – 14" depending on the metal material that needs to be cut.
COMMENTS: 0
---