Posted October 18, 2016
Allied Machine GEN3SYS XT Pro Line
Allied Machine & Engineering announced its new GEN3SYS XT Pro line of high penetration drilling products, which features inserts and holders designed for three new geometries and introduces several new coatings.
---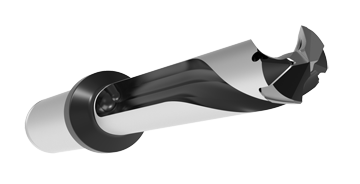 Combining specific geometries and coatings to create the optimal solution for different machining materials, this next level of the GEN3SYS high penetration drilling product line delivers top results.
GEN3SYS XT Pro will be available for steels (ISO material class P), cast irons (material class K), and non-ferrous materials (material class N). The drill inserts come in diameters ranging from 11 millimeters to 35 millimeters. Those in steel and cast iron will also have new AM400 coatings, while inserts for non-ferrous materials are coated with titanium nitride (TiN).
The steel materials (P) geometry is ideal for low and medium carbon and alloy steels. They are designed to provide increased penetration and excellent chip control. The multi-layer AM420 coating increases heat resistance and improves tool life. Tests conducted demonstrate up to 40 percent improvement over competitive drills at the same speeds and feeds.
The new K geometry was uniquely designed for cast and nodular iron applications. The new geometry includes a corner radius for improved hole finish and heat dispersion. Allied's multi-layer AM440 coating offers increased abrasion resistance and tool life.
The N geometry, designed for softer materials, including aluminum, brass, and copper applications, yields excellent chip control. The TiN coating provides the versatility to run in a variety of materials while reducing buildup.
Holders for the GEN3SYS XT Pro line are offered in numerous depth-to-diameter ratios, including 3xD, 5xD, 7xD, and the brand new 10xD. The new holder features an enhanced flute design that improves chip evacuation and an updated coolant configuration that increases coolant flow and directs coolant to the cutting zone. Available in imperial and metric shanks, the holders come in cylindrical and flanged with a flat.