Posted December 3, 2018
Allied Machine 4TEX drill
Allied Machine & Engineering announced the new 4TEX drill, ideal for making shallow 2xD, 3xD, and 4xD holes in the 12-47 mm (.472" – 1.850") range.
---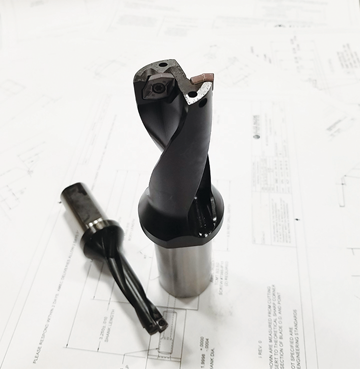 Industries working with a variety of materials – especially aerospace, heavy equipment, automotive, and energy industry applications – will benefit from the excellent chip formation provided by the 4TEX drill's unique geometries. The drill is also a great choice for making interrupted cuts, or drilling on an incline or angled surface. The new design means certain operations can be performed without having to first mill the surface.
The 4TEX drill's single effective cutting edge provides higher penetration rates than standard twist drills for light duty machines. The center coolant outlet was eliminated to increase the drill's core strength in this design, resulting in improved hole size and straightness. Instead, dual twisted coolant outlets were added to improve hole straightness and penetration rates by enhancing coolant flow and superior chip evacuation. Insert geometries for standard ISO material categories improve hole quality and penetration rate, while eliminating issues from chips wrapping the tool.
4TEX inserts are 4-sided, lowering customers' cost per hole. The unique insert shape improves surface finish, hole diameter, and hole straightness by providing a superior balanced cut compared to ISO inserts. The drills will be stocked in both imperial and metric shanks with standard fractional diameters, as well as every ½ mm diameter up to 26mm and every 1mm up to 47mm so customers can be assured of fast delivery.