Blitzbinder cable ties
Cable ties have traditionally been a single-use item. Allplastik has now developed an innovative solution to this challenge with the Blitzbinder.
---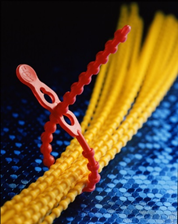 These releasable multi-purpose quick fasteners are made of high-quality premium branded PE material for extreme strength and durability.
Blitzbinders can be used for many applications, including packaging, tying, or even when handling various weather conditions all year round. The ties are equipped with a special closing mechanism for multiple releases and closings – easy, safe, and fast!
In conjunction with their ease of handling, the Blitzbinder guarantees maximum versatility. Due to their special dual-closure design, the Blitzbinder allows users to create a hanging loop, enabling endless variations of applications.