Posted April 23, 2019
AirPlus Powered Air System
The AirPlus Powered Air System is the third generation development from the ArcOne 20-year PAPR program.
---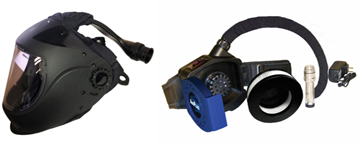 ArcOne's AirPlus Powered Air-Purifying Respirator (PAPR) System is a motorized, battery operated system that blows a constant supply of fresh, filtered air over the face. It creates a positive pressure inside the respirator head top, keeping out harmful welding fumes and particulates.
Pair the AirPlus PAPR System with the AirShield, a full-coverage grinding visor, designed with durable construction, a large viewing area, sturdy headgear, and quick and easy visor installation and removal. The head top is lightweight and well balanced, and there is a direct flow of air into the helmet through the air-manifold system.