Contoured Masonry Blade
The Arcus Masonry Blade is designed to cut curves in marble, granite, tile, stucco, concrete, stone and cement board.
---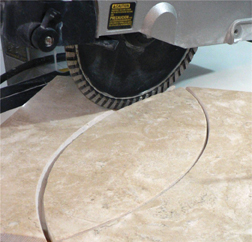 It can be used freehanded to make curves and circle cuts from a 15-inch radius and higher. Compatible with most circular saws. Maximum depth of cut at 15-inch radius is 1 1/2 inches, and a cut at 24-inch radius is 2 inches in concrete.