Posted March 22, 2018
QuickCut circular saw cutting guide
BORA Portamate introduced its QuickCut circular saw cutting guide, an all-in-one tool designed to achieve precise measurements and cuts each and every time.
---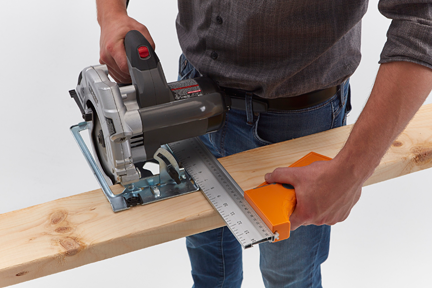 The QuickCut is the Swiss Army Knife of cutting guides, with four preset angles for guiding your circular saw in making accurate and repeatable cuts for any project. Along with its convenience, the QuickCut features several other quality inclusions that will make this a favorite tool in the workplace:
• Includes both Imperial and Metric rule, allowing for a quick switch in measuring methods without searching for a separate tool.
• Crafted for all types of projects, the QuickCut boasts 14-inches of measuring excellence, included on the guide rail for making long, straight cuts.
• Built with a strong aluminum extrusion and a large grip handle for extra comfort and precision.
• Save project time with four common preset angles and conveniently placed ruler marks.
"The BORA QuickCut is an essential all-in-one workshop addition for measuring, guides and angles," said Todd Gluski, marketing brand manager, BORA PortaMate. "You'll find yourself turning to it again and again on a variety of measuring and cutting activities."