Bio-Circle ALUSTAR 100
Bio-Circle, a division of Walter Surface Technologies, introduced ALUSTAR 100 to its environmental line of cleaners and degreasers.
---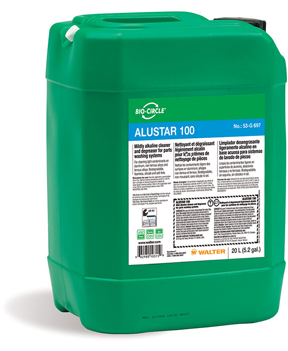 ALUSTAR 100 is specifically optimized for cleaning and degreasing aluminum in automated and ultrasonic parts washers.
"This product is an extension of our current STAR-branded portfolio and is a great choice for companies looking to reduce operational costs and improve health and safety in the workplace" said Patrick Lapointe, VP Research & Development at Walter Surface Technologies. "Not only is ALUSTAR 100 a mild alkaline cleaner, the product is longer lasting than competing powders or liquids which allows for a shorter cleaning time. This generates substantial savings both in time and money".
The ultimate 3 –in- 1
The STAR line of products contains built in foam and corrosion inhibitor packages. Other competitive products require the addition of foam inhibitors and corrosion inhibitors separately in order to achieve the desired results, therefore the customer is buying three products rather than just one. ALUSTAR 100 leaves a low residue finish, allowing it to meet some of the strictest cleaning requirements in the industry.
Energy savings
ALUSTAR 100 is also specifically formulated with Low Energy Surfactant (LES), the most advanced surfactant technology on the market. These unique surfactants can clean and degrease effectively in hot parts washers at lower temperatures, generating substantial energy savings.
Improves workplace health and safety
ALUSTAR 100 is specifically formulated for sensitive materials and can be used for mechanical parts washing and degreasing of aluminum and other non-ferrous alloys. In addition, ALUSTAR 100 is VOC-free, non-flammable, and phosphate-free.
ALUSTAR 100 is available immediately.