Posted August 15, 2018
Black Stallion AH1630-GS flame-resistant welding cap
Black Stallion introduced the AH1630-GS flame-resistant welding cap.
---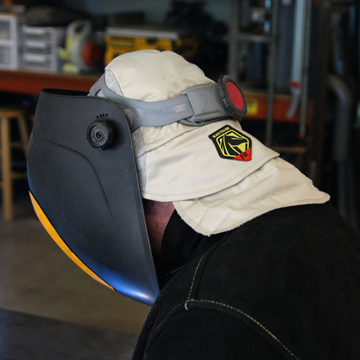 Uniquely constructed of single-layer flame-resistant cotton, the AH1630-GS provides lightweight protection from sparks, with less heat trapping. The wearer's head feels cooler in hot conditions.
The combination of 7 ounce FR cotton and 6 ounce FR cotton stretch knit provides a comfortably snug fit. Available in three sizes, the AH1630-GS fits nearly all head sizes and shapes. The deep crown allows the cap to be worn exactly where it should be, just above the eyebrows and over the top of the ears.
Soft FR cotton stretch knit panels on each side of the cap are designed to provide chafe-free flame-resistant ear coverage.
The large bill on the cap, wider and longer than nearly any other welding cap available today, offers more neck protection from sparks and from sunburn and UV rays when welding outside. Hidden within the bill is a flap of durable 7 ounce FR cotton. When extended over a welding jacket collar, the flap provides even more neck protection.
Designed with durability for daily wear, the AH1630-GS is stitched with strong flame-resistant thread, the same thread Black Stallion uses on welding jackets and other protective garments. The AH1630-GS is machine washable, with flame-resistant protection through 50 home washings.